Bill Belichick Reportedly Considered Bailing on the Patriots Before Tom Brady, but TB12 Beat Him to the Punch
After 20 seasons, Tom Brady left Bill Belichick and the New England Patriots in 2020. The move later helped Brady win his seventh Super Bowl title in his first season with the Tampa Bay Buccaneers. Belichick and the Pats, on the other hand, went 7-9 last season and missed the playoffs for the first time since 2008.
However, while TB12 actually decided to leave New England, Belichick reportedly (somewhat) considered doing the same thing just a couple of years before that. In fact, a recent report suggests that Belichick spoke to multiple other teams in 2018, all because he didn't get his way.
Bill Belichick wanted Jimmy Garoppolo on the Patriots
RELATED: Tom Brady Once Let His Anger Get the Best of Him While Gambling With a Teammate: 'He Then Takes the Board Game and Throws It'
Whenever teams have an aging quarterback, there's always an awkward situation once they start their succession plan. The most notable one in the last 15 years was when the Green Bay Packers chose to go with Aaron Rodgers and move on from Brett Favre.
That appeared to be somewhat similar to what the New England Patriots planned to do when they selected Jimmy Garoppolo in the 2014 NFL draft. Brady turned 37 that year. So, he was certainly closer to the end of his career than he was to the beginning. However, he was still playing great football. Brady even later won an MVP in 2017.
Garoppolo, on the other hand, didn't get much playing time in his first two seasons but started for Tom Brady on the Patriots in 2016 when Brady was suspended. He threw for 496 yards, four touchdowns, and no interceptions in one game and part of another. In his second start, though, he ultimately got hurt. He then didn't start again for the Pats.
After that season, Belichick wanted to keep Jimmy Garoppolo on the roster and "was skeptical of a long-term contract extension" for Brady, according to a 2018 ESPN article. Belichick reportedly passed up on trading Jimmy G in the spring of 2017, but, as ESPN reported, he met with Patriots owner Robert Kraft before the 2017 trade deadline. Kraft then reportedly made his intentions clear. He wanted Garoppolo, whose contract was up after the 2017 season, traded. Belichick reportedly wasn't too happy about this but did what he was told.
Bill Belichick and the Patriots then continued their run of dominance with Tom Brady. The San Francisco 49ers acquired Jimmy Garropolo via trade in October 2017.
He reportedly talked to other teams in 2018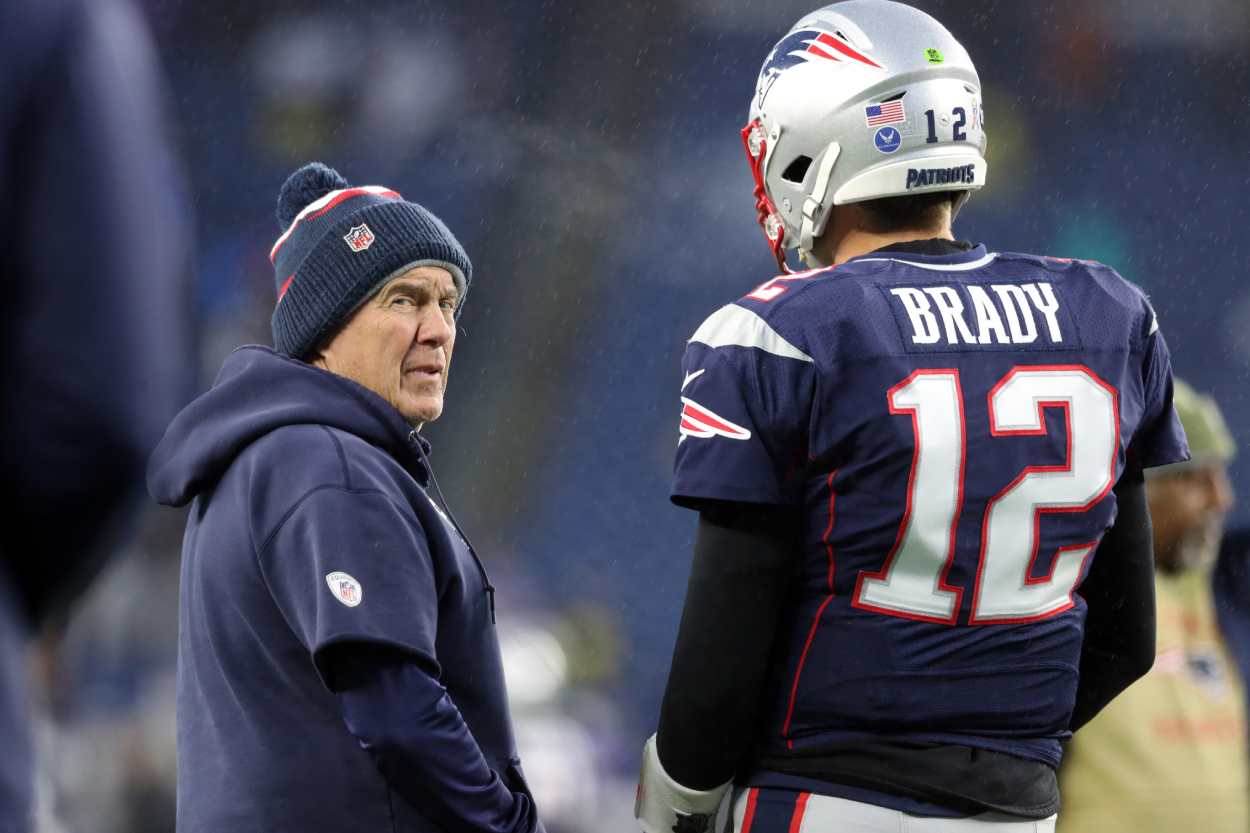 RELATED: Erin Andrews Says Tom Brady Wants to 'Kick' Everyone's 'Ass' — Even Her Husband's
The NFL's worst-kept secret is that Bill Belichick didn't take kindly to having to trade Jimmy Garoppolo. Now, reports suggest that the move nearly cost New England its legendary coach altogether.
According to Bleacher Report, ESPN's Seth Wickersham recently appeared on The Harrison Vapnek Podcast, and he reported that Belichick talked to multiple teams about their head coaching positions during the 2018 offseason. This was, of course, just a few months after trading Jimmy G.
"At the time, I think there was a sense that Brady wasn't going anywhere and Bill left the impression that he might be open to a move," Wickersham said, according to Bleacher Report. "There were some reports that came out at the time that the Giants were looking at him. I think he talked to the Washington Football Team and the Dolphins about sort of their openings. And it was unclear whether he was interested or not, but he was still talking to them and subsequent reporting has only sort of shown how in that offseason, Brady skipped the offseason program for the first time in his career and he had just kind of had enough."
That's interesting. So, was Bill Belichick really so upset about moving on from Jimmy G that he considered bailing on the Patriots and Tom Brady? It looks like he at least thought about the idea.
In the end, though, he stayed in New England, and it all worked out — sort of.
Tom Brady and Bill Belichick won one more Super Bowl with the Patriots
RELATED: Michael Strahan Sends out a Stern Message While Defending Ex-Foe Tom Brady: 'Shut Your Mouth'
The 2018 offseason occurred just after Bill Belichick, Tom Brady, and the Patriots lost in the Super Bowl to the Eagles.
Following Belichick's decision to stay with the Pats, though, he and TB12 led New England to its third straight Super Bowl during the 2018 season. They then won that one, too, as they defeated the LA Rams to claim the sixth Super Bowl title of the Tom Brady-Bill Belichick era.
However, New England lost in the wild-card round in the 2019 season. Brady then ended up beating Belichick to the punch in terms of leaving New England. TB12 signed with the Tampa Bay Buccaneers in 2020.
Brady then ultimately ended up winning his seventh Super Bowl in his first season in Tampa. Belichick, on the other hand, went 7-9 in 2020, and the Patriots missed the playoffs for the first time since 2008. Poor quarterback play had a lot to do with their struggles, too.
Right now, we live in a world where Tom Brady is no longer on the Patriots. It's easy to wonder, though, what the world would look like had Bill Belichick left New England first.
Stats courtesy of Pro Football Reference