Bill Belichick Has Found a $50 Million Answer to the New England Patriots' Offensive Woes
Despite all the criticism, it seems that Cam Newton will return for a second season as the starting quarterback for the New England Patriots. This time around, head coach Bill Belichick has at least given him one more weapon to work with, thanks to the signing of former Tennessee Titan Jonnu Smith.
Jonnu Smith has signed with the New England Patriots
RELATED: Cam Newton Can Eat His Way Back to NFL Success With McDonald's and Soul Food, According to Chad Johnson
On Monday, former Tennessee Titans tight end (say that five times fast) Jonnu Smith signed with the New England Patriots on a four-year, $50 million deal. According to ESPN's Adam Schefter, $31.25 of that money is fully guaranteed.
Jonnu Smith's contract is a serious paradigm shift in terms of offseason strategy for the Patriots. In recent years, the Patriots have rarely splashed out in this manner for a free agent. It's especially weird to see the team do this in a year with a reduced salary cap. This is the richest contract afforded to a Patriots free agent since Stephon Gilmore in 2017.
However, unlike a lot of NFL teams, the Patriots still have plenty of salary cap space to work with. They will have to use it to the fullest of their ability to recover from their 7-9 season and give quarterback Cam Newton something to work with.
Jonnu Smith can be a major weapon for Cam Newton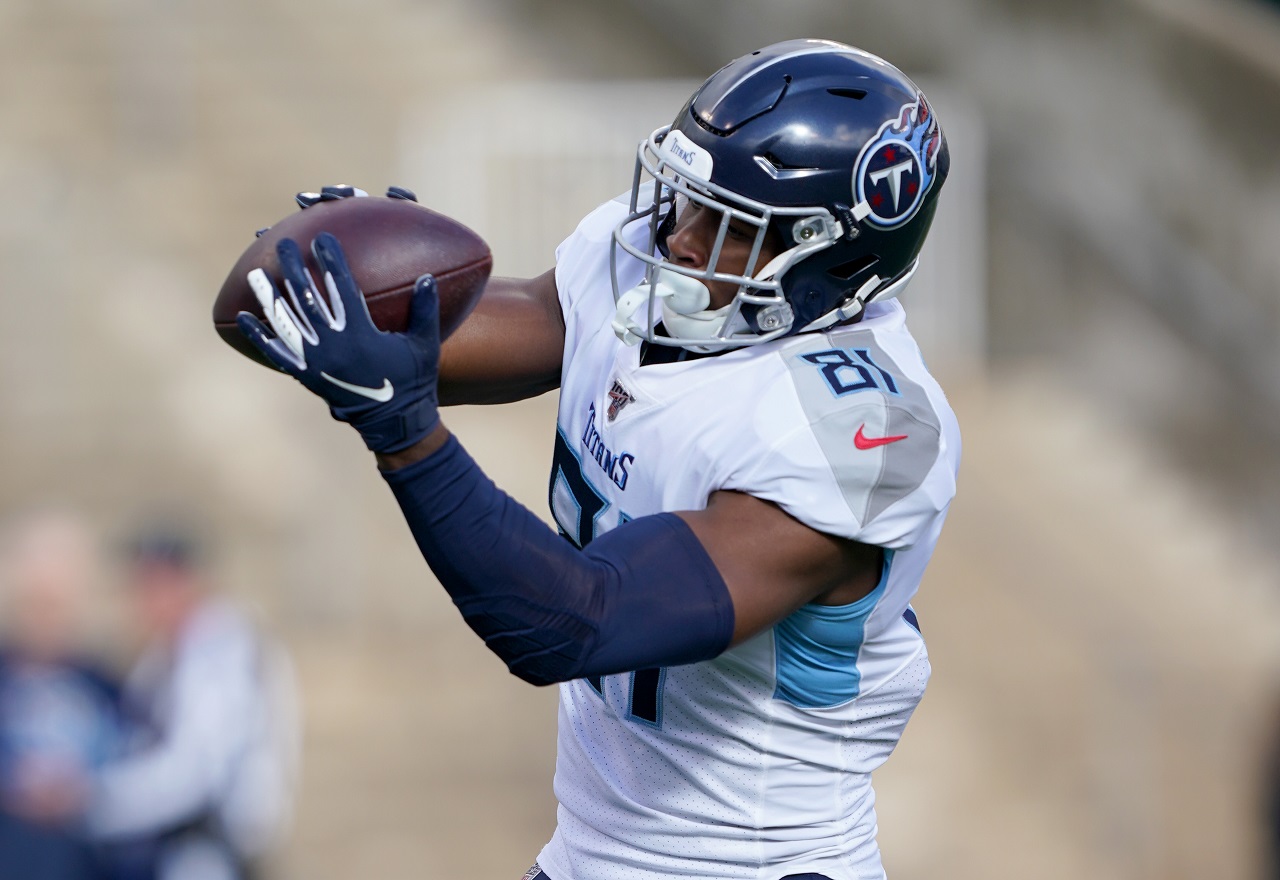 RELATED: Bill Belichick May Finally Have a Chance to Get the Patriots What They've Desperately Needed for Years
The Patriots didn't merely settle for Jonnu Smith. They found a serious pass-catching threat who is also effective at blocking. New England hasn't had anything even remotely close to this since Rob Gronkowski's retirement at the end of the 2018 season.
Last season with the Tennessee Titans, Smith caught 41 passes for 448 yards, and was second on the team with eight touchdown receptions. He missed two games in October due to an ankle injury. Over his four seasons with the Titans, he made 114 catches for 1,302 yards and 16 touchdowns.
Jonnu Smith's defining moment as a Titan arguably came during the 2019 AFC divisional playoff against the Baltimore Ravens. In the first quarter of that game, he made an impressive diving catch to give the Titans a lead they would never relinquish.
The New England Patriots have eliminated a major weakness
The Jonnu Smith signing is a huge deal for New England, and it showed just how desperate Bill Belichick was for a competent receiver of any kind. Ever since the retirement (and subsequent un-retirement) of Rob Gronkowski, the Patriots have had serious trouble filling his shoes.
Over the last two seasons, the Patriots have had the NFL's fewest catches, receiving yards, and touchdowns from the tight end position. For the last two years, their starting tight end has been a revolving door. Ryan Izzo started 12 games at the position last season before suffering a season-ending neck injury.
Last season, the Patriots also had issues at wide receiver. Their leading wideout was Jakobi Meyers, who caught 59 passes for 729 yards. Altogether, the wide receiving corps of Meyers, Damiere Byrd, and N'Keal Harry combined for a miserable four touchdown receptions all season. Not in a game. The entire season.
While Newton took much of the flak for the Patriots' offensive slide, he could only do so much with a receiving corps that anemic. The addition of Smith as a blocking and pass-catching threat could stem the bleeding in that department.
Statistics courtesy of Pro-Football-Reference.