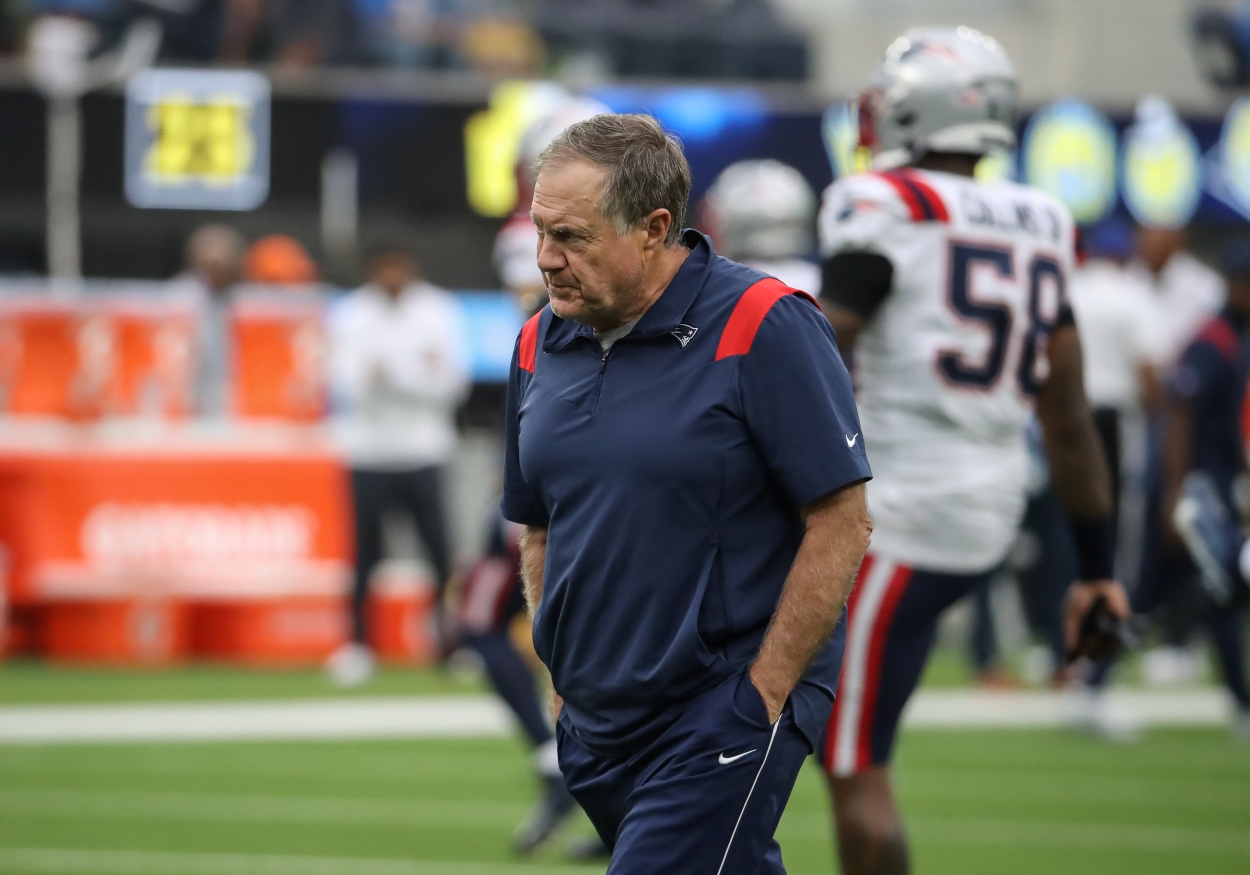 Bill Belichick Just Bolstered the Patriots' Chances of Beating the Bills by Bringing a Familiar Face Back at Exactly the Right Time
Bill Belichick has added a key piece to his defense just in time for a monumental Monday Night Football matchup against the Buffalo Bills.
Bill Belichick can only control so much. Sure, he holds the power to make personnel decisions, and he owns full responsibility for what happens on gameday. However, the longtime leader of the New England Patriots can't control whether Mother Nature makes life miserable for Mac Jones and Co. on Monday Night Football. And he certainly can't control whether whoever's lined up on defense will make the right decisions to keep Josh Allen at bay.
One thing Belichick can control, though, is who will be activated for the star-studded showdown between two of the top Super Bowl contenders in the highly competitive AFC. And by bringing a familiar face back at exactly the right time, the Coach of the Year candidate just increased his odds of securing another win over the division-rival Buffalo Bills.
A familiar face is returning at exactly the right time for the Patriots
Jamie Collins has had an interesting 2021 season to say the least. Released by the Lions in late September, the veteran linebacker found his way back to Foxborough within a few days. Of course, the one-time Pro Bowler enjoyed two successful stints in New England before returning for a third tour of duty. Unfortunately for Collins, he experienced a setback shortly after he put together his best game of the year.
Coming off a dynamite performance against the Carolina Panthers that included a ridiculously athletic interception, a thunderous tackle for loss and an additional pass breakup, the 32-year-old landed on injured reserve with an ankle ailment. But after missing the last three games, he will make his first appearance since Nov. 7.
The Patriots officially activated Collins ahead of Monday night's matchup against the 7-4 Bills. With the well-traveled, battle-tested, and ultra-versatile linebacker set to suit up, Belichick will have one of his most experienced defenders available for a pivotal game that has major playoff implications.
In fact, Collins' return couldn't have come at a better time considering the opponent and the absence of one of New England's rising stars.
A healthy version of Jamie Collins gives New England a much better chance of leaving Buffalo with a win
Ironically, the Patriots added a key defensive chess piece to the active roster in time for a game in which they will be missing one of their most valuable and improved players. With second-year safety Kyle Dugger still on the reserve/COVID-19 list, New England will have to rely heavily upon Devin McCourty, Adrian Phillips, and potentially practice squad call-up Sean Davis to take care of things on the back end. But with the Bills boasting one of the best touchdown-producing tight ends in the NFL (Dawson Knox has seven on a mere 41 targets), Dugger's absence could create some problems.
Luckily for the Patriots, though, getting Collins back gives them the ability to not only make life a little more difficult for Knox, but also for Josh Allen. Although the aging linebacker doesn't have quite the same level of athleticism he did during his prime, he still has better movement skills than fellow veterans Kyle Van Noy and Dont'a Hightower. Plus, he has the physicality and frame to deliver an impact on arrival.
While Collins certainly doesn't boast Dugger's 4.4 wheels, he has long arms and the strength to disrupt Knox off the line of scrimmage. And, assuming his ankle is close to 100%, he should have just enough speed to keep pace with the third-year tight end.
At 6-foot-3, 255 pounds, Collins also has the size needed to keep up with Allen. Whether it's as a pass rusher or as a spy in open space, he won't be at a physical disadvantage against the 6-foot-5, 237-pound quarterback. If there's any linebacker on New England's roster who's built to combat Buffalo's big-armed, highly athletic signal-caller, it's definitely the man who dons No. 58.
Ultimately, bringing Collins back for the Bills game should help the Patriots' No. 1-ranked scoring defense corral an offense that hasn't exactly been the model of consistency. Buffalo has failed to top 100 rushing yards in three of its last six games, and the unit committed a whopping 11 turnovers in four November games. Expect Belichick to have a well-devised game plan designed to take away top receiver Stefon Diggs, which will force Allen to rely on secondary targets. With the way New England's front seven has performed during the team's six-game winning streak, don't be surprised if Buffalo struggles to get much going in what should be a physical affair between two competitive, talented teams.
Bill Belichick should be considered the favorite to win Coach of the Year if his team takes care of business on Monday Night Football
Will Jamie Collins be the most important player on the field Monday night?
Of course not.
But there's no doubt the Patriots need him to make a positive impact, especially with Dugger out of the mix. And if the big-bodied linebacker uses his oft-discussed athleticism and experience to his advantage, he could cause a turnover or deliver a game-changing play in a big moment.
Obviously, the biggest question heading into the Bills-Patriots game is whether Mac Jones can win on the road under windy conditions in front of a hostile crowd. Not exactly the most physically impressive quarterback, the promising rookie has much to prove, particularly from an arm-strength perspective. Plus, the first-year signal-caller has to show he can keep the chains moving and put points on the scoreboard against an elite defense. After beating up on a bunch of depleted opponents and underwhelming defenses, can he rise to the occasion in the biggest came of his brief NFL career?
While Belichick can't control where Jones will throw the ball, he's given the accurate, intelligent, and poised passer a collection of diverse weapons and a stout offensive line that's done a fantastic job keeping him out of harm's way. And if all those pieces come together and Josh McDaniels keeps pushing the right buttons, the Patriots should do enough to edge out the Bills on Monday Night Football.
And if they move to 9-4 and cement themselves as the No. 1 seed and the team to beat in the AFC, that should only encourage voters to give Bill Belichick well-deserved love when it's time to select the NFL Coach of the Year.
Oh, and considering New England wouldn't be in this position without an offseason overhaul (plus the in-season signing of Jamie Collins), he deserves Executive of the Year honors, too.
All statistics courtesy of Pro Football Reference.