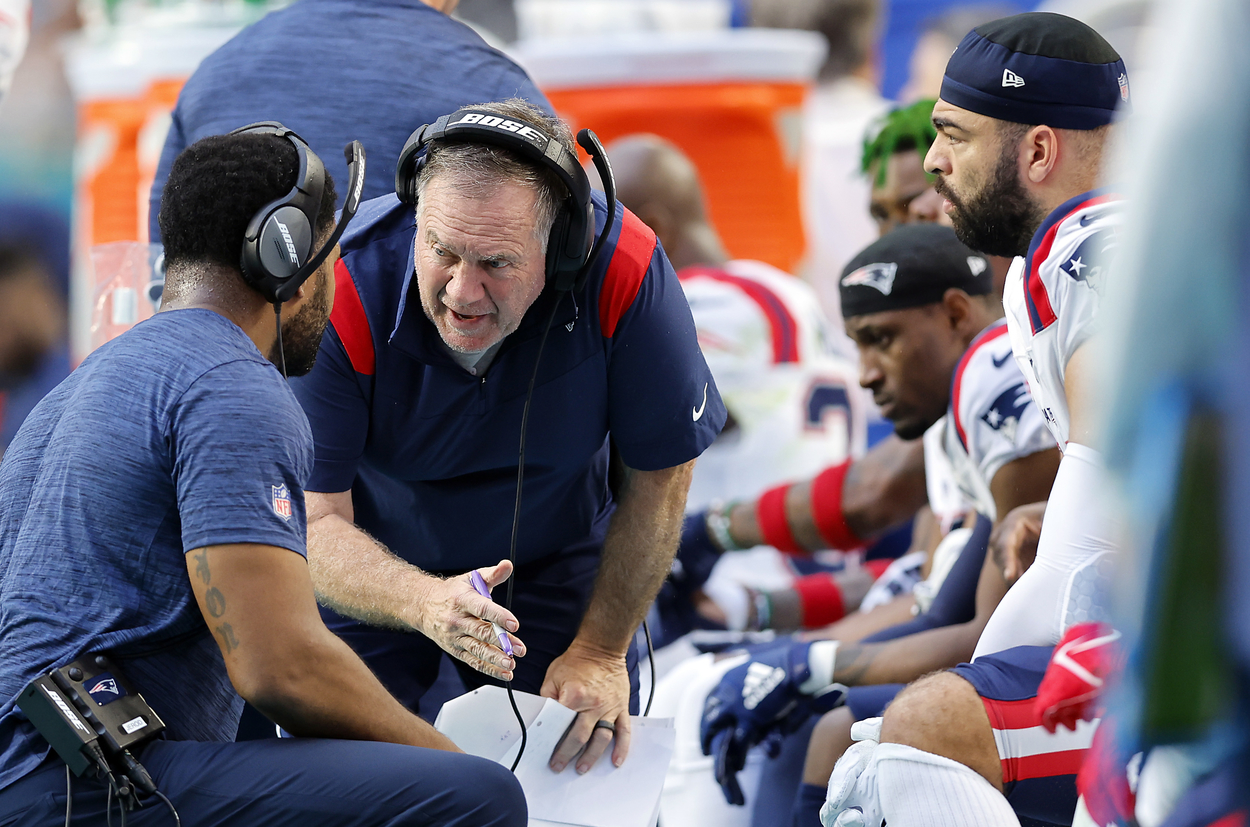 Bill Belichick Might Be Poised to Add a 3-Time Super Bowl Champion to His Staff
Could Bill Belichick and the New England Patriots reunite with former special teams ace Nate Ebner? A New York Giants insider raised the idea.
Even as the New England Patriots officially welcomed the Mac Jones era, head coach Bill Belichick never entirely shut the door on those involved in the Tom Brady dynasty years. Ex-Patriots linebacker Jerod Mayo is a successful assistant coach and veteran quarterback Brian Hoyer, Brady's former backup, is slated to return for the 2022 season.
Another familiar face from the final years of Brady's Patriots career could be returning to New England in the near future, except he'd be trading his helmet for a spot on the sidelines.
New York Giants insider Dan Duggan suggested Nate Ebner could go into coaching and join Bill Belichick's staff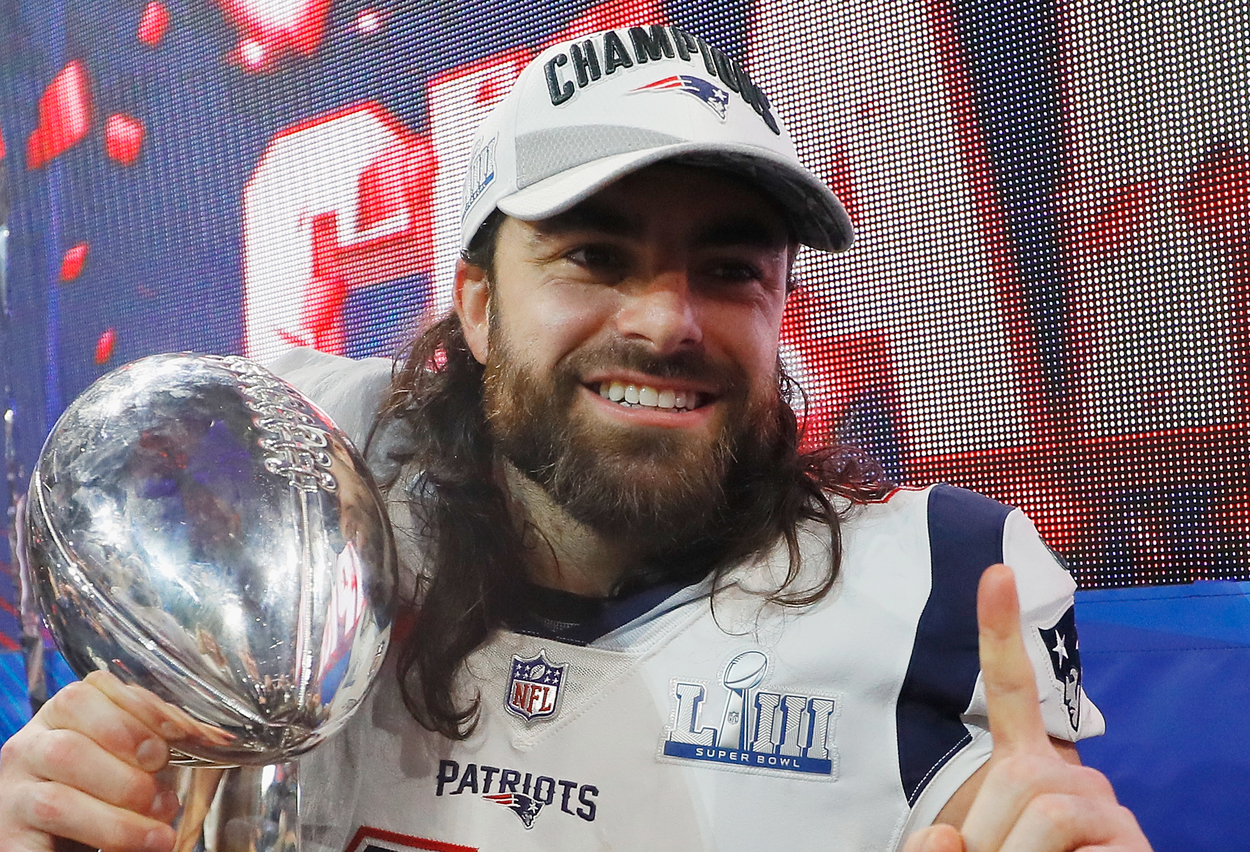 Nate Ebner perfectly demonstrated The Patriot Way during his eight seasons in Foxborough. A sixth-round pick in 2012, the 6-foot, 215-pound defensive back almost exclusively played special teams and became a dominant force in the process. He regularly played over 70% of the Patriots' special teams snaps and thrived under then-special teams coordinator Joe Judge's watch.
After spending the last two years with Judge on the New York Giants, it appears Ebner's playing days are over. The Athletic's Dan Duggan reported on Friday, March 11, that the 10-year veteran is expected to retire because of chronic knee issues.
"Expect Ebner to get into coaching in the near future, possibly in New England where he spent the first eight seasons of his career," Duggan wrote.
As of publication, the Patriots had not announced they had hired Ebner, who won three Super Bowls with the franchise, in any capacity. The Ohio State product had also not announced his retirement.
Nonetheless, it is worth noting that Judge, who the Giants fired in January, rejoined the Patriots in February as an offensive assistant. 
Ebner and Belichick seemingly got along well during their days together in New England
Although the Patriots hadn't signaled they intended to bring Ebner home as a coach, such a reunion would make sense. Belichick has welcomed several ex-players, including Mayo and former safety Raymond Ventrone, back as coaches. Ventrone, who played in New England from 2007-08, spent 2015-17 as an assistant special teams coach before becoming the Indianapolis Colts' special teams coordinator.
Ebner also has an extensive history with Belichick, who selected him late in the 2012 draft. The gruff and irritable head coach often spoke highly of Ebner during their time together. Belichick even allowed the veteran special teamer to participate in the 2016 Summer Olympics as a member of the United States' rugby sevens team
While Ebner competed in Rio de Janeiro, Belichick wore a shirt honoring his defensive back at a Patriots practice. Ebner and his teammates finished ninth and fell two points short of advancing to medal play.
Upon returning to the Patriots, Ebner had one of his finest seasons and earned second-team All-Pro honors. Although he didn't win a medal in Rio, he did capture his second Super Bowl ring several months later.
Don't be surprised if the post-Belichick era features several of his former players
For the sake of conversation, let's assume Ebner joins the Patriots' staff in some capacity ahead of the 2021 season. He'd join Mayo, his former teammate, and New England's current inside linebackers coach.
As of publication, Belichick — who turns 70 in April — had not provided a definitive timeline for when he will retire. Mayo should be considered a favorite to eventually replace him, especially after offensive coordinator Josh McDaniels took the Las Vegas Raiders' head coaching job earlier this year.
Patriots fans also shouldn't be surprised if special teams ace Matthew Slater sticks with the organization when he retires. According to NBC Sports, the 36-year-old told reporters in June 2021 that he'd be open to eventually working for the Patriots.
​​"I love this organization. It's the only real job I've ever had. I feel like I owe a debt to this organization. They've provided myself and my family with [a] tremendous opportunity. I am always going to support this organization. If they ask me to do anything, as far as I see fit, I will try to step up in that role."

Matthew Slater
Slater has been a team captain since 2011 and said he's holding an "open mind" toward coaching. Patriots fans should be ecstatic if Ebner and Slater, two invaluable pieces on multiple Super Bowl teams, wind up coaching the next generation of special teamers.
Like Sportscasting on Facebook. Follow us on Twitter @sportscasting19.