Bill Belichick and the New England Patriots Are Focusing on What They Can Control Against the Bills, and It's Not the Weather
Bill Belichick and the New England Patriots have only one thing in mind heading into their Wild Card weekend clash with the Buffalo Bills.
It's going to be cold, perhaps historically so. That's not what has Belichick concerned heading into this contest, though.
Perhaps not surprisingly, the only thing Belichick cares about is beating the Bills, and his players seem to be falling in line with that mindset.
New England Patriots head coach Bill Belichick is focused on the Bills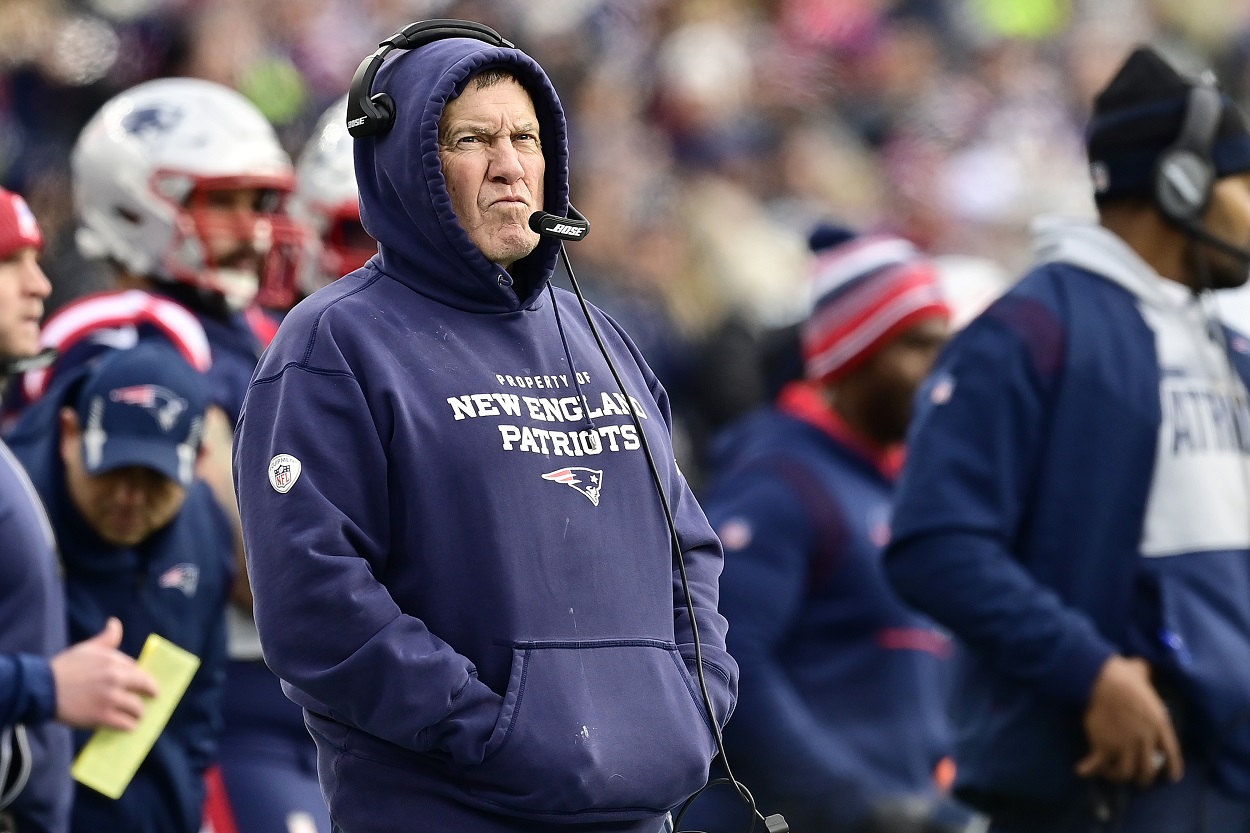 Famously one-track-minded, New England's legendary coach doesn't care if it's a frozen tundra or a barren desert at Highmark Stadium when the Patriots and Bills kick-off. He's one of the greatest coaches of all time, if not the greatest coach of all time because he knows that there are things he can control while many things are out of his control.
One of his most famous sayings is, "Do your job." It sounds overly simplified, but it's a mantra that has brought six Super Bowl titles to Foxborough since the turn of the century. Neither he nor his players can control what the temperature will be at kickoff. There are also very few things a team can do to simulate what could end up being a historically cold contest.
The Patriots just have to go out there and play. Do the thing they're paid to do.
"We've practiced in just about everything we could, any type of conditions we could have and played in quite a few as well. There's no way to turn the temperature down, up, or anything else. It is what it is out there," Belichick said, via the team website.
"I'm more worried about the Bills than the weather. I think the Bills are what we have to focus on and that's who we have to beat. The weather is the weather."
The Patriots will control what they can regarding the weather
Yes, Belichick is essentially telling his team to block out the weather mentally and just go play football, but that doesn't mean they're not preparing as best they can to take on an excellent Bills team, winners of the AFC East, in a frigid environment.
Case in point? The Patriots practiced outside at Gillette Stadium on Wednesday, doing their best to simulate what it may be like in Buffalo on Saturday night.
The issue is, by all accounts, the weather on Wednesday hovered in the 30s, which is certainly cold, but it's nowhere close to what it's expected to be at kickoff. As of now, preliminary weather reports for Highmark Stadium suggest that the temperature will be in the single digits. That's not even factoring in any wind chill.
Still, if you play football for the Patriots, you know how to deal with yourself in cold situations. That's just life in the northeast, and the Patriots know how to handle it.
"I think guys have figured that out, whether it's been here or in college. A lot of these guys have played in cold games," safety Devin McCourty said, according to the Boston Herald. "And if you haven't, you ask somebody else, but I would say at this point in the season, most of the guys know what they want to wear."
Right tackle Trent Brown, who is bound to go sleeveless, took an even more simplified approach to the matter. True to the tone his head coach is setting, he says it's all about mindset.
"It's mental. Just like it is mental to work out in the heat in the offseason," he said. "At the end of the day, it's football."
What the Patriots know they can control: The running game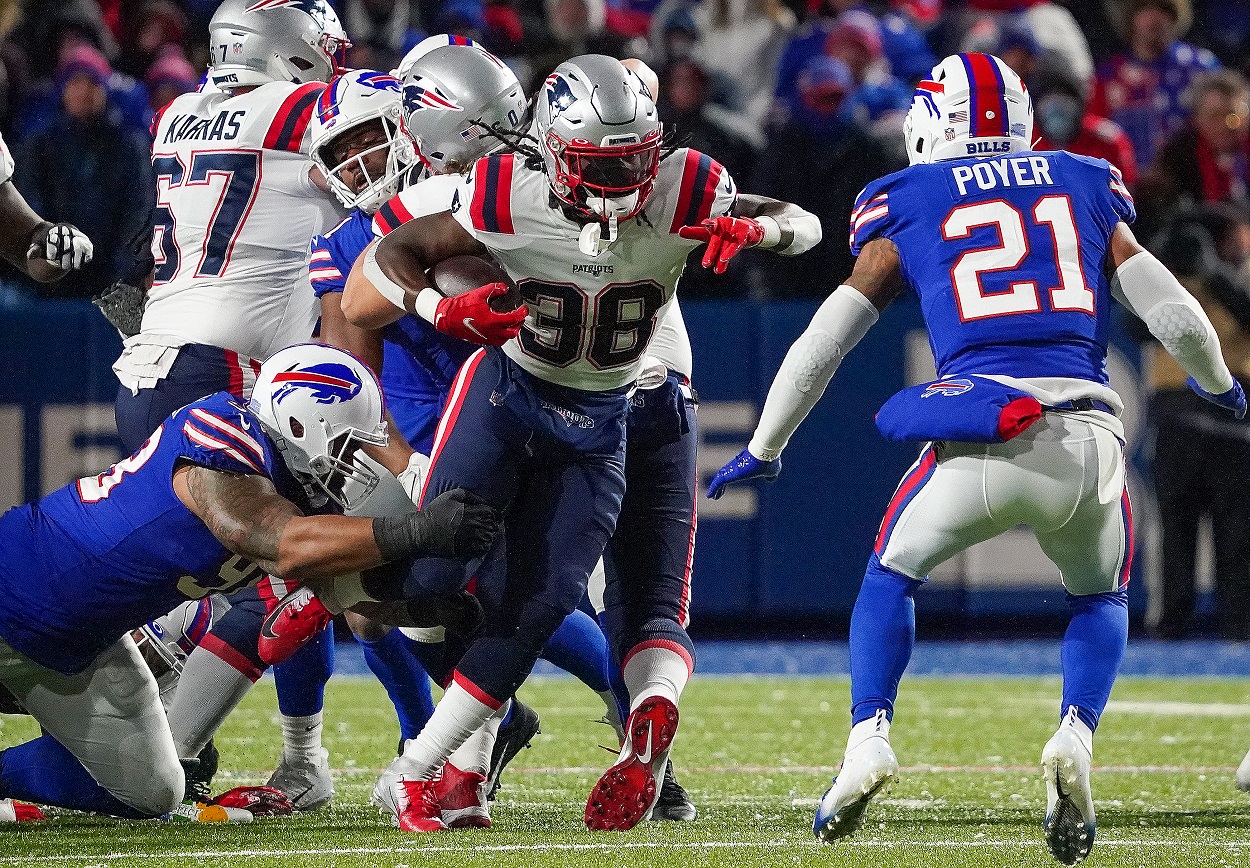 The last time the Patriots and Bills met at Highmark was a Monday Night Football game in early December. It was a cold-weather affair, as is typical for Buffalo in December, and the Patriots came out and absolutely imposed their will on Buffalo, winning an ugly but impressive contest, 14-10.
What made that game so impressive was that Belichick came into it knowing that his team's best path to a win in the frigid and windy weather was to pound the rock. He knew it; the Bills knew it. Everybody watching the game knew it.
Belichick and offensive coordinator Josh McDaniels called run-after-run-after-run, and Buffalo was helpless to stop it.
The Patriots rushed for 222 yards as a team, led by Damien Harris and Rhamondre Stevenson. Harris had 10 carries for 111 yards and a touchdown, and Stevenson put in a strong day at the office carrying the ball 24 times for 78 yards.
It was a test of wills that night in Buffalo, and Belichick and the Patriots won out.
"Our running game, I think for the most part, has been fairly effective," said Josh McDaniels in the lead up to the third matchup with Buffalo. "And we know at this time of year — it doesn't matter what the weather is, doesn't matter who the opponent — being able to run the football and being able to stop the run and being able to cover kicks … are an important part of winning."
Facing an even more inclement situation in terms of weather in this contest, you can bet the Patriots will go back to the well and dare the Bills to stop their rushing attack once again.
Would you count out Belichick in the Patriots in a test of wills? In a mind over matter situation?
History would suggest you shouldn't.
Stats courtesy of ESPN and Pro Football Reference.
RELATED: How Many Times Have the New England Patriots and Buffalo Bills Met in the NFL Playoffs?
Related post url: