Bill Belichick Offered a Glimmer of Hope for Jaguars Fans Amidst All the Urban Meyer Drama
2021 was not a good year for the Jacksonville Jaguars. That goes without saying. Between the failed Urban Meyer hiring that resulted in months of drama, to No. 1 overall pick Trevor Lawrence struggling to get off the ground during his rookie season, the Jaguars are staring down another wasted regular season.
Rebuilding in the NFL is never easy. However, Jacksonville had a sense of serious optimism when they secured the No. 1 overall pick in the 2021 NFL Draft. Lawrence was being built up as the second coming of Andrew Luck, causing Jaguars fans to believe a quick fix was potentially in their near future.
Obviously, that quick fix didn't occur. The Jaguars are 2-13 heading into their Week 17 game with the New England Patriots and are currently in line to pick first overall for the second year in a row. However, despite all this, Patriots head coach Bill Belichick felt compelled to offer a sense of hope to struggling Jags fans.
Bill Belichick: 'I think [Trevor Lawrence] will Be a solid NFL player'
With the Jaguars a few weeks removed from firing Urban Meyer, all attention has shifted toward Trevor Lawrence and his rookie season struggles. He ranks 31st in passer rating and 29th in quarterback rating, and hasn't thrown a touchdown since Week 12.
Critics are starting to target the rookie gunslinger left and right. However, Bill Belichick believes there's still an outstanding football player trapped inside Lawrence, begging to be let out.
"I'd say the offense has probably gotten comfortable with the things [Lawrence] does best," Belichick said.
"Definitely, a good level of execution there. They did a good job last week against the Jets, mixing in different varieties of passes, quick throws, moving pocket throws, deep balls, third-down conversions, red area plays. He's pretty good at all of them and continues to get better. So I think he's had a good year, and I think he'll be a solid NFL player. Maybe great, I don't know, but he's certainly made a lot of progress this year."
The Jaguars shouldn't panic about Lawrence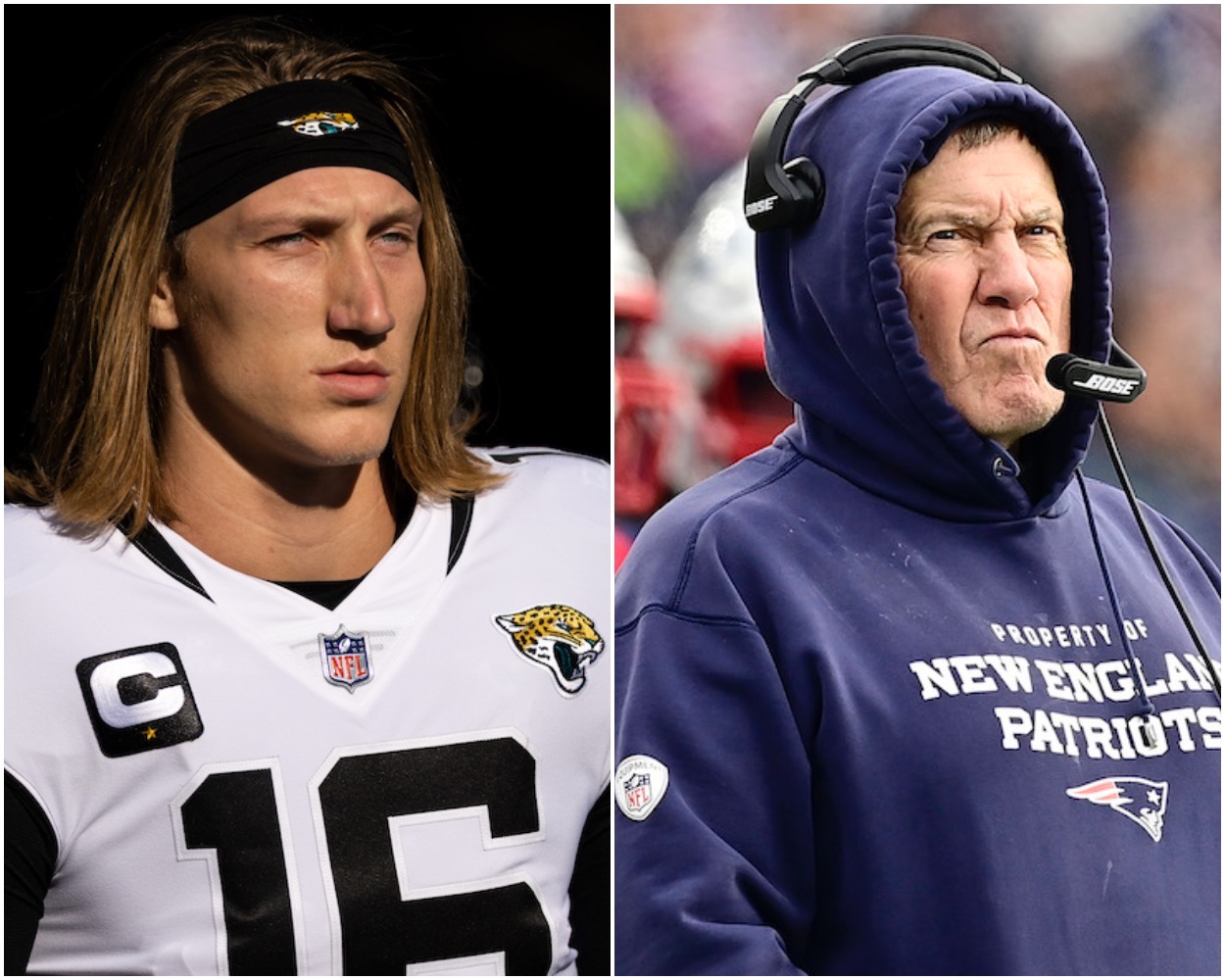 Belichick is known for the mind games he likes to play with rookie quarterbacks. However, his praise for Lawrence comes across as fairly genuine. Plus, there's really no reason for Belichick and the Patriots to need an extra edge against the lowly Jaguars come kickoff.
Ultimately speaking, Belichick is correct with his assessment. The results and stats haven't always looked the prettiest for Jacksonville, but there are zero reasons for the organization to be concerned about their rookie quarterback. Lawrence was arguably set up to fail when he was drafted into an Urban Meyer-coached system. This whole season has been a bit of a throwaway.
The Jaguars need to nail their next coaching hire
Moving forward into the offseason, the best thing the Jaguars can do for Lawrence and his overall development is nailing their head coaching hire.
They need to bring someone into the building who can develop and grow Lawrence.
Former Philadelphia Eagles head coach Doug Pederson has already popped up as an interview candidate for the Jaguars. He'd make a lot of sense due to the great work developing Carson Wentz in 2016 and 2017 — a similar type of prospect to Lawrence.
All stats courtesy of Pro Football Reference.