How Long Must Bill Belichick Coach to be the Oldest NFL Coach Ever?
Despite the New England Patriots' continued dominance, they still have an old quarterback and an old head coach. For nearly two decades, Bill Belichick and Tom Brady have been the faces of the franchise, and with both continuing well past the typical age limit for their jobs, many begin to wonder if they will ever truly step away from the game of football.

Belichick once dismissed the notion of coaching into his 70s. But if recent comments are to be believed, he might be having a change of heart about how long he wants to coach and could one day top the list of oldest NFL coaches ever.

Bill Belichick's career
Despite being synonymous with the New England Patriots, Belichick's career as a head coach began with the Cleveland Browns in 1991. If his Patriots career is defined by non-stop Super Bowl contention, his Cleveland Browns career is defined by mediocrity. Belichick only had one winning-season with Cleveland, going 11-5 in 1994 before flipping that around and going 5-11 the following season.

His journey didn't begin in Cleveland, however. Bill Belichick worked around the league starting in 1975 when he was only 23 years old. After working as a special assistant with the Baltimore Colts, Belichick held various jobs with the Detroit Lions, Denver Broncos, and New York Giants. Between his tenure in Cleveland and his tenure as New England's head coach, he had a one-year stint in New England as an assistant coach and another stint with the New York Jets.

Belichick had his briefest stint as head coach of the New York Jets, a job that he bizarrely stepped down from during his introductory press conference with the team. His sudden move back to New England came later, and everything since then is history. Six Super Bowls, three Coach of the Year awards, and a whole lot of winning seasons made him one of the best head coaches in history. If he retired today, some might say he was the best, but he may not be in the mood to do so any time soon.

When will Bill Belichick retire?
Bill Belichick has walked back the comments he made in a 2009 documentary about his life in which he stated his intentions to retire before he turned 70. This season, after winning his combined (regular season and postseason) 300th game of the season, he explained that he will step away when he feels like he is too old to coach.

"When I said it, maybe I didn't know what 70 felt like," Belichick said to radio station WEEI (per ESPN). "So I'm not really sure if that's an accurate statement today or not. At the time, I didn't feel that way. Now that I'm closer to that age, I don't know."

Although Belichick keeps many things about his career silent, he has stated how much he enjoys working with his sons on his staff and has expressed the feeling that he feels young for his age. At 67 years old, he's already one of the oldest coaches in history, although he isn't currently the oldest coach in the NFL.

Where does Belichick rank among the oldest NFL coaches ever?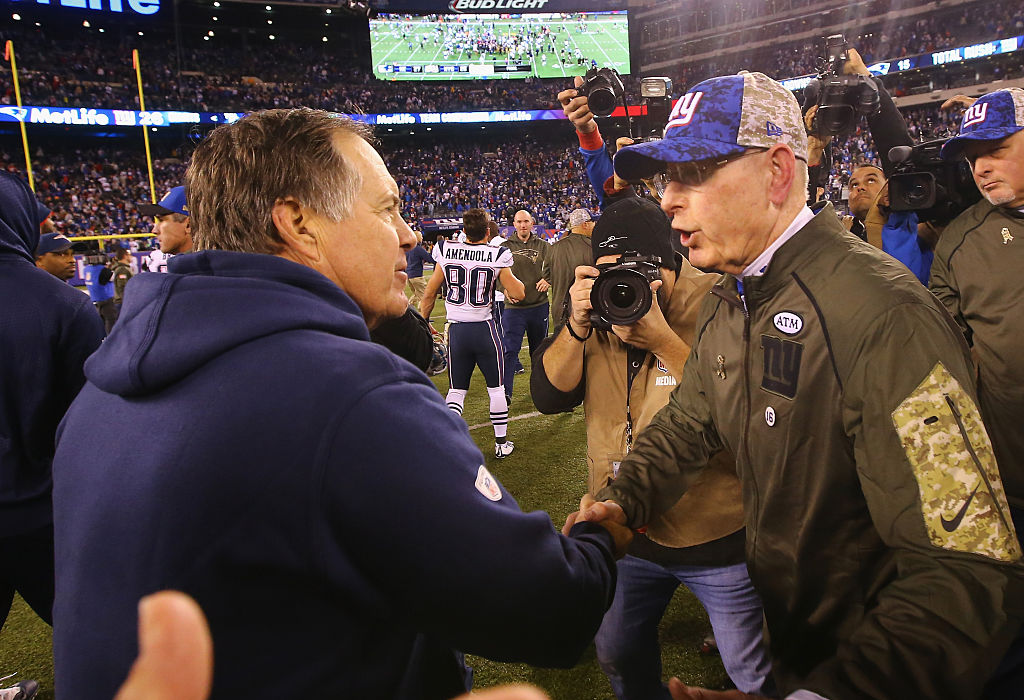 In terms of current coaches, Bill Belichick is the second-oldest coach in the NFL behind Pete Carroll, whom Belichick ironically replaced as head coach of the Patriots. Carroll is currently the seventh-oldest coach NFL history, with Belichick being tied with several others for the eighth spot. Ahead of both coaches, however, are a slew of some of the greatest to ever take the sideline.

Dick Vermeil and Tom Coughlin were both 69 years old when they finally hung it up. Gunther Cunningham was 70 when he finally hung up his whistle as an assistant with the Detroit Lions, the same age career-assistant Al Saunders currently is.

Marv Levy comes in second at 72 years old, when he was the coach of the Buffalo Bills.

The oldest and second-most-winningest coach in NFL history, George Halas, takes the crown, however, as he was just months older than Levy when he retired.

Belichick will have to coach at least five more years to take the crown as the oldest coach, but he appears poised to do so if you listen to his words.