Bill Belichick's Past Could Come Back to Haunt Him in the Patriots' Week 15 Game Against Kenny Moore II and the Colts
The New England Patriots are the New England Patriots again.
After missing the playoffs for only the second time since 2003 last season, the Pats are in the running for the AFC's No. 1 overall seed again this year. They are currently 9-4 and have the edge over the Tennessee Titans and Kansas City Chiefs for first place in the conference. 
However, in Week 15, Bill Belichick's squad will play another potential playoff team in their old rival the Indianapolis Colts. And while the Colts-Patriots rivalry has a lot of history, one of Belichick's past personnel mistakes could come back to haunt him in the game: Kenny Moore II.
Bill Belichick and the Patriots cut Kenny Moore II in 2017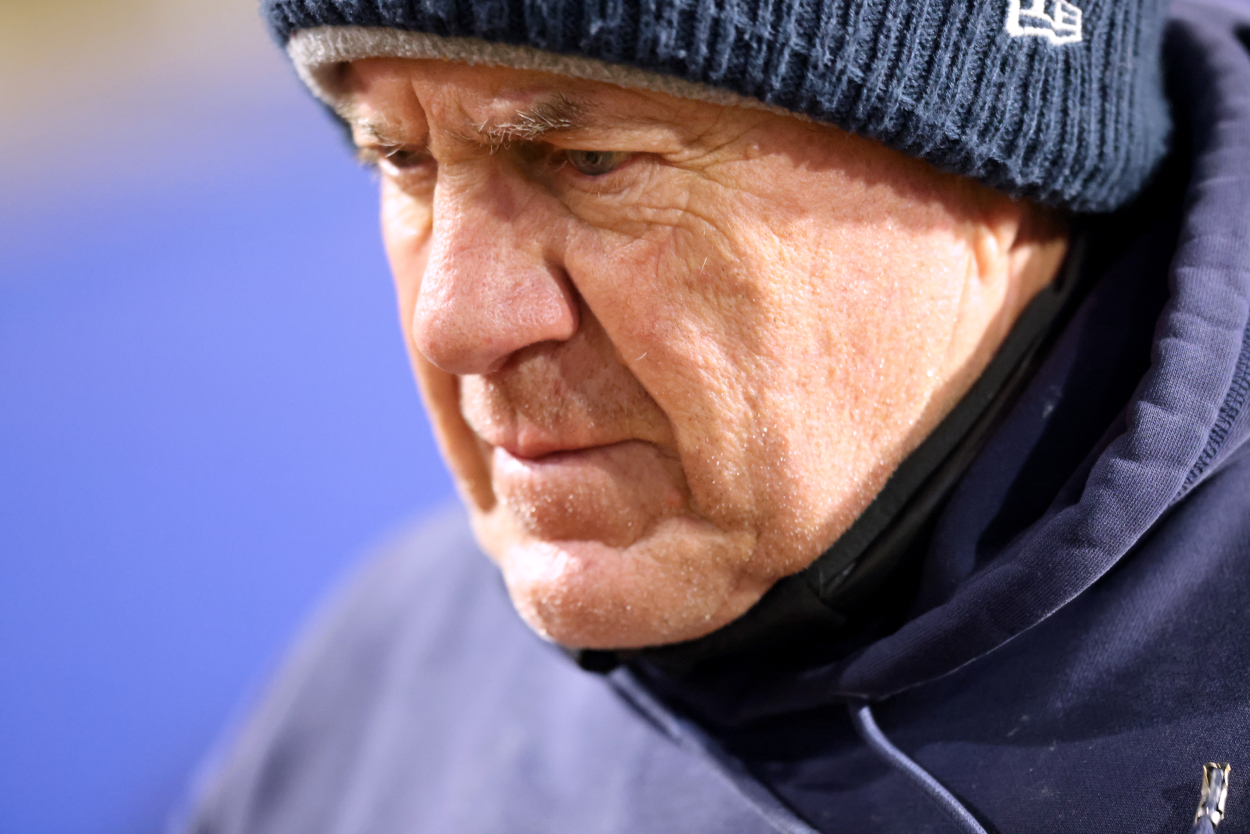 Kenny Moore II went undrafted out of Valdosta State in 2017. He then signed with the New England Patriots but only spent four months with the team.
Those four months, though, were long enough, as it appears Moore wasn't the biggest fan of Bill Belichick's "Patriot Way."
"The longest four months of my life," he said earlier this year to Tyler Dunne and Go Long, per USA Today's Colts Wire. "I thought I was done with football."
The Patriots waived Moore before the 2017 season began, and the Colts claimed him almost immediately. But while Moore was probably just happy to get a fresh start with a new team, he has since proven the Pats wrong for letting him go.
Moore has become a star cornerback for the Indianapolis Colts
Since signing with the Colts, Kenny Moore II has become arguably the most underrated cornerback in the NFL.
Here's what his stats looked like through his first three seasons.
2017: 38 total tackles and 1 interception in 16 games and 5 starts
2018: 77 total tackles, 1.5 sacks, and 3 interceptions in 15 games and 15 starts
2019: 61 total tackles, 2.5 sacks, and 2 interceptions in 11 games and 11 starts
That's definitely not too shabby for an undrafted guy out of a small school like Valdosta State. 
But in 2020, Moore had what should have been a Pro Bowl season. The 5-foot-9 corner recorded 80 total tackles to go with 2.0 sacks and four interceptions. His play was crucial for a strong defensive unit that ranked in the top 10 of the NFL and helped lead Indy to the postseason.
However, that campaign wasn't even his peak. Kenny has since been more dominant this year, and that could be bad news for the Patriots.
Bill Belichick's past could come back to haunt him and the Patriots in Week 15
So far in 2021, Moore's stats are ridiculous. He's No. 1 among all corners in total tackles with 77 and eighth in interceptions with four. Moore also has 1.0 sack and a forced fumble this year.
His play has been so impressive that he's finally getting the recognition he deserves. Bill Belichick's former quarterback, Tom Brady, praised him when the Tampa Bay Buccaneers took on the Colts earlier this season.
"Way to play, dude," Brady said to Moore in a conversation that was featured on Hard Knocks, per Colts.com. "Great job out there. Keep it going. You got a great career going. You know what to do. I already seen it for the last four years."
Now, heading into Week 15, Moore has a chance to get revenge on his (and Brady's) old team.
The Patriots, who are 9-4 and No. 1 in the AFC, play the 7-6 Colts, who currently sit at No. 6. And while the Pats' defense has led the way so far, their offense has been solid, too, averaging 26.9 points.
New England, though, has a rookie quarterback in Mac Jones, and talented corners like Moore typically love jumping at the opportunity to catch an inexperienced gunslinger slipping.
Jones has a nice touchdown-to-interception ratio of 16-to-8. But he threw three interceptions against the New Orleans Saints, who have forced the sixth-most picks in the NFL this year. He also threw interceptions against the Buccaneers, Dallas Cowboys, and Houston Texans, who all rank in the top 10 in that category.
So, what about Moore and the Colts? They are fourth in interceptions with 15 and No. 1 in total turnovers with 29.
It could be a long night for Jones when he faces Indy on Saturday.
Belichick will, of course, have his young QB ready to play against the Colts' tough defense. But Jones' inexperience, combined with Indy's affinity for forcing turnovers and Moore's stellar play, could result in a difficult matchup for the Pats.
Stats courtesy of Pro Football Reference