Bill Belichick and the Patriots Gave Tom Brady a $16 Million Unretirement Gift in Shaq Mason
Tom Brady shocked the sports world by announcing his return to the NFL just over a month after retiring. Bruce Arians and the Tampa Bay Buccaneers likely let out a sigh of relief, as they can wait at least another year before rebuilding. Bill Belichick and the New England Patriots welcomed TB12 back to the league with a massive gift to celebrate.
With Ali Marpet retired and Alex Cappa heading to Cincinnati, the Bucs were desperate for some offensive line help. Somehow, the front office acquired Shaq Mason from the Patriots via trade.
The surprising move comes as the GOAT looks to handle unfinished business.
The Patriots trade Shaq Mason to the Buccaneers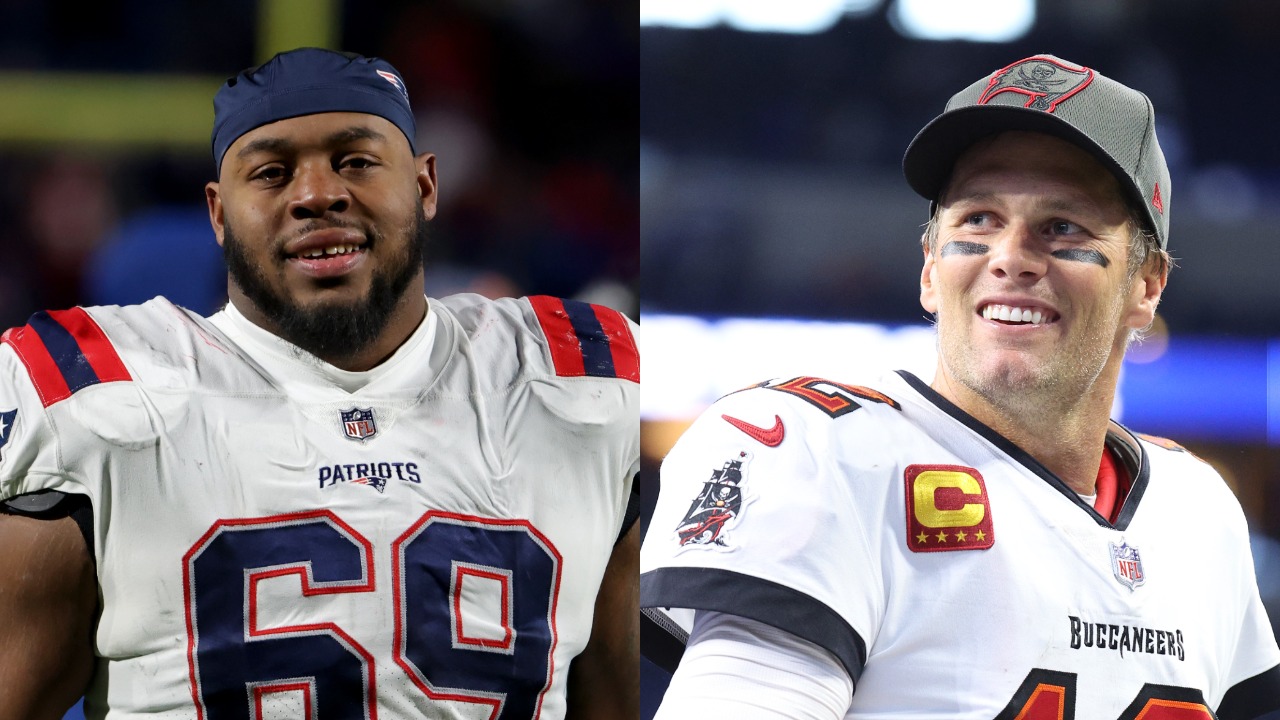 A lot has changed in Tampa Bay over the past few days. With Tom Brady coming out of retirement, speculation is ramping up about which players will return for the 2022 season. Pro Bowl center Ryan Jensen is coming back. However, the Buccaneers are losing two starters in Ali Marpet and Alex Cappa.
General manager Jason Licht knew he needed to make a move to get things back on track, and that's precisely what he did.
According to NFL Network insiders Ian Rapoport and Mike Garafolo, the Bucs acquired guard Shaq Mason. Tampa Bay agreed to terms on a trade that sent a 2022 fifth-round draft pick to the New England Patriots in exchange for the veteran offensive lineman.
The deal reunites Mason with Tom Brady. The two were teammates for five seasons under Bill Belichick in New England. Landing the Georgia Tech product is a massive get for Bruce Arians and company.
Bill Belichick is surprisingly giving Tom Brady a boost
When Tom Brady decided to sign with the Tampa Bay Buccaneers before the 2020 season, many people pit him against Bill Belichick. The 15-time Pro Bowler wanted a fresh start, but people couldn't help but wonder if the quarterback or coach meant more to the Patriots dynasty.
It's unclear what Brady and Belichick's relationship is currently like, but the legendary head coach certainly threw his former quarterback a bone.
Shaq Mason is one of the most consistent offensive guards in the NFL. The 28-year-old started 98 games across seven seasons in New England. He's coming off a fantastic 2021 season. He played 955 snaps, allowing just one sack and committing four penalties. Pro Football Focus gave him a grade of 85.2 for the year.
The numbers speak for themselves. Mason is one of the top interior linemen in the league, and the Bucs landed him for just a fifth-round pick. That's a steal, and surely, Tom Brady couldn't be any happier.
Mason now joins a solid unit that includes Ryan Jensen, Tristan Wirfs, and Donovan Smith.
Can Tampa Bay get back to the Super Bowl?
It's difficult to believe that Tom Brady would return to football if he didn't think the Buccaneers had a legitimate shot at winning the Super Bowl in 2022.
Tampa Bay finished with a 13-4 record in 2021, good for the NFC South crown. With Brady back in the fold, the Bucs will most likely be the favorites to win the division again.
Bruce Arians' squad still has several key free agents unaccounted for, including running back Leonard Fournette, defensive end Jason Pierre-Paul, and defensive tackle Ndamukong Suh. Bringing Fournette back should be a high priority given his rapport with Brady.
Tampa Bay placed the franchise tag on Chris Godwin, so he'll be back to pair with Mike Evans. Rob Gronkowski is an unrestricted free agent. However, he's Brady's guy, so it wouldn't be surprising to see him re-sign. The defense lost safety Jordan Whitehead, but the Bucs retained Carlton Davis, which was huge.
A good chunk of the team will be back in 2022. As Tampa Bay recently learned, making it out of the NFC won't be an easy task. Still, Tom Brady isn't coming back to play around. He's on a mission.
All stats courtesy of Pro Football Reference
RELATED: Tom Brady's Radio Partner, Jim Gray, Reveals Why He Believes the Buccaneers QB Unretired