Bill Belichick Predicts a 'Hard Decision' at Quarterback Despite Naming Cam Newton His Starter
If you talk to New England Patriots head coach Bill Belichick about the quarterback competition between Cam Newton and Mac Jones, you might get an odd answer.
On one hand, Belichick says that Newton is his starter. But on the other hand, he hasn't ruled out Jones.
It almost sounds like Belichick may be conflicted on who should start the season. Newton may be the starter for now, but Jones is coming on strong.
Belichick says picking a quarterback will be a hard decision
Bill Belichick seems to be sticking to his guns when it comes to picking his starting quarterback. When asked again who will start, he reiterated that Cam Newton will get the nod.
Per Patriots Pulpit, he said: "We'll take a look at the whole situation. I don't think you want to evaluate players at any position off of one or two plays, or maybe days. From a consistency standpoint that's always important, and obviously production. Hopefully, those things will be good and I'm sure it'll be a hard decision, but we'll see how it goes. Just let them play and try to do what we feel is best for the team based on their performance."
Despite those comments, Belichick then said: "Cam's our starting quarterback. I think I said that."
Belichick's words seem to contradict his feelings about the situation. He is saying that Newton is the starter but is also not ruling out the possibility of Jones starting at some point either.
Jones and Newton both look good
Both quarterbacks looking good at times in practice may explain why there isn't a clear-cut leader. Even Newton has been impressed with Jones, according to ESPN.
"You never know when he's really down on himself. You don't really necessarily know when he's up, either," he said. "He's real cool."
As a first-year starter at Alabama last year, Jones was the most accurate qualified passer in the NCAA, completing 77.4% of his attempts with 41 touchdowns and 4,500 yards.
Newton, meanwhile, struggled in his first year with the Patriots, largely because of injuries and a bout with COVID-19, as well as a limited roster. Some other Patriots players also opted out because of the ongoing pandemic.
The Jones and Newton relationship seems solid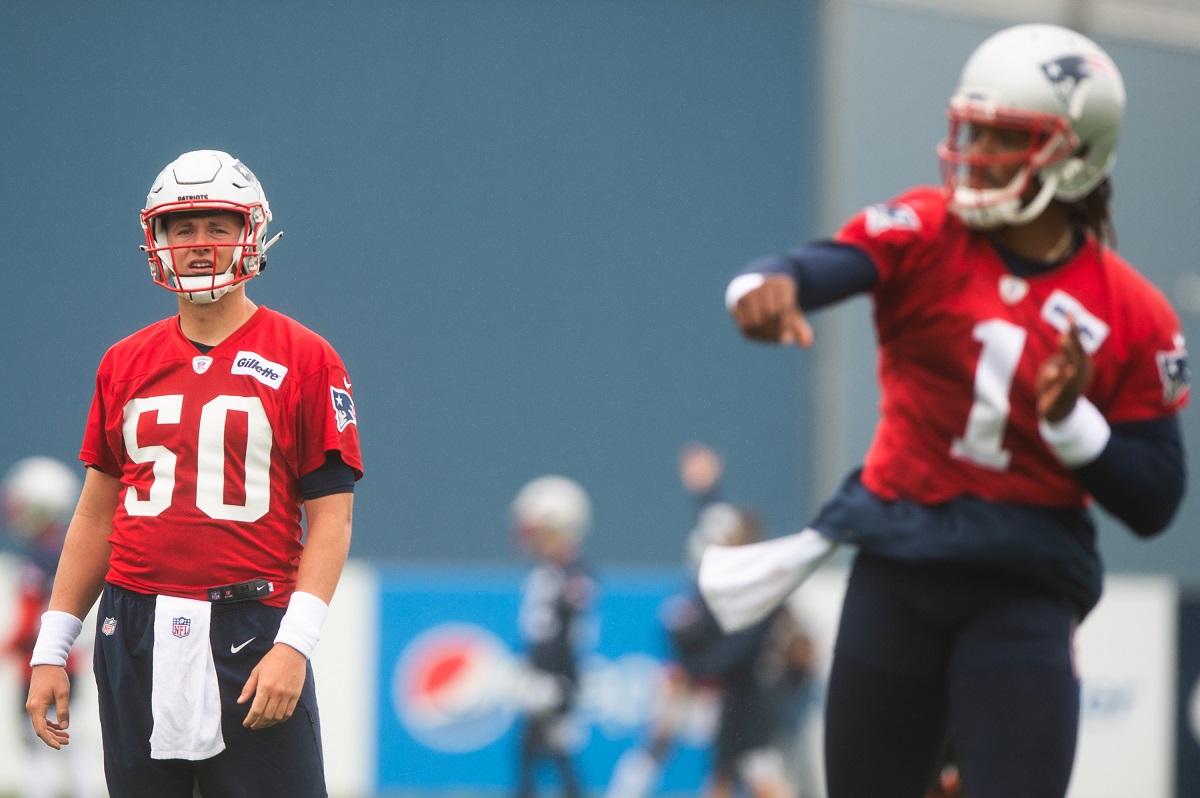 Despite the competition taking place between the two, they seem to share a lot of admiration.
Newton seems to be mentoring Jones, but he also recognizes this is still a competition.
"Hopefully, I can learn from him and try to be like him in some ways and have fun with it," the rookie said. "We're going to grow together, and we're going to help each other win games, hopefully."
"Ever since I've been here, there's been a quarterback competition," Newton added. "I think in essence, that's the underlying 'Patriot Way.' Every position has competition there, and the quarterback position is no different."
It's rare to see a veteran quarterback mentor a rookie or even be welcoming to a guy who could take his job. All you have to do is look at what is happening in Green Bay with Aaron Rodgers and Jordan Love.
Rodgers was not pleased with the Packers' decision to draft Love without talking to him first, which was one of the reasons he wanted out of Green Bay before eventually reporting to camp.
But Newton and Jones' relationship seems to be on solid ground — at least for now.