Bill Belichick Quietly Disrespected Rob Gronkowski During the Patriots' Recent Offseason Workouts
Football fans already circled Sunday, October 3, on their calendar as the day when Bill Belichick and the New England Patriots would welcome Tom Brady and Rob Gronkowski back to Gillette Stadium.
Emotions were already likely to be high, both in the stands and on the sidelines. But now, Gronkowski may have a bit more incentive to spike the football against his former team.
Belichick re-issued Gronkowski's No. 87 during offseason workouts
When Gronkowski played his final down for the Patriots in February 2019, it made sense to think no player in franchise history would ever wear his No. 87 again. Realistically, the Patriots likely would have kept the number out of circulation until officially retiring it in a ceremony.
That might be the case in most cities, but not in Foxborough, Massachusetts. During the Patriots' offseason workouts, wide receiver Devin Ross wore No. 87 at minicamp.
Ross, who has been on the Patriots' training camp roster and practice squad in recent years, recently switched to No. 8. However, he and linebacker Ja'Whaun Bentley are both wearing that number.
As of June 2021, the Patriots still had not re-issued Brady's No. 12.
Gronkowski should feel offended by Belichick's decision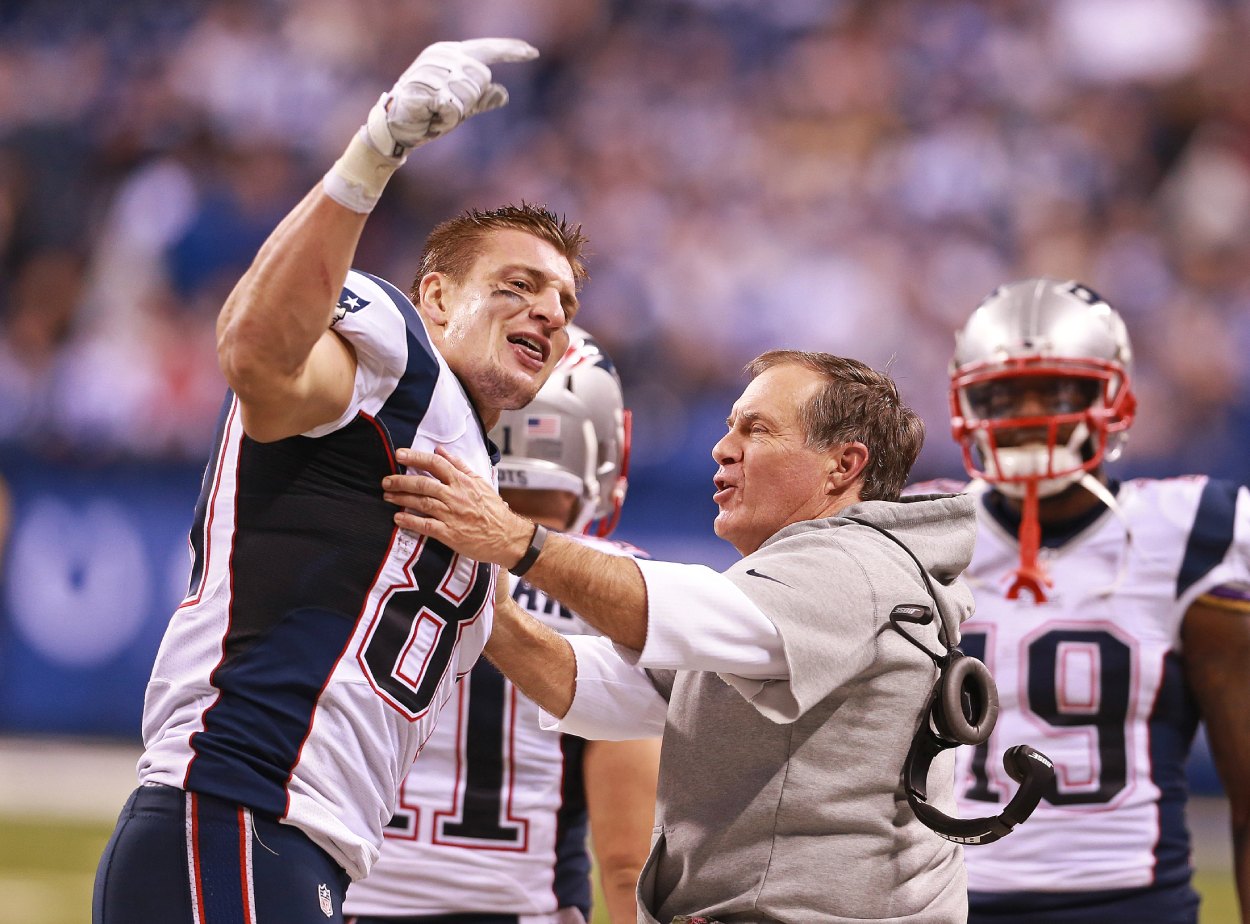 Barring a total dismantling of their relationship, the Patriots will likely honor Gronkowski at some point after he retires again. Then, he'll enter the team's Hall of Fame, and no player in franchise history will wear No. 87 again.
Yes, Belichick has continuously operated on a "business over emotions" mentality, and that's even extended to numbers. Why else would rookie quarterback Mac Jones wear No. 50 during training camp?
But if you're Gronkowski, this has to sting quite a bit. The Patriots don't win three Super Bowls in the 2010s without Gronkowski at tight end, even with all of his injuries. If you're the Patriots, the common courtesy is to keep No. 12 and No. 87 off-limits until an official ceremony. Players like Brady and Gronkowski deserve more respect aside from the upcoming clash in October.
The New York Yankees haven't re-issued Alex Rodriguez's No. 13, even in spring training, since he retired midway through the 2016 season. Likewise, when Hakeem Nicks wanted to wear No. 88 on the Colts in 2014, the team said no — and they still haven't retired Marvin Harrison's number.
We get it's the offseason, and there's only so many numbers to go around. But Belichick should know better, and Gronkowski should feel even more motivated to score multiple touchdowns on Sunday Night Football in October.
Which former Patriots players have had their numbers retired?
The day seems likely where the Patriots retire Brady's No. 12 and Gronkowski's No. 87. Brady is all but guaranteed to earn that honor, and Gronkowski shouldn't be far behind.
When that day comes, they'll join seven other Patriots whose numbers are officially out of circulation. That list includes John Hannah, the legendary left guard who wore No. 73, earned All-Pro honors 10 times in 13 seasons with the Patriots.
Gino Cappelletti (No. 20), Mike Haynes (No. 40), Steve Nelson (No. 57), Bruce Armstrong (No. 78), Jim Lee Hunt (No. 79), and Bob Dee (No. 89) all have also been honored. Of those six, only Armstrong, the six-time Pro Bowl offensive tackle, played for Bill Belichick. Armstrong's final season came in 2000, Belichick's first season coaching the Patriots.
Given how much respect Belichick has for the history of the game, don't expect to see a practice squad player wearing No. 40 this fall. But it'll certainly be interesting to see if any other Patriots ever take the field in a meaningful game with No. 12 or No. 87 on the back of their jersey.
Like Sportscasting on Facebook. Follow us on Twitter @sportscasting19.
RELATED: Patriots Fans Should Be Frightened by a Reported Possible Plan Involving Bill Belichick and Matt Patricia