Bill Belichick's Partnership With Tom Brady Is Over, but It Appears They're Currently on the Same Page About 1 Controversial Issue
The 2020 NFL season was an odd one. Not only were stadiums nearly empty due to the COVID-19 pandemic, but we also saw one of the most legendary and iconic partnerships broken apart: Tom Brady and Bill Belichick. The divorce between the NFL's GOAT quarterback and potential GOAT coach was highly publicized. However, Brady ultimately won his breakup with the New England Patriots by winning a Super Bowl on the Tampa Bay Buccaneers.
While Brady and Belichick are no longer on the same team, though, they are reportedly on the same page about one controversial topic right now: jersey numbers.
Tom Brady hates the NFL's new number policy
RELATED: Tom Brady Once Yelled 'Obscenities' and Threw 'Footballs' at a Patriots Teammate — for Doing Their Job
The NFL recently adopted a new rule that has more flexibility as to what numbers players can wear on their jerseys.
Here are the new guidelines, according to ESPN:
Quarterbacks, punters, and kickers can now wear 1–19.
Defensive backs can wear 1–49.
Running backs, wide receivers, and tight ends can wear 1–49 and 80–89.
Offensive linemen can wear 50–79.
Defensive linemen can wear 50–79 and 90–99.
Linebackers can wear 1–59 and 90–99.
Tampa Bay Buccaneers quarterback and New England Patriots legend Tom Brady seems to hate the new rule, though.
"Good luck trying to block the right people now!" Brady posted to his Instagram story, according to ESPN. "Going to make for a lot of bad football!"
He also posted a screenshot of an article discussing the rule, along with the word "DUMB" while tagging the NFL and NFL Players Association. Additionally, Brady added: "Why not let the Lineman wear whatever they want too? Why have numbers? Just have colored jerseys…why not wear the same number?…DUMB," per ESPN.
TB12 is not happy. However, it appears his former coach isn't too thrilled about the new rule, either.
Bill Belichick reportedly agrees with Tom Brady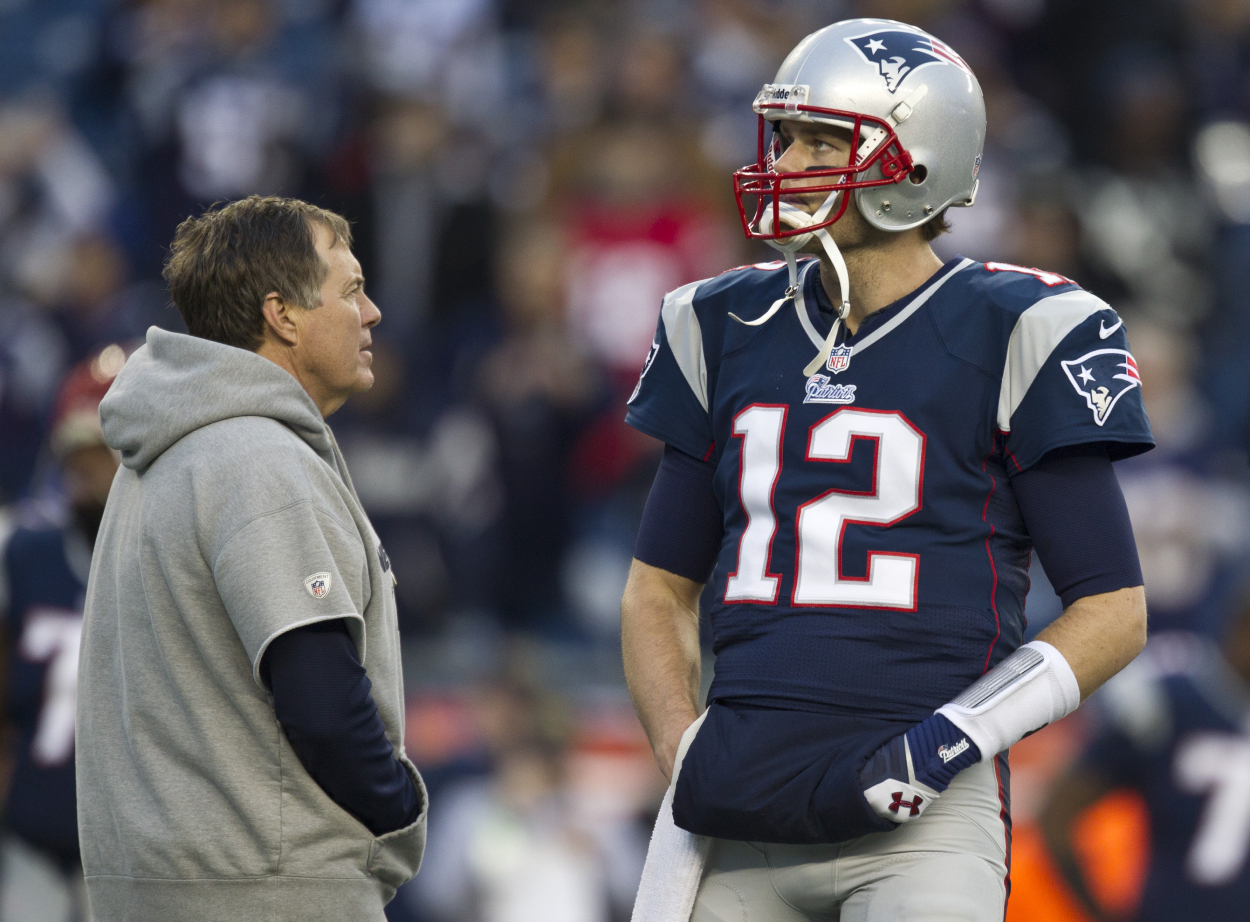 RELATED: Erin Andrews Says Tom Brady Wants to 'Kick' Everyone's 'Ass' — Even Her Husband's
While Tom Brady has made his frustrations with the new number policy clear, Mike Florio of ProFootballTalk reported the Patriots were among the few teams to vote against it.
He also said Bill Belichick reportedly hates it.
Florio added that sources believe "four or five teams voted against the rule." He also said "nine 'no' votes were needed to kill the rule."
Obviously, not everyone agrees with Belichick and Brady. The rule wouldn't have been approved if that were the case. In fact, Peter King recently said on PFT Live that the Kansas City Chiefs wouldn't have proposed it if Andy Reid thought there could potentially be disadvantages for offenses, per ProFootballTalk.
However, Brady and Belichick are the GOATs for good reason. So, if they have a problem with a new rule, there might be some validity to their concerns.
Others have reacted to the NFL's new rule
RELATED: Erin Andrews Has Covered Football for Years but Has Been 'Intimidated' by 2 Coaches: 'I Used to Stand as Far Away as Possible'
Anytime the best quarterback in NFL history blasts the league that he's made his money in, people are going to talk.
ESPN's Stephen A. Smith has taken Tom Brady's side.
"All I'm saying is that if Tom Brady — who is the man, the GOAT, the reigning, defending Super Bowl champion, a seven-time champion — that dude, if he is of the mindset that this is something that's not good for the NFL, I'll tell you this much: I'm not going to dismiss it. I'm going to listen because he would know," Smith said on the April 23 episode of First Take.
Former NFL punter Pat McAfee took the same stance as Smith.
"If Tom Brady says something, I'm on his side," he said on the April 22 episode of The Pat McAfee Show. "… I saw some people say, 'If college quarterbacks can figure it out, why can't Tom?' Well, what Tom alluded to was, 'You're going to see a lot of bad football.' Guess what college football is?"
McAfee's point is interesting, but Brady is a million times better than those college quarterbacks. It should be much easier for him to adjust to the different numbers that it is for them.
No matter what side of the issue you're on, though, it's interesting to know Bill Belichick and Tom Brady are on the same side once again.