Bill Belichick's Underpaid Patriots Star Just Took to Twitter to Address the Big Elephant in the Room
Last offseason, Bill Belichick saw Tom Brady leave the New England Patriots. Now, he must worry about his best defensive player potentially not playing for his team: Stephon Gilmore.
Gilmore — who appears to be in a contract dispute with the Pats — is among the best cornerbacks in the NFL, and he deserves to be paid like it. He seems to understand that, too, as he recently took to Twitter to address the big elephant in the room.
Stephon Gilmore deserves a new contract from Bill Belichick and the Patriots
While in New England, Gilmore has become one of the best defensive players in the league. He has earned three consecutive Pro Bowl selections, was a first-team All-Pro in 2018 and 2019, and he won the AP Defensive Player of the Year award in 2019.
However, Gilmore is now entering the fifth year of his five-year, $65 million deal that he signed with the Patriots in 2017. He is only scheduled to make a $7 million base salary in 2021 after the Patriots advanced him $4.5 million last season.
Because of this — and because the market for corners has risen exponentially in recent seasons — Gilmore appears to want a new contract.
He didn't attend the team's mandatory minicamp in June, and Belichick just said he didn't "expect him to be" there, per CBS Sports. The coach also added that the Pats would "just focus on the guys who" were there.
Now, Gilmore is going public about his contract dispute.
Stephon Gilmore took to Twitter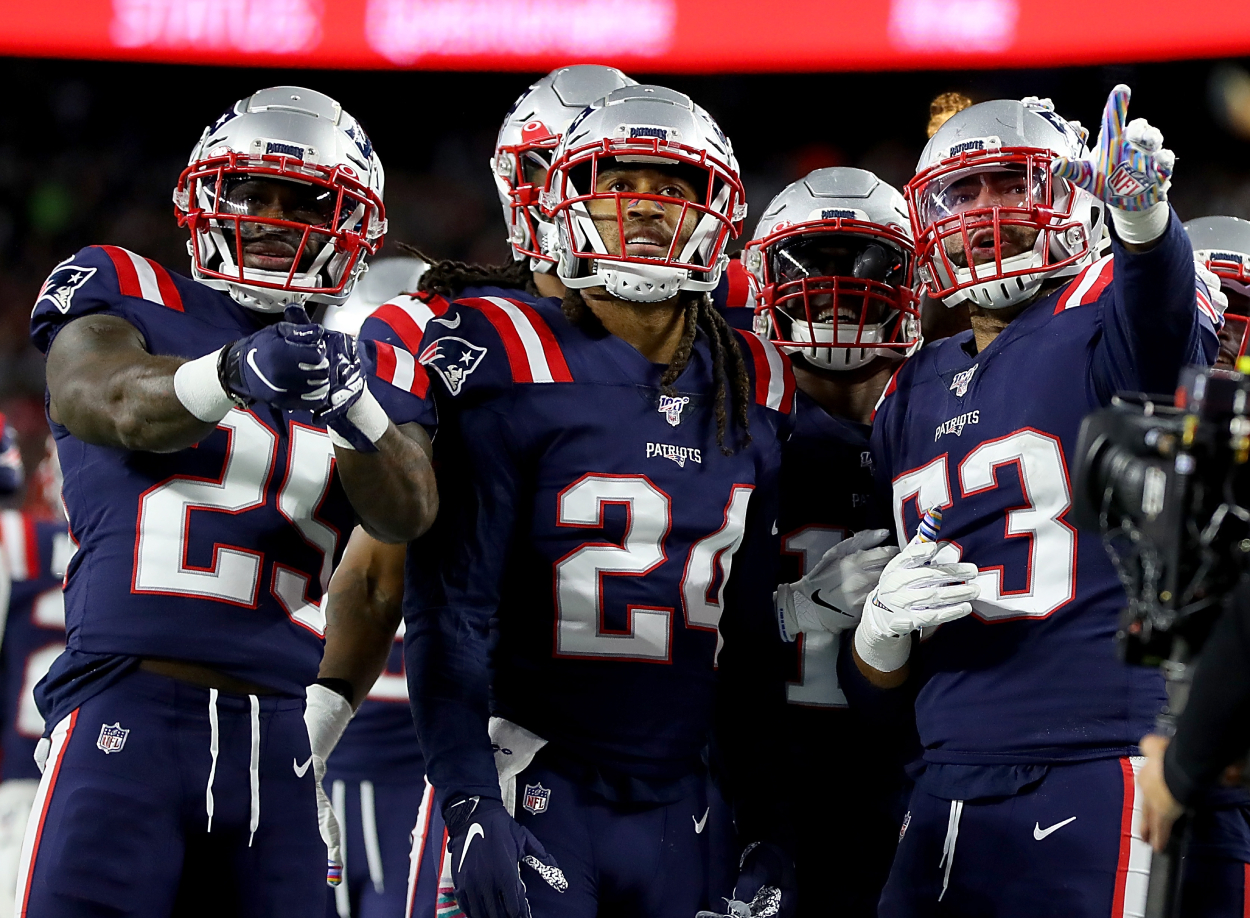 On June 29, Gilmore quote-tweeted a since-deleted post from CBS Sports HQ. Thanks to an ESPN report, we know that the CBS Sports HQ tweet was a list of the top 10 highest-paid defensive backs in the league based on their average salary per year. Gilmore, who makes an average of $13 million annually, was not on the list.
So, which defensive backs made CBS Sports' top 10?
Jalen Ramsey ($20 million per year)
Marlon Humphrey ($19.5 million)
Tre'Davious White ($17.25 million)
Darius Slay ($16.68 million)
Byron Jones ($16.5 million)
Xavien Howard ($15 million)
James Bradberry ($14.5 million)
Marcus Peters ($14 million)
Trae Waynes ($14 million)
William Jackson ($13.5 million)
Gilmore just re-posted the tweet with the two words: "Oh OK."
ESPN reported that this is the most Gilmore has said publicly about his contract. Belichick, though, seems like a guy who wants this stuff to stay behind closed doors, so he's probably not too happy about it.
But what's next for Gilmore?
How much should Bill Belichick and the Pats (or another team) pay the corner?
Per Spotrac, CBS Sports HQ may have missed some guys who should have been in the top 10, but the important point is still there: Gilmore is not one of them.
In fact, he is tied for 18th among defensive backs for average annual salary and tied for 12th among corners.
Gilmore deserves to be in the top five.
None of the top five annual secondary earners have won a Defensive Player of the Year award, and only one player (Jalen Ramsey) has earned as many Pro Bowl (four) and first-team All-Pro selections (two) as Gilmore.
The only things hurting Gilmore are: 1. He only played in 11 games last season, and 2. He turns 31 years old in September. The Pats star still deserves to make $16–20 million per year, though, instead of the $7 million salary he will make in 2021.
So, for Belichick and the Patriots, the range mentioned above is what they should expect to pay him annually on his next contract. However, if they don't want to fork over that much, they may just have to trade him so they don't lose him for nothing.
Either way, New England is in a tough spot. Letting a guy like Gilmore go could be a huge blow to a franchise that's looking to get back to the playoffs. On the other side of the coin, committing a bunch of money to Gilmore could hurt their future roster-building abilities.
This could all just come down to whether the Patriots believe he can live up to the massive contract he wants, or if they think the risk of signing an aging star is far greater than the reward. Things could get interesting.
Stats courtesy of Pro Football Reference; Contract numbers courtesy of Spotrac
RELATED: DeAndre Hopkins Appears to Be Using Instagram to Try and Recruit Former All-Pro Stephon Gilmore to the Cardinals: 'Let Him Know It's Love'