Bill Belichick's Unique Talent-Assessing Strategy Was Recently Revealed by a Famous College Football Coach
Over the years, Bill Belichick has not only been praised for his coaching abilities with the New England Patriots. He has also been an impressive general manager who has put together multiple Super Bowl-winning rosters. So, what is Belichick's secret to assessing talent? A famous college football coach recently revealed one of Belichick's unique talent-assessing strategies and discussed how it is vastly different from other talent evaluators. That coach is Lane Kiffin.
Bill Belichick won six Super Bowls with Tom Brady and the Patriots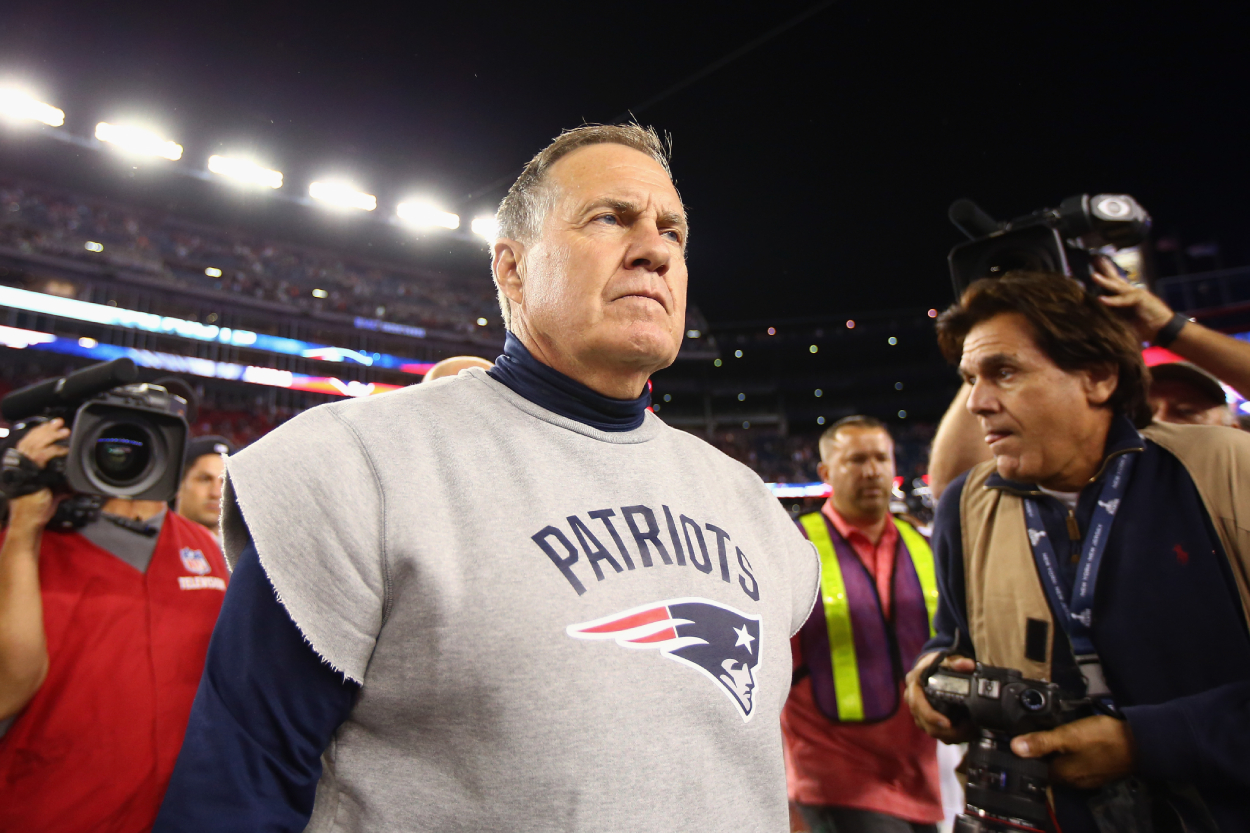 RELATED: Charles Barkley Once Became $1.2 Million Richer Thanks to Patriots Coach and Friend Bill Belichick
Over the past two decades, Bill Belichick not only coached one of the top dynasties in the history of sports, but he also helped build it.
After coaching the Cleveland Browns and spending time on several teams' coaching staffs, Belichick became the head coach of the New England Patriots in 2000. In just his second season in 2001, Belichick and a young quarterback named Tom Brady, who the team drafted the year before, helped lead the Pats to a Super Bowl title. The team then won three Super Bowls in four seasons from 2001 through 2004.
That was just the start of Bill Belichick and Tom Brady's success with the Patriots, though. Together, the two of them led New England to 13 AFC Championship Games, nine Super Bowl appearances, and six Super Bowl titles. Belichick's coaching and team-building abilities also helped New England reach the playoffs in all but one season from 2003 through 2019.
So, what is Bill Belichick's secret to his success? Lane Kiffin just gave somewhat of an inside look at what Belichick does to build elite rosters.
Bill Belichick has a unique approach to assessing NFL talent
RELATED: Rob Gronkowski Finally Opens up About Former Patriots Teammate Aaron Hernandez: 'I Was Definitely Shook'
Ole Miss and former Raiders head coach Lane Kiffin recently appeared on The Pat McAfee Show. While on the April 7 episode, he ultimately answered a question regarding how many calls he receives heading into the NFL draft about players he has coached against or coached himself.
"We get some calls, probably not as much as you'd think," Kiffin said. "No disrespect, I think a lot of people in the NFL think 'We've got it figured out. We don't need opinions from college guys.' … And I remember going to the Raiders and saying 'Alright, on every draft prospect, call their college position coach, ask the intangibles, ask what they think of them,' and [the scouts] all looked at me like, 'We're going to do what? We don't need their opinions.'"
He continued: "I know there's guys like Belichick that have personally — I remember a guy in like the third round the night before the draft, him calling me to ask my opinion on him. Not even a first-round pick. So, some people do it, and I think a lot of people don't."
Kiffin then went on to praise Belichick.
"The really good ones like him, he's so smart," Kiffin said. "I remember it was a tight end; he was like, 'OK, I remember you had Zach Miller 10 years ago with the Raiders or whatever it was. How do you compare him to him?' That's how smart he is, to be able to remember who you had and players you were around and compare them to. That's why he's so great at that."
Well, that's interesting to know. Bill Belichick's approach has certainly helped in the past. He has won six Super Bowls. However, it doesn't come without its flaws.
The Patriots must improve their NFL draft strategies
RELATED: Stephen A. Smith Sends Strong Message About Bill Belichick's Recent Spending Spree: 'He's Coming After Tom Brady'
Despite winning a Super Bowl during the 2018 season and just missing the playoffs in 2020 for the first time since 2008, Belichick and the Patriots have had quite a few misses in the NFL draft in recent years. This led to them going on a free-agent spending spree this offseason as Bill Belichick looks to hopefully find success without Tom Brady.
For them to become Super Bowl contenders again, though, Belichick must improve his talent-assessing strategy to some degree. Owner Robert Kraft knows it, too.
"In the end, if you want to have a good, consistent, winning football team, you can't do it in free agency. You have to do it through the draft. I don't feel we've done the greatest job the last few years and I really hope, and I believe, I've seen a different approach this year," Kraft said recently, according to ESPN.
Bill Belichick has proven in the past that his unique talent-assessing strategy can build Super Bowl-winning rosters. Now, he must prove that he can still do it as he tries to get back on top without his Hall of Fame quarterback.
Stats courtesy of Pro Football Reference