Bill Belichick's $288 Million Spending Spree Is Finally Catching up to the Patriots
Following Tom Brady's impromptu departure from the New England Patriots back in 2020, all eyes pointed toward New England Patriots head coach Bill Belichick. Everyone wanted to see how the future Hall of Famer would respond to losing his star quarterback.
More importantly, everyone wanted to see whether Brady was the reason the Patriots had been winning Super Bowls all those years, or if Belichick was the mastermind.
Well, Belichick struggled in 2020, and Brady won his seventh Super Bowl ring. This clearly didn't sit well with the Patriots' HC, prompting a massive spending spree from New England in the following offseason.
Looking back on Bill Belichick's uncharacteristic 2021 spending spree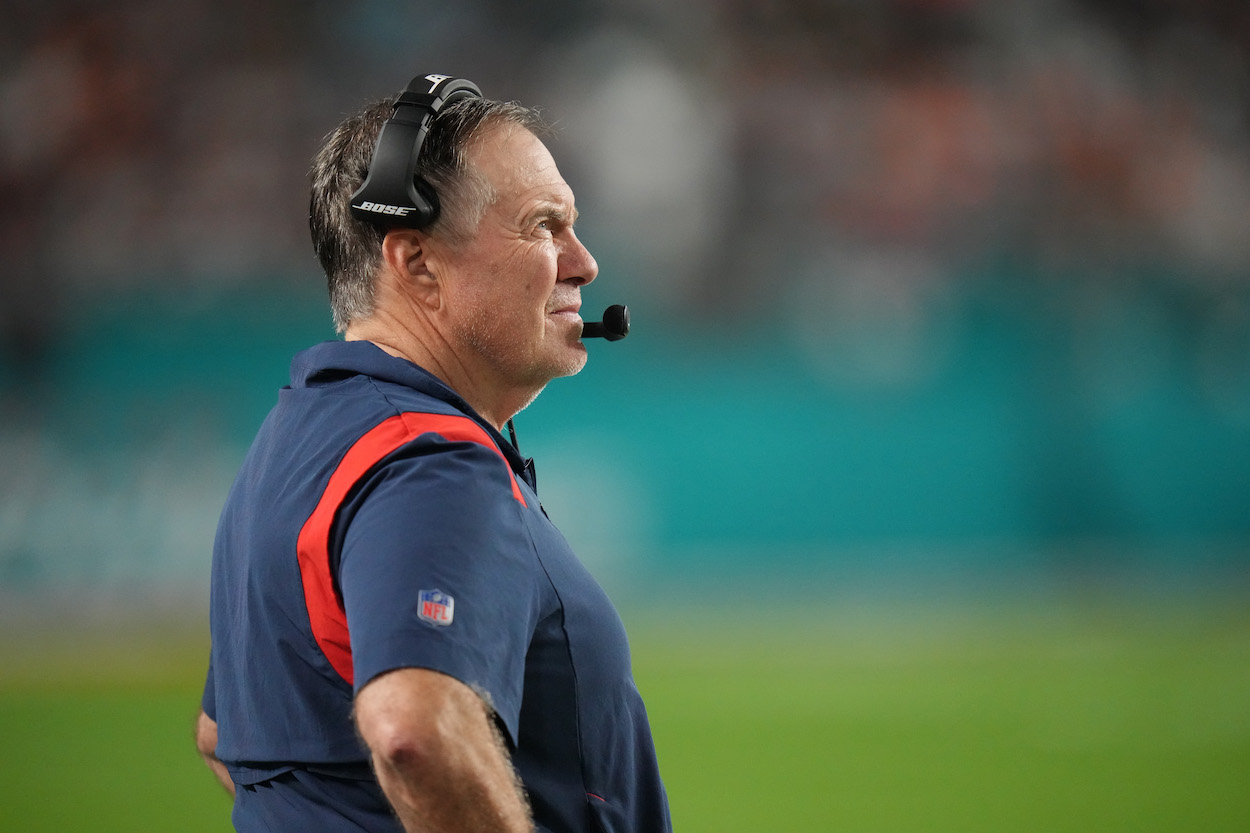 Belichick very rarely hands out massive contracts via free agency. He's more so known for his ability to play the margins and develop talent that other teams may have missed out on.
However, the 2021 offseason was a different story altogether. Belichick spent a combined total of $288 million, bringing in several free agents on both sides of the ball.
The Patriots' offseason additions included:
TE Hunter Henry — three years, $37.5 million
OLB Matthew Judon — four years, $56 million
LB Kyle Van Noy — two years, $13.2 million
WR Nelson Agholor — two years, $26 million
TE Jonnu Smith — four years, $50 million
S Jalen Mills — four years, $24 million
WR Kendrick Bourne — three years, $22.5 million
DT Davon Godchaux — two years, $16 millon
The Patriots made several other signings as well. However, those were the notable ones. It was a whole lot of spending.
Bill Belichick and the Patriots are now being forced to shed salary
It's debatable whether 2021 was a good offseason for the Patriots or not. They did make the playoffs with a rookie quarterback under center. However, several of these players did not live up to expectations, and now the team is being forced to deal with the consequences of their reckless spending.
The Patriots just traded starting guard Shaq Mason away for salary purposes. They are also expected to lose starting right tackle Trent Brown due to a lack of cap space.
Whether you were a fan of Belichick's aggressive 2021 spending or not, it's hard to ignore the severe ramifications it's having here in 2022. Being forced to depart with starting offensive linemen is never a good place to be in.
The Patriots were also unable to re-sign star cornerback J.C. Jackson this offseason, which is certainly worth mentioning as well.
What next for the Patriots?
It's possible the Patriots can do some money magic and create extra cap space this offseason. However, they've mainly been doing subtracting this offseason instead of adding. They haven't been involved in any big deals for players and are still looking for offensive line replacements.
Maybe Belichick and the Patriots have a secret plan on how they're going to turn things around. However, on the surface, it looks like the organization bit off more than they could chew in 2021. It seems like Belichick was acting out of impulse instead of looking at things rationally.
With the AFC only getting better and better these days, it's hard to imagine the Patriots being a serious threat in the conference anytime soon, considering the state of their roster.
Like Sportscasting on Facebook. Follow us on Twitter @sportscasting19.
RELATED: What Tom Brady Returning Means for the Buccaneers' Offseason Plans