Bill Belichick's 500-Word Guide on Drafting Is More Proof That Picking Against the Patriots Is a Dangerous Choice
Bill Belichick and the New England Patriots called their shot in the 2021 NFL draft.
Rather than trade up for a quarterback, such as Alabama's Mac Jones or Ohio State's Justin Fields, Belichick held his ground and selected Jones with the 15th overall pick. During a recent press conference, Belichick elaborated on the Patriots' overall draft strategy and let media members in on just how his mind works.
Bill Belichick had a 500-word answer about drafting
RELATED: Bill Belichick's Old Scouting Guidelines Reveal Exactly What He's Looking for Before Drafting a Quarterback
Aspiring readers who hope to one day work in an NFL front office should pay attention to what Bill Belichick has to say.
Belichick met with reporters on Friday, April 30, and discussed the 2021 NFL draft's first two nights. Late in the call, Belichick referenced a question that Phil Perry, a Patriots reporter, had asked about how they grade prospects.
Although Perry was not on the call, Belihcick provided an in-depth, 525-word explanation about the Patriots' process. Dan Roche, a reporter for WBZ-TV in Boston, shared a transcription of Belichick's comments.
"We use a combination of numbers, letters, colors, and those things all have different meanings, depending upon what they would indicate about the player's circumstances or situation or whatever it is that involved the players. And all the players are different … there's things that happen [during their college career] and a variety of circumstances, and so we have ways to identify those. So sometimes the color's going to override the number, sometimes the letter is going [to] override the numbers or the colors and so forth."

Bill Belichick
The entire explanation is fascinating and is worth a read. Belichick also admitted that it "would be impossible" to fully explain the Patriots' process because it would take months for someone to truly learn and apply their strategies.
The Patriots have struggled with drafting in recent years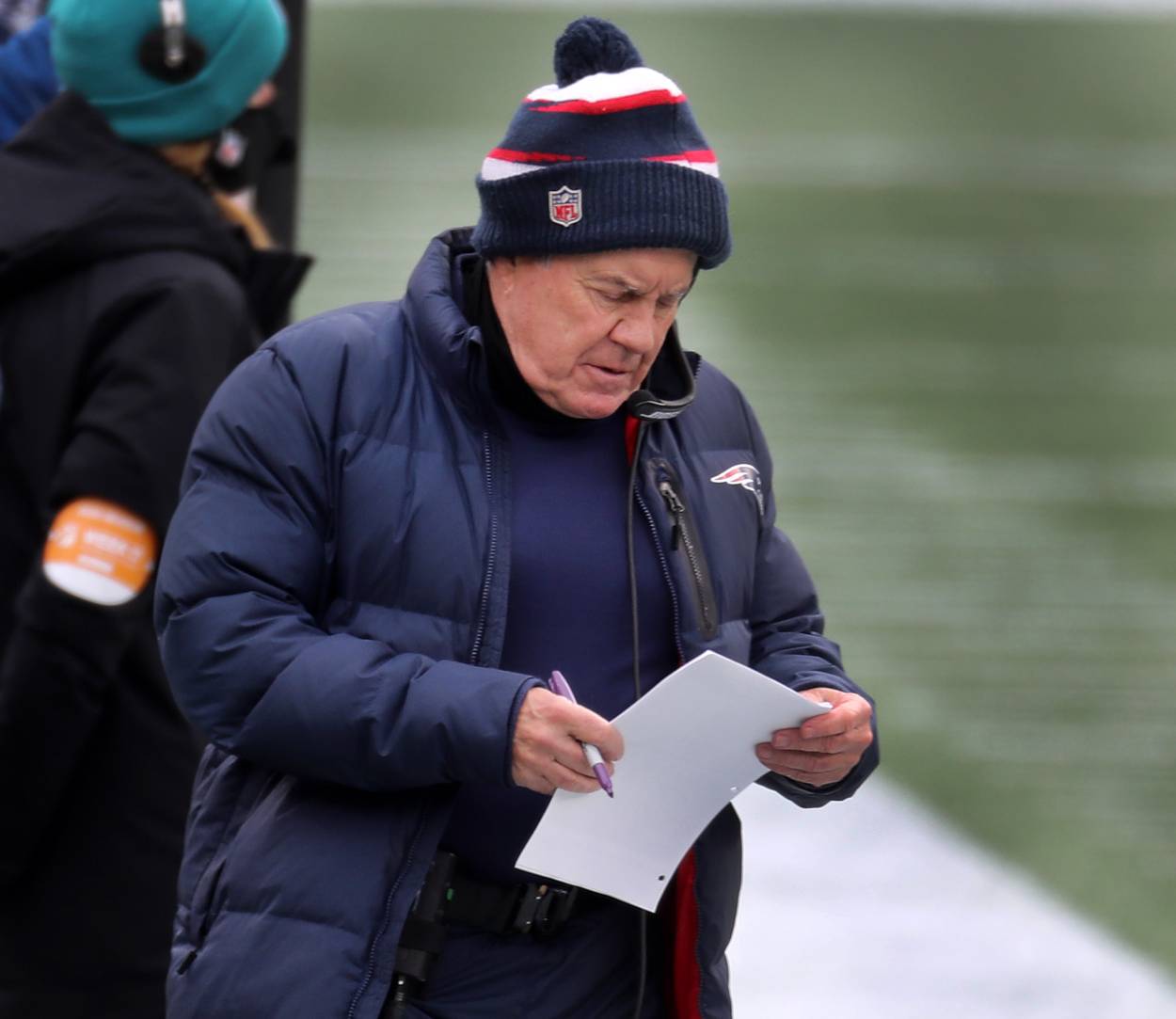 RELATED: Bill Belichick Refuses to Own Up to His Draft Mistakes
Belichick and the Patriots may have in-depth draft strategies, but things haven't worked out in recent years.
New England's 7-9 finish in 2020 only had so much to do with Tom Brady not starting at quarterback. The Patriots have failed to find capable and reliable offensive starters in recent years, especially with some of their early picks, and the results showed.
The Patriots invested a first-round pick on Sony Michel, the star running back from Georgia, in 2018. Michel has impressed in spurts, but he's struggled with injuries, and his future in New England remains uncertain.
That same year, New England drafted cornerback Duke Dawson with the 56th overall pick. Five picks later, Jacksonville selected D.J. Chark, a receiver who totaled 140 catches and 1,888 yards in his first three NFL seasons. Meanwhile, Dawson never played a snap in New England and is now on the Denver Broncos.
Belichick made some notable moves in the 2021 NFL draft
RELATED: Mac Jones Potentially Cost Cam Newton Millions by Losing $19 Million Himself
The 2020 season represented rock bottom for the New England Patriots, and they're trying to get back on track.
Belichick added Mac Jones to a quarterback room that still features Cam Newton. It will be interesting to see if Jones has a realistic chance at winning the starting job or if the Patriots will stick with Newton until they feel that their rookie quarterback is ready.
New England selected two defensive linemen on the draft's second night. Former Alabama defensive tackle Christian Barmore, the 38th overall pick, excels at stuffing the run and will be a welcome addition to the Patriots' defense.
The Patriots used the 96th overall pick on Ronnie Perkins, a defensive end from Oklahoma. Perkins totaled 32 tackles for loss and 16.5 sacks in three seasons with the Sooners.
If those players work out, Patriots fans can cite Belichick's 500-word explanation and the in-depth guide. But if none are on the roster within a few years, maybe the Patriots will want to start revising their draft plans.
Like Sportscasting on Facebook. Follow us on Twitter @sportscasting19.