Bill Laimbeer Will Go Down as the Most Hated NBA Player Ever
In the '80s, no player was more divisive than Bill Laimbeer. If you were a Pistons fan, you loved him; otherwise, he was a grade-A villain. But Laimbeer was more than just an irritant. He played a crucial role in Detroit as the franchise enjoyed one of its greatest eras. Players like him arise less often now, but is there any player that inspires a similar amount of derision?
The baddest of bad boys: Bill Laimbeer
Bill Laimbeer was actually a player ahead of his time in some respects. He served a three-point shooting big man well before it was fashionable. His career percentage from beyond the arc was only 32%. However, this was more due to a low amount of attempts — Laimbeer only attempted more than one three a game in five of his 13 NBA seasons — than his lack of skill. 
The Boston, Massachusetts, native was also a four-time All-Star and two-time NBA champion. But these are not the things Laimbeer is remembered for. He remains in NBA consciousness for more unfavorable reasons.
Even within the context of the '80s NBA, Laimbeer regularly crossed the line with his conduct on the court. He frequently committed dangerous plays against other players without shame about nearly breaking someone's body.
Laimbeer was the perfect personification of the Pistons' "Bad Boy" era. His violence was also commemorated in the 1991 Super NES game Bill Laimbeer's Combat Basketball, a game set in 2031 where Laimbeer serves as NBA commissioner, all referees have been fired, and weapons are legal. 
Great defense and a lack of sportsmanship defined Pistons teams of the '80s. The tactics won them two NBA titles but also made enemies of true greats. Larry Bird has never forgiven Laimbeer for a dirty hit in 1987. And Michael Jordan had this to say about the Bad Boys:
"The dirty play and the flagrant fouls and unsportsmanlike conduct, hopefully that will be eliminated from the game with them gone. He added, "I think people are happy the game will get back to a clean game."
Laimbeer goes too far and ends his career
Laimbeer's fiery personality gave him a career. It also forced him to retire. In November 1993, Laimbeer and Isiah Thomas got into an altercation in practice that ended with Thomas breaking his hand. Laimbeer was heartbroken over the incident. He and Thomas had played together for over a decade.
The aggressive athlete was fearful of the backlash from fans once they learned he injured the team's biggest star. After a meeting with Thomas and head coach Don Chaney, Laimbeer decided to retire immediately. Three years later, Detroit retired his jersey. Laimbeer is still the Pistons' all-time leader in career rebounds. 
Who is the modern Laimbeer?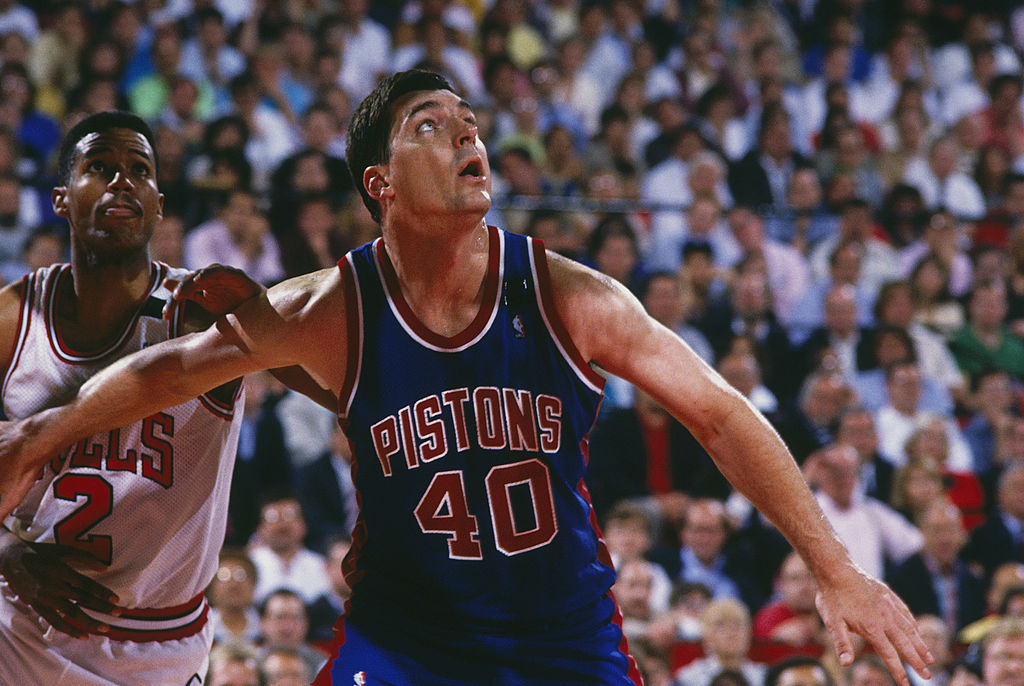 The NBA has made players like Laimbeer more or less extinct. Since the '80s and '90s, the league changed its rules to make the game much less physical in a bid to make it faster and more offense-oriented. The strategy clearly works.
Players like James Harden and Giannis Antetokounmpo put up amazing stat lines on a nightly basis. A different sort of physicality is emphasized — one based on versatility and fluidity more so than brute strength. NBA players also appear much more friendly with opponents than years' past.
A few players come close to displaying Laimbeer's mentality. Patrick Beverley, for example, played in Ukraine, Greece and Russia before making it into the NBA. A fantastic defender and supreme irritant, no one tries as hard to get into the heads of his opponents as Beverley. This mindset is what made him an NBA player when no one expected it.
The other Laimbeer comparison is more size-appropriate. Draymond Green was the brash trash-talker who gave the Golden State Warriors their aggressive edge.  He often gets involved in wars of words with opponents and referees — to the detriment of his bank account. But how else would an undersized power forward who also plays at center become a star if he wasn't constantly on edge?
Both Beverley and Green have taken it too far at times. Russell Westbrook has never forgiven Beverley for injuring his knee as he called a timeout in the 2013 playoffs. And Green had that weird run during the 2016 playoffs where he kept hitting people below the belt to the point that he was suspended for a Finals game.
Social media and the 24/7 news cycle makes hate easier to attain than ever, but it's unlikely that anyone will be despised with as much longstanding intensity as Laimbeer.