Bill O'Brien Is Quickly Emerging as a Potentially Massive Beneficiary of Urban Meyer's Disastrous Meltdown
Jacksonville Jaguars fans are suffering through the nightmarish reality that is Urban Meyer as an NFL head coach. Those who still root for Trevor Lawrence and teammates might already be terrified by the mere thought of Bill O'Brien, the Houston Texans' former head coach and general manager, replacing Meyer next season.
Wait, you haven't heard us out yet!
We promise that for as bad as things are right now, O'Brien could be the key to restoring the Jaguars to semi-relevancy and eliminating the destructive culture that Meyer has created.
Bill O'Brien could be the perfect candidate to replace Urban Meyer on the Jaguars in 2022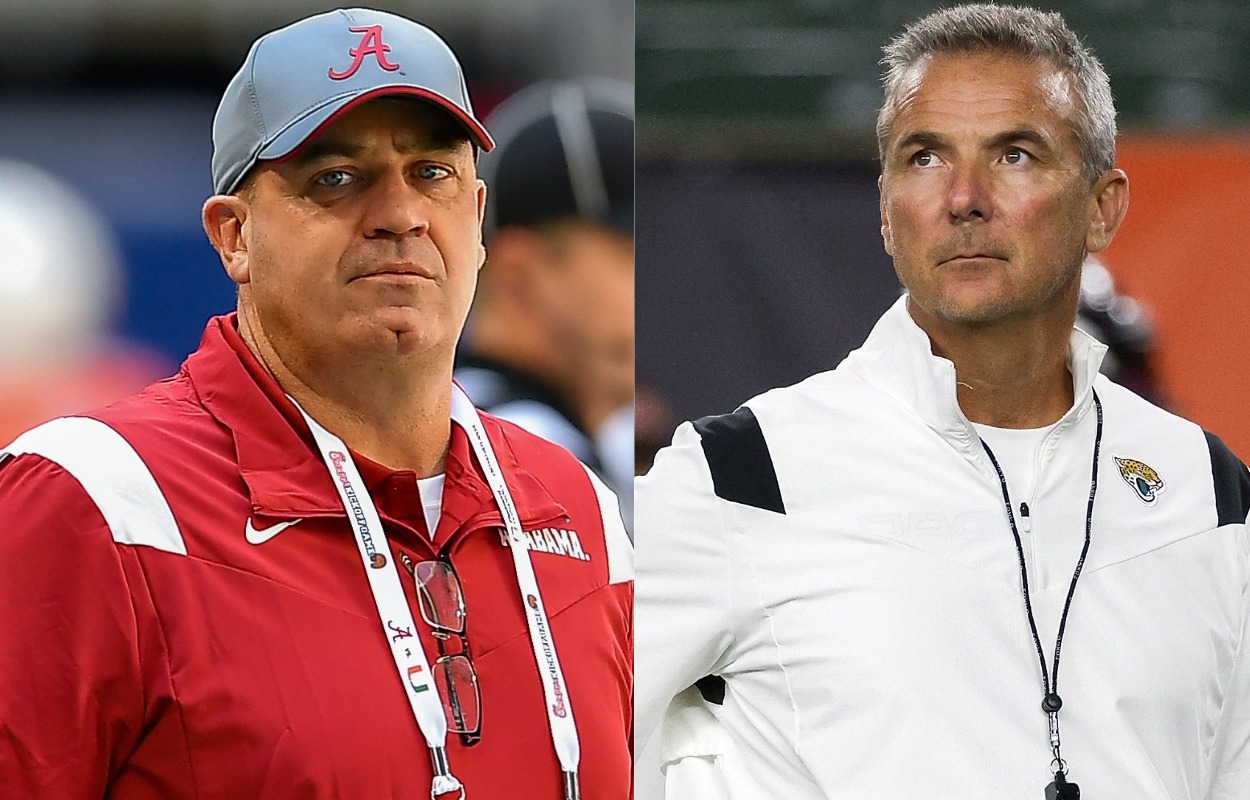 Barring a miraculous turnaround over the season's final three months, Meyer is looking more and more like a one-and-done coach in Jacksonville. The recent scandal involving the rookie head coach and a young woman in Ohio only amplified the reality that he is not fit for the NFL, both now and going forward.
Whether Meyer steps down for health reasons, as he did at the University of Florida and at Ohio State, or resigns is still to be determined. Although the team could attempt to fire him for cause, he's reportedly owed $12 million per season. Those financial obligations would likely lead to a drawn-out legal process between the two sides.
For the sake of everyone's sanity, let's just assume Meyer isn't with the Jaguars in 2022. Jacksonville is going to need to find a head coach for the third time in three seasons. ProFootballTalk's Mike Florio recently suggested the team target Pro Football Hall of Fame head coach Tony Dungy, who works with Florio at NBC Sports, if the Jaguars need to replace Meyer before the end of this season.
If and when Meyer leaves, the usual names, ranging from Kansas City Chiefs offensive coordinator Eric Bieniemy to Dallas Cowboys offensive coordinator Kellen Moore, will pop up on television and social media. Don't be surprised if O'Brien, who is currently the offensive coordinator at Alabama, emerges as a hot name on the market.
Last October, the Texans fired O'Brien, then the coach and general manager, after an 0-4 start to the 2020 season. He went 52-48 in parts of seven seasons with the Texans and won four AFC South division titles.
There are massive differences between hiring Meyer and bringing O'Brien back to the NFL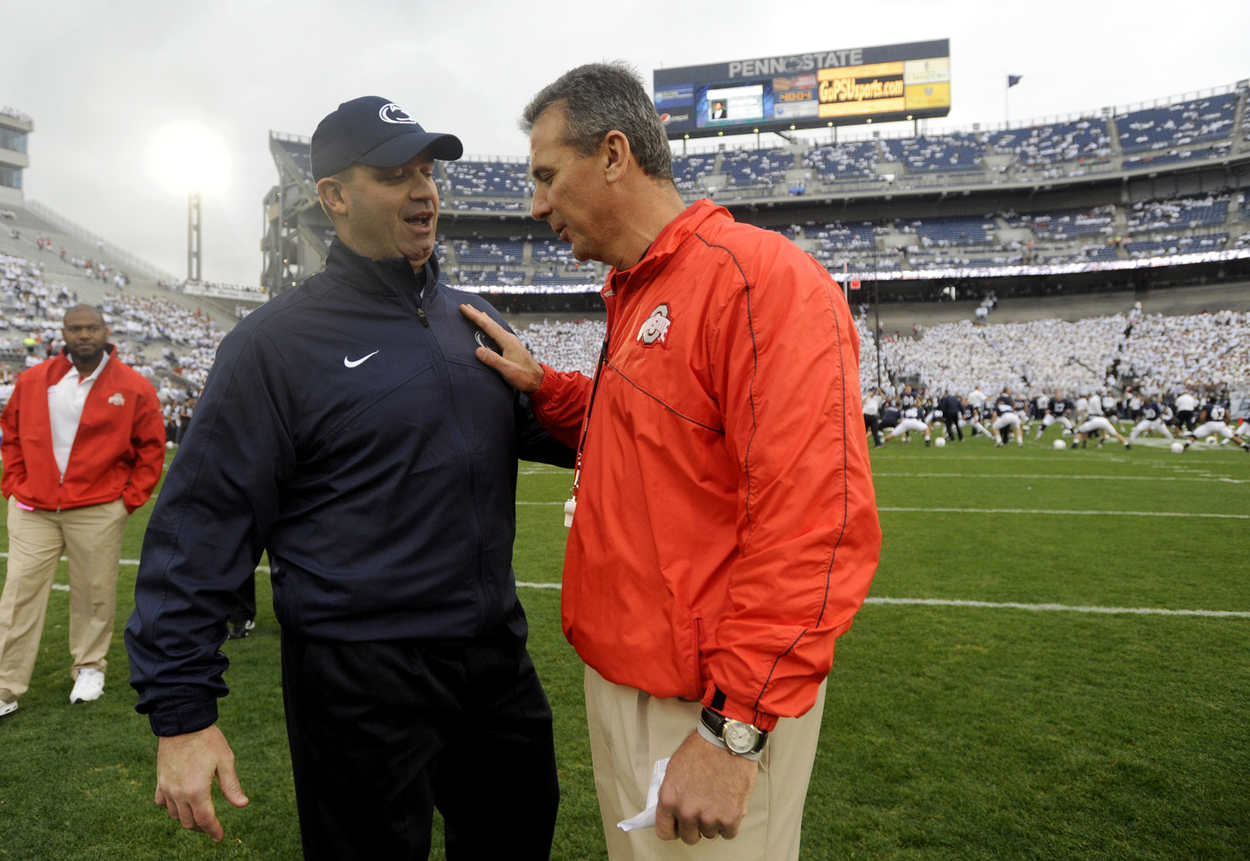 We understand the fears regarding O'Brien taking over the Jaguars, especially after he infamously traded All-Pro receiver DeAndre Hopkins to the Arizona Cardinals in March 2020 for a pack of not-so-magic beans, better known as running back David Johnson and two draft picks.
However, O'Brien has at least experienced the NFL's various nuances. Meyer, who never coached above the college level before this year, lacked that experience.
Say what you want about O'Brien's abilities as a general manager, but he was more than a competent as Houston's head coach. Before last season's 0-4 start, he had recorded winning campaigns in five of his first six years. The only exception came in 2017 when Houston started 3-4 but lost eight of the final nine games after rookie quarterback Deshaun Watson tore his ACL.
The Texans' only losing record during that stretch came in 2017. Houston started 3-4 but lost eight of the final nine games after rookie quarterback Deshaun Watson tore his ACL.
Watson became one of the league's top young quarterbacks under O'Brien's tutelage and coaching. The Texans' star signal-caller repeatedly publicly defended his head coach, both before and after the firing, and said the two had a strong relationship because of their different backgrounds.
Jacksonville stands to benefit from adding a proven NFL head coach to help Lawrence rebound from a frustrating rookie season. The Clemson product ended Week 5 with a 59.4% completion percentage and eight interceptions in six games.
O'Brien will be the next of Nick Saban's assistants to revive their coaching career
For now, O'Brien is serving as Nick Saban's offensive coordinator and trying to help him win his eighth national championship. Alabama has plenty of work to do on that front after a stunning upset loss against Texas A&M on Saturday, Oct. 9.
Saban's coaching tree has been extremely helpful to former head coaches in recent years. Perhaps best known for his infamous firings by the then-Oakland Raiders and the USC Trojans, Lane Kiffin modernized Alabama's offense upon arriving in 2014. Kiffin won two Conference USA championships at Florida Atlantic and is now in his second season at Ole Miss.
Steve Sarkisian, who replaced Kiffin as USC's full-time head coach following the 2014 season, parlayed two stints at Alabama into the Texas Longhorns' head coaching job. Mario Cristobal, fired by Florida International in 2012, became Oregon's head coach in 2018 and significantly changed the Ducks' fortunes.
Don't be surprised if O'Brien earns a college head coaching job or another NFL opportunity after this season. If the latter is in the cards and the Jaguars part ways with Meyer, that's a marriage that needs to happen as quickly as possible.
Like Sportscasting on Facebook. Follow us on Twitter @sportscasting19.
RELATED: An Electrician With Ties to Ohio State is Responsible for Ruining Urban Meyer's Arrogant Attempt to Lie About His Latest Embarrassing Scandal