Bill O'Brien's DeAndre Hopkins Trade Isn't Even Allowed in Madden NFL 20
The mad scientist known as Bill O'Brien is at it again. O'Brien, who doubles as the Houston Texans' head coach and general manager, traded all-pro receiver DeAndre Hopkins and a 2021 fourth-round pick to the Arizona Cardinals for running back David Johnson, a second-round pick and a fourth-round pick. The trade is one of the NFL's more lopsided deals in recent memory and earned O'Brien instant ire on social media.
Just how wild is the trade O'Brien orchestrated Monday? And where do the Texans go from here? Let's take a look.
Madden NFL 20 wouldn't even allow Bill O'Brien to make this trade
Madden ratings have long been a source of commentary and jokes when referencing players' real-life performances. Sports Illustrated took control of the Cardinals in Madden NFL 20 and created the trade with both players and the respective draft picks. Madden refused to take the bait, writing that the Texans weren't interested in David Johnson and the Cardinals needed to make a better offer. Arizona, likely, was all too willing to take DeAndre Hopkins off the Texans' hands.
The game also noted Johnson isn't a good scheme fit for Bill O'Brien and the 2021 fourth-round pick was bad value for this type of trade. If Madden NFL 20 is advising one not to make that trade, perhaps the game is onto something.
Bill O'Brien has a history of controversial moves as general manager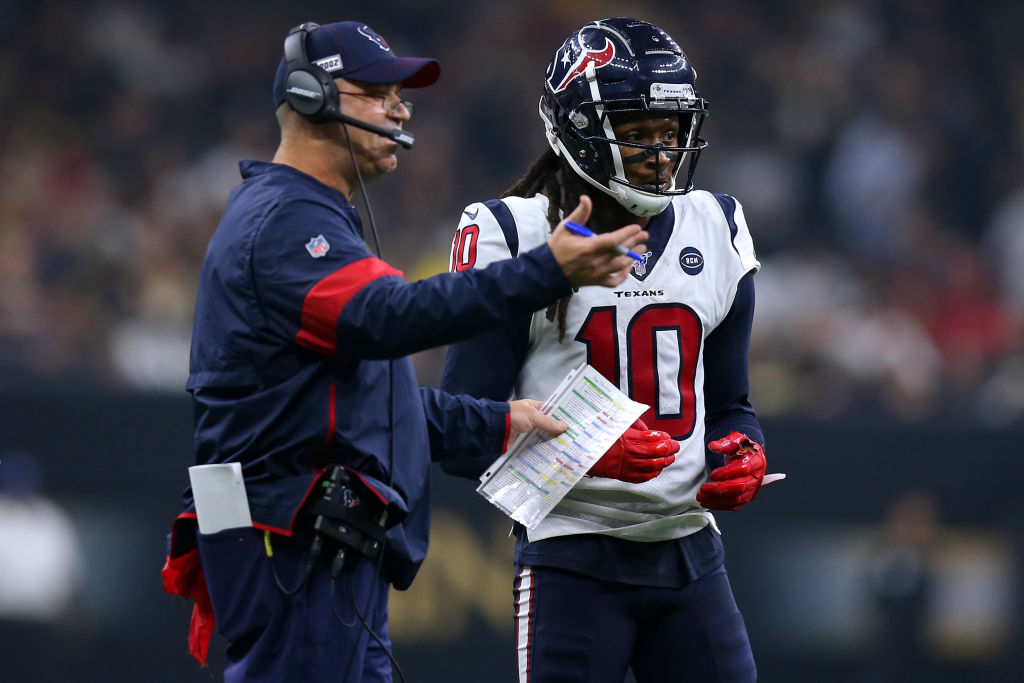 Bill O'Brien hasn't been hesitant to make trades during his tenure as general manager, though the returns and decisions haven't been great. Houston received only a third-round pick, former first-round defensive end/outside linebacker Barkevious Mingo, and outside linebacker Jacob Martin for three-time Pro Bowl defensive end Jadeveon Clowney. Mingo primarily played special teams and Martin recorded 3.5 sacks in 14 games.
Houston traded two first-round picks and a second-round pick to the Miami Dolphins for offensive tackle Laremy Tunsil and receiver Kenny Stills. The trade was bold and helped Houston to the AFC divisional round, but Stills' arrival in Houston stirred some controversy because of his history protesting the national anthem. O'Brien also traded a third-round pick to Cleveland for running back Duke Johnson, who could form an intriguing duo with David Johnson if both stay healthy.
Where do Bill O'Brien and the Houston Texans go from here?
As of now, O'Brien still has franchise quarterback Deshaun Watson leading the Texans. But the organization might want to use 2020 as a transition year of sorts rather than approaching next season with the intent of competing for a Super Bowl. Watson is a proven commodity and J.J. Watt remains one of the league's most dangerous defensive linemen when healthy, but there are various holes that need to be addressed.
O'Brien needs to land several players in April's NFL draft who can immediately contribute this season. CBS Sports listed edge rusher, cornerback and the offensive line as Houston's biggest draft needs. Houston doesn't pick until 57th overall and only has four selections in the first four rounds.
Houston nearly made the Super Bowl last season and Watson is in the prime of his career. Only time will tell if the Houstons regret this trade, but Madden 20 isn't alone in thinking highly of it.