Bill Parcells Rescued Sean Payton's Career and Turned Him Into a Future Hall of Fame Coach
Although he restored the team's culture and reputation, Bill Parcells ultimately failed at his goal of winning a Super Bowl with the Dallas Cowboys.
Parcells can still look back at his four-year stint in Dallas with pride. Not only did he develop Tony Romo and draft All-Pro pass-rusher DeMarcus Ware, but he rescued future Saints head coach Sean Payton's career.
If Sean Payton earns enshrinement into the Hall of Fame — and it's certainly possible at this rate — here's why he'll definitely thank Bill Parcells that night.
Bill Parcells joined the Dallas Cowboys after the 2002 season
Nicknamed "The Big Tuna," Bill Parcells won two Super Bowls with the New York Giants from 1983-90. He later led the pre-Tom Brady Patriots to a Super Bowl and had two non-losing seasons in three years with the Jets.
Of all those feats, the last one may be the most notable.
By 2002, Parcells worked for ESPN and wrote a notes column for the league's official website. Parcells fought the urge to re-enter the league after the 2001 season when he backed out of a deal with the Tampa Bay Buccaneers.
Parcells previously said he'd never work for Jerry Jones, the Cowboys' controversial and eccentric owner. But Parcells saw how Jones treated his players and eventually changed his mind.
Parcells hired Sean Payton as his quarterbacks coach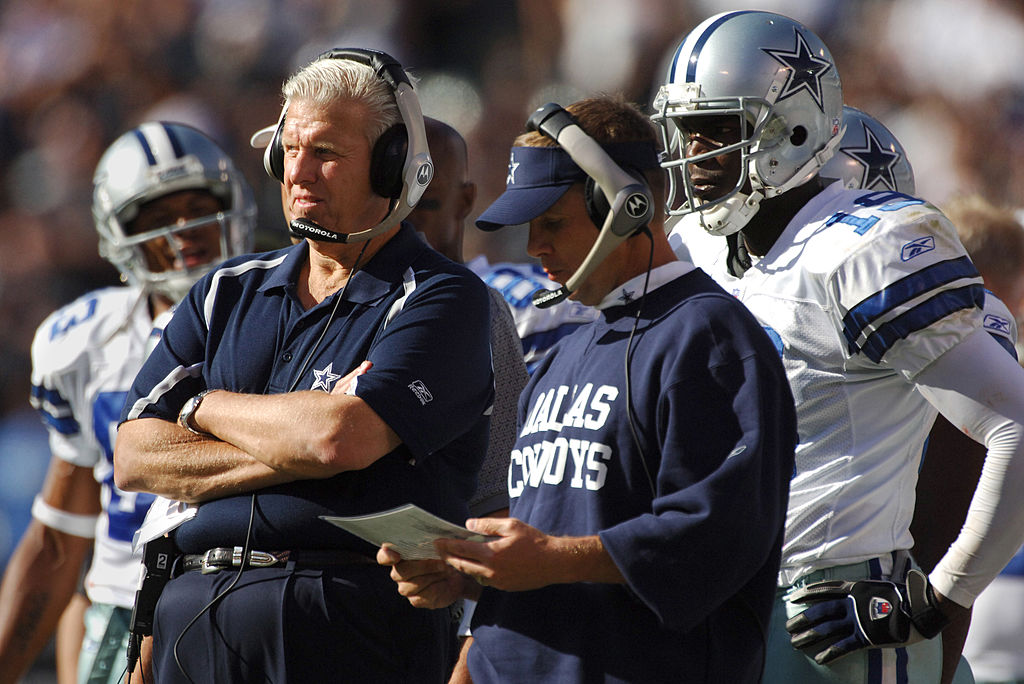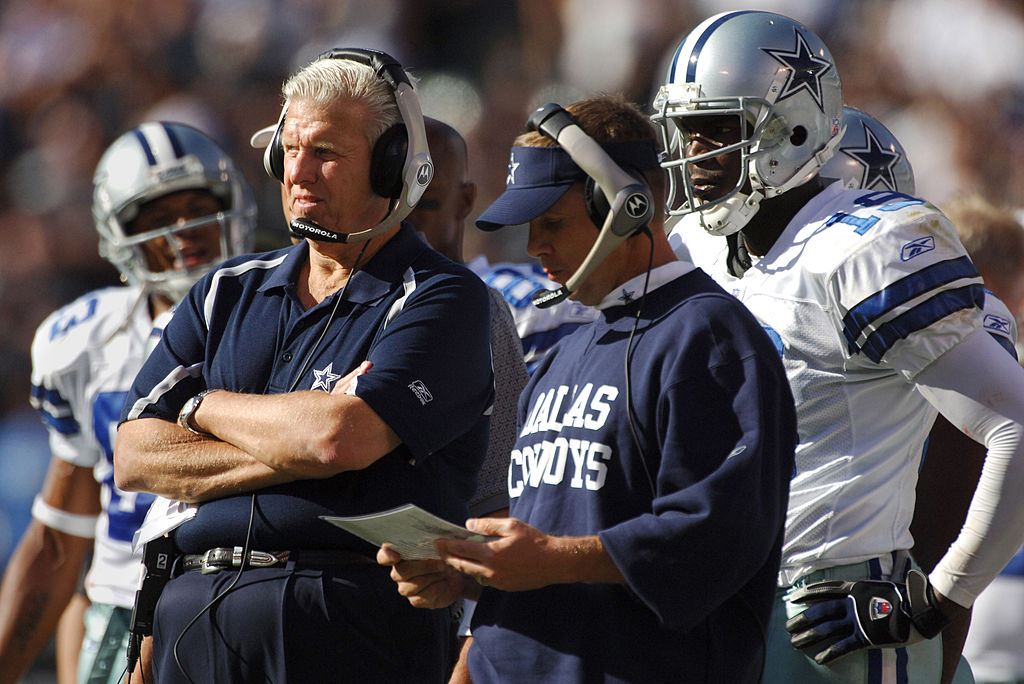 Bill Parcells took over the Cowboys and tried assembling an all-star coaching staff. His quarterbacks coach, the one who'd work with embattled starter Quincy Carter, was an odd choice.
Sean Payton served as the New York Giants' offensive coordinator from 2000-02. The Giants reached the Super Bowl in his first year, but the Giants never grew into the dangerous offensive powerhouse they had the potential to become.
By mid-2002, Giants coach Jim Fassel stripped Payton of the play-calling role. New York improved down the stretch and made the playoffs, though they collapsed in a road loss to the San Francisco 49ers that January.
The Giants may have fired Payton if Parcells and the Cowboys hadn't hired him away in early-2003.
The Bill Parcells-Sean Payton duo had a lasting effect on both coaches
Bill Parcells immediately reaped the benefits of hiring Sean Payton. Quincy Carter, who appeared headed for bust territory, became just the fifth quarterback in Cowboys history to pass for more than 3,000 yards in a season.
Dallas made the playoffs in Parcells' first season. Although the team cut Carter before the 2004 season opened, the Cowboys still enjoyed quarterback success with veteran Vinny Testaverde at the helm.
Offensive line and defensive issues contributed to a 6-10 finish. Payton's work with another veteran, Drew Bledsoe, and the young Tony Romo set the stage for 9-7 records in 2005 and 2006.
Payton didn't stick around for the latter season, though. His work in Dallas earned him the head coaching job in New Orleans, where Payton has worked since 2006.
Payton is 131-77 in 13 seasons with the Saints — he sat out the 2012 season because of a league-mandated suspension — and won the Super Bowl in early 2010.
Payton is tied for 26th-place all-time among NFL coaches in victories and is under contract through 2026. He needs 42 more victories to pass Parcells, who is in 12th place.
Five coaches in the top-10 are in the Hall of Fame and Bill Belichick, who is third, will eventually join them. Andy Reid is eighth and may have clinched his Hall of Fame spot with a Super Bowl victory.
Sean Payton already has an interesting Hall of Fame case. He has Bill Parcells to thank for that and, if Payton earns enshrinement, will likely make those feelings known during his speech.