Bill Russell Once Told Tim Duncan He Was His Favorite Player in the NBA: 'You've Played Hard, Played Smart, and Won Championships'
Bill Russell has been involved with the NBA for the majority of his 87 years on Earth. The 11-time champion has witnessed countless Hall of Famers firsthand, both from his playing days and post-retirement. That alone makes what Russell told San Antonio Spurs legend Tim Duncan all the more special.
In 2009, the two Hall of Famers sat down for a one-on-one conversation. It was there where Russell shared that Duncan was his favorite player in the game.
Bill Russell shared a story about Jackie Robinson in his conversation with Tim Duncan
Back when this conversation occurred, Duncan could have retired on the spot and still made the Hall of Fame with ease. The Big Fundamental already won four titles, secured two MVP Awards, and made nine All-NBA First Teams in 12 seasons.
Duncan had easily done enough to earn the affection of Russell. But when the two sat face-to-face, the Celtics great told a story involving Jackie Robinson that encapsulated his feelings on the Spurs superstar.
"Do you know the name Jackie Robinson?" Russell asked Duncan. "The day after he dies, his wife calls me and said, 'I want you to be a pallbearer at Jackie's funeral.' I said, 'Of course,' but I asked why. And she said, 'You were Jackie's favorite athlete.'"
"And I feel the same way about you. You've played hard, played smart, won championships, and I don't think you've finished with that yet."

Bill Russell
Timmy confirmed he wasn't done, promising Russell he was going to win one more trophy. That's exactly what happened, as the Spurs defeated the Miami Heat in 2014 to win their fifth championship.
Duncan also holds Russell in high regard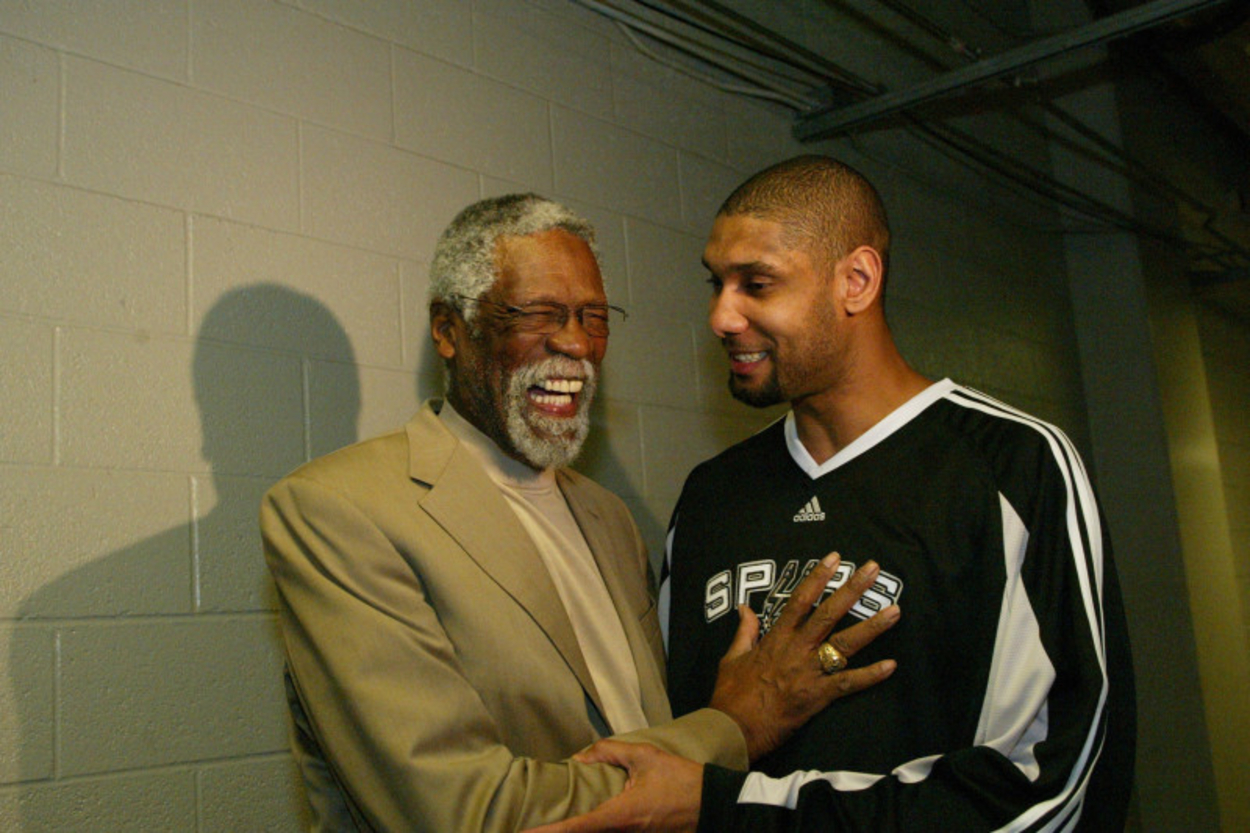 Duncan, never known as a talker, jumped at the opportunity to share his feelings about Russell during their intimate conversation over 12 years ago.
"It's kind of eerie, the similarities we've had in our lives and in our careers," Duncan said. "I love that you're a basketball mind. You never know that about people until you're able to sit down and talk to them, so it was a lot of fun learning that about you."
Before their sitdown, the two had previously spoken before a Spurs game. It was shortly after the NBA announced Russell was going to have the NBA Finals MVP Award named after him.
The two legends share several similarities
When Duncan said how similar he and Russell were, he wasn't kidding. Both had over 10 All-NBA teams, were defensive standouts, and made the postseason every year they were in the NBA. They were also defensive specialists, with Russell considered one of the best defenders in history and Duncan selected to 15 All-Defensive teams.
"He has the same kinds of skills (as me)," Russell told USA Today back in 2013. "He creates problems for the other team on both offense and defense. One of his attributes that most people don't recognize is his passing. And I don't think there's anybody in the league who can guard him one-on-one. A guy like Tim Duncan gives a coach a wide range of things you can do. Tim can play with almost anybody, and there are a lot of guys who can't do that."
Duncan's career may have been overshadowed by more popular players like Shaquille O'Neal, Kobe Bryant, and LeBron James. But if you're good enough to be Bill Russell's favorite player, that should be all the validation needed.
All statistics courtesy of Basketball Reference.
RELATED: Bill Russell Once Gave Michael Jordan a Taste of His Own Trash-Talking Medicine on the Golf Course