Bill Simmons' Valid Comments on Anthony Davis Should Force the Lakers to Reconsider Their Future
For the second straight season, Anthony Davis is missing a large chunk of valuable playing time for the Los Angeles Lakers. The 28-year-old is currently nursing a mid-foot sprain, suffered weeks after returning from a sprained MCL that cost him approximately a month of action.
Without Davis, the 28-36 Lakers are floundering. But the Purple and Gold have struggled even when a healthy Davis is on the floor. In fact, save for LA's 2019-20 title season, AD's dominance has hardly ever translated to wins.
Longtime columnist Bill Simmons took to his podcast to share some harsh-yet-accurate comments on Davis. They're comments that should grab the attention of the Lakers and force them to reevaluate their plans for the superstar big man.
Anthony Davis has failed to meet expectations, according to Bill Simmons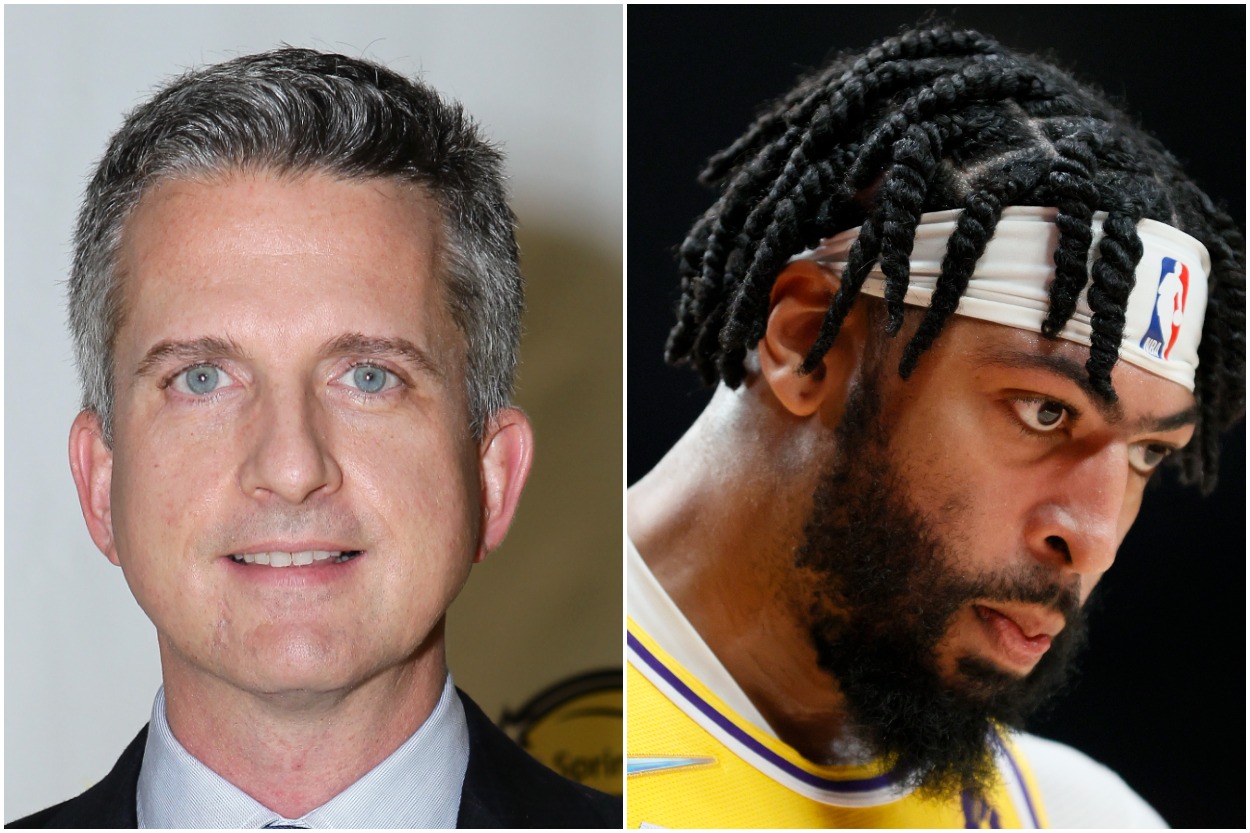 Davis joined the league as the top pick of the New Orleans Pelicans in 2012. Across 10 seasons, the former Kentucky Wildcat has eight All-Star nods and four All-NBA selections. He's even earned a spot on the NBA's 75th Anniversary Team, objectively making him one of the 75 greatest players to ever lace them up.
However, for all of his impressive statistics and accolades, AD made the postseason twice in seven years with New Orleans. He's a perfect 2-of-2 in LA, with one year being an early first-round exit. And as LA sits in the bottom half of the play-in round, he's in danger of missing the playoffs yet again.
On Monday's episode of The Bill Simmons Podcast, Simmons and Ryen Russillo tried to make sense of the confusing Lakers before discussing Davis in particular.
"I thought AD was a sure thing, the same way we would think of Giannis [Antetokounmpo] or [Joel] Embiid or [Nikola] Jokic now," Simmons said. "We all felt this guy was one of the five or seven best players in the league about to hit his prime. … I think the guy they thought they were getting isn't the guy they totally got."
Simmons then discussed how Davis' career has largely fallen short in one department: Winning.
"He's in year 10, right? He's been in the playoffs four times out of his first nine years [and] he might not be in the playoffs again this year," Simmons explained. "So you're talking about a guy, first 10 years of his career, who I voted NBA top 75, who might miss the playoffs 60% of his career. If you look at the other guys in the league who are really good year after year, Giannis is never missing the playoffs if he's healthy. I don't care who's on his team."
The Lakers have to think carefully about building around Davis
Since the summer of 2018, LA has been LeBron James' team. Even when Davis was brought in a year later, he immediately became the number two behind the King. But once the 37-year-old leaves sunny SoCal, AD is in line to become the new face of LA.
Given his history, that's a proposition the Lakers might want to reconsider.
Throughout Davis' decade-long career, injuries have prevented him from being one of the all-time greats. They impacted him in New Orleans and have now cost him 63 regular-season games and counting over the last two seasons.
But durability isn't the only concern the Lakers might have with Davis. By his fifth season, AD was already averaging 28.0 points with 11.8 rebounds. While he was never a three-point marksman, the big man could still hit an open shot when he needed to, making as many as 34.0% of his attempts from beyond the arc with New Orleans.
Now? Davis has scored 21.8 and 23.1 points in the last two seasons with an average of 8.8 rebounds per game. His long-range shooting has also dropped off a cliff, sitting at 18.2% this season. Additionally, his 107.0 defensive rating in 2021-22 is currently a career-high.
Davis, who will turn 29 on March 11, is one of two Lakers under contract past next season. The 6-foot-10 forward inked a five-year, $189.9 million extension before the 2020-21 season, which will keep him under contract through 2024-25. Talen Horton-Tucker is the only other Laker even signed past next season, as the youngster carries an $11 million player option for 2023-24.
So what does this mean? Chances are, as the Lakers move forward with a revamped roster and few draft picks, they'll be forced to build around a declining AD for the next several years. Even if does look like a star at times, it's certainly not who LA thought it was getting.
Should the Lakers trade Anthony Davis?
As things stand, the Lakers aren't on a good path. Even with a 37-year-old LeBron playing at an elite level, LA is barely treading above water. Not to mention, this summer is sure to bring about a laundry list of changes to a flawed roster.
That being said, should an Anthony Davis trade be one of those massive changes?
Unfortunately, injuries have really prevented the Lakers from accurately gauging whether Davis is still the perfect sidekick for James. But that's kind of the point. If AD has suffered numerous health issues throughout his 20s, what would make them think he'll suddenly be an iron man in his 30s?
There's also his contract. While the big man's most expensive single season ($43.2 million in 2024-25) is worth less than what Russell Westbrook is earning now ($44.2 million), it's no small amount. Especially if the then-31-year-old has declined even further in both health and production.
The Lakers' solution is complicated. As long as James remains on the roster, Davis should too. But that doesn't mean they shouldn't entertain offers from interested teams. And if there's a club willing to give LA an impressive combination of players and/or picks, it has to listen. However, once James is gone and AD is all alone, perhaps the best course of action will be to initiate a rebuild. That should start with a trade involving the eight-time All-Star.
It's looking less and less likely that Davis is a true number one option for any contending team, including the Lakers.
All statistics courtesy of Basketball Reference and contract figures courtesy of Spotrac.
RELATED: Lakers Need to Prepare for Worst Case Scenario With Anthony Davis