Bills' Josh Allen Had an Interesting Response to Tom Brady Joining Buccaneers
Josh Allen and the Buffalo Bills have a chance to run the AFC East throughout the 2020s. The Bills have made the playoffs twice in the last three seasons after an extended postseason drought. More importantly, longtime Bills nemesis and former Patriots quarterback Tom Brady signed with the Tampa Bay Buccaneers this offseason after 20 years in New England.
What did Josh Allen, a lifelong fan of Tom Brady's, say about Brady's decision to sign with Tampa Bay? His response was interesting, as was his outlook on the Bills' 2020 season.
Josh Allen was glad, yet disappointed, to see Tom Brady leave the Patriots
Don't get Josh Allen wrong because, on the one hand, he is happy the Patriots lost the greatest player in franchise history. Brady went a staggering 32-3 against the Bills and completed 64% of his passes for 8,669 yards, 70 touchdowns, and 25 interceptions. Allen also admitted playing against Brady was "surreal."
Still, Allen knows the stakes. With Brady gone, the Bills should be considered the early frontrunners to win the AFC East, especially after an impressive 2019 season. Reporters asked Allen on Friday how he felt about the Bills' chances with Brady's departure.
"Obviously, we understand the deal, and we know that there's a big opportunity in front of us. But it doesn't get there without putting the work in and going to work each and every day and trying to be the best team that we can be. I think the Jets and the Dolphins are thinking the same thing right now. It's football; every year's different."
Allen struggled in his three matchups against Tom Brady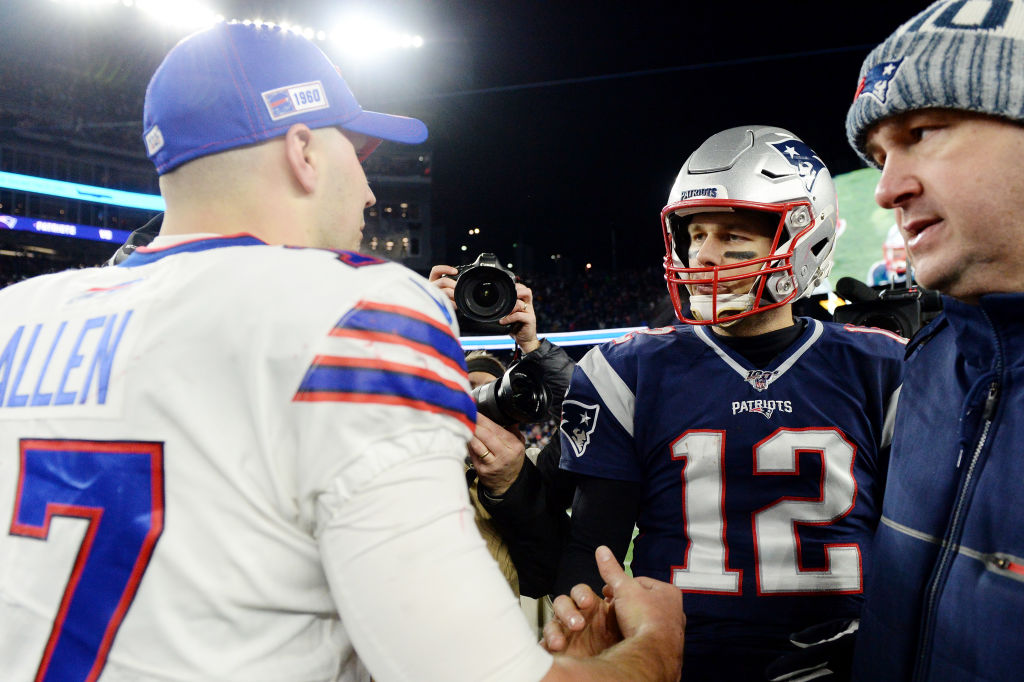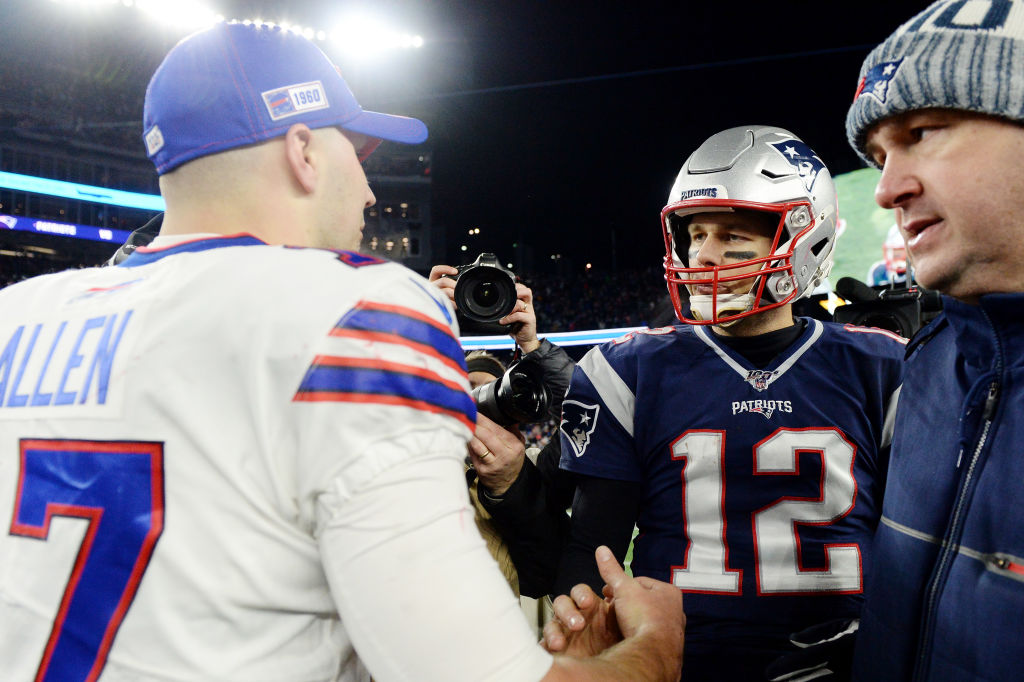 Given Tom Brady's success against the Buffalo Bills, it wasn't surprising he won all three matchups against Allen. After taking the Bills' starting job early in his rookie year, Allen completed only 48.4% of his passes against the Patriots for 578 yards, three touchdowns, and five interceptions. The 6-foot-5 quarterback also ran for 99 yards and a touchdowns on 17 carries.
New England signed veteran Brian Hoyer in March and drafted Auburn's Jarrett Stidham last year. Although Hoyer is 7-2 in nine career games against the Bills, he only completed 59% of his passes for three touchdowns and three interceptions.
Josh Allen and the Buffalo Bills are a team to watch in 2020
The Buffalo Bills have quietly assembled one of the AFC's more intriguing offenses. Allen made strides in his second season and threw 20 touchdowns to nine interceptions. However, there are still concerns about Allen's accuracy after he completed just 58.8% of his passes. Allen completed just 24-of-46 passes in the Bills' overtime playoff loss to Houston.
Young running back Devin "Motor" Singletary averaged 5.1 yards per carry and nearly totaled 1,000 yards from scrimmage as a rookie. Singletary ran for 775 yards in 12 games and is expected to start at running back after splitting reps with Frank Gore.
Former Arizona Cardinals receiver John Brown posted his second career 1,000-yard season. Buffalo also traded for Minnesota Vikings star receiver Stefon Diggs last month. Diggs averaged a career-high 17.9 yards per catch last year.
Buffalo hasn't made the playoffs in consecutive years since 1998 and 1999. It is on Allen and his young core to break that drought and turn the Bills into perennial AFC East contenders.