Bills HC Sean McDermott Discredits Bill Belichick With Bizarre 15-Word Response After Frustrating Loss to Patriots
It was a cold, windy evening in Upstate New York as the Buffalo Bills and New England Patriots met in a huge AFC East clash on Monday Night Football. With winds gusting up to 50 MPH, the game went as expected — run, run, run, and an occasional pass or two. Nonetheless, Bill Belichick drew up another master plan and ran all over the Bills, attempting only three passes all game long. It didn't matter, either, as the Bills fell in a frustrating game by a score of 14-10.
After the game, Bills head coach Sean McDermott failed to give Belichick the credit he deserved in a bizarre press conference.
The Patriots stifled the Bills thanks to a master gameplan by Bill Belichick
Three passes. That's all it took.
Mac Jones and the Patriots resisted the passing game, and it worked perfectly. Damien Harris and Rhamondre Stevenson combined for 34 carries and 189 yards on the night.
The Bills knew what was coming, yet they couldn't find a way to stop the Patriots' rushing attack. It isn't like Buffalo didn't have opportunities, either.
At the end of the fourth quarter, the Bills had two red-zone drives and came up short both times. The first was courtesy of a Tyler Bass missed field goal and the second a 4th-and-14 pass attempt that Myles Bryant swatted down to seal the deal for New England.
Yes, Belichick and Josh McDaniels drew up a perfect game plan and it worked as the Bills left their home stadium with a sour taste after another disheartening loss.
Sean McDermott refuses to give Bill Belichick credit despite being severely outcoached yet again by the Patriots mastermind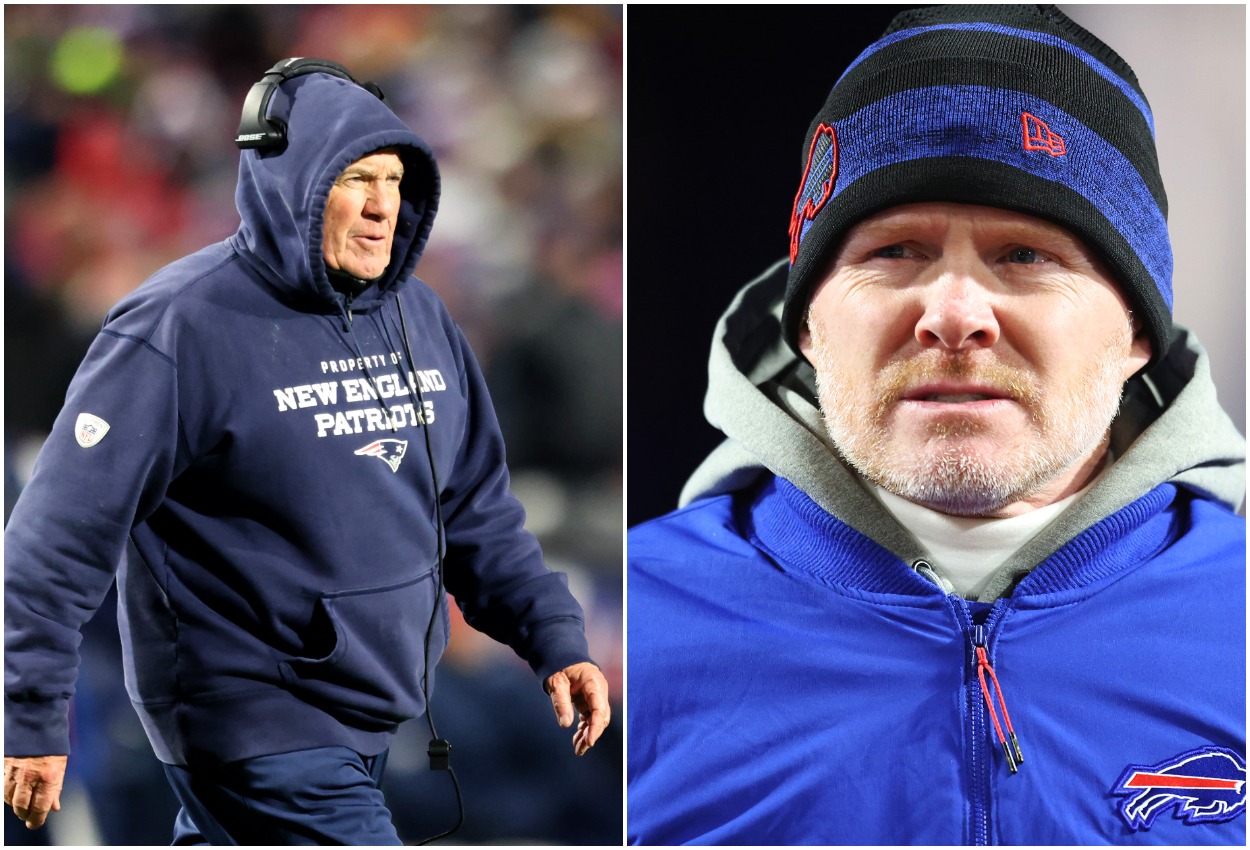 Belichick and the Patriots ran down the Bills' throats the entire game. Yet, it worked, and Belichick's Coach of the Year stock continues to rise.
After the game, McDermott was visibly frustrated during the press conference and gave a strange answer while deflecting any credit to Belichick whatsoever (h/t Matthew Fairburn of The Athletic).
"Let's not give more credit than we need to give Bill Belichick in this one."

Sean McDermott after the loss to New England
What?
In hindsight, let's give all the credit to Belichick and his staff for coming up with a successful blueprint. Sure, the Bills had chances of their own and failed to capitalize, but this was a classic brand of smashmouth football that Buffalo had no answer for.
Furthermore, McDermott went on to elaborate and, well, yeah.
McDermott was outcoached, plain and simple. There isn't any other reasoning behind it.
Belichick continues to flex his muscles on the rest of the NFL and the Patriots are right back into the top seed in the AFC.
Buffalo's struggles continue against teams with a winning record in what has been a concerning trend
The Bills just can't seem to beat good teams. Yet, they remain in the AFC playoff picture for the time being. But, a 1-4 record against teams with a winning record isn't encouraging at all.
However, there is good news for Buffalo. Besides facing the Tampa Bay Buccaneers and the Patriots again, the Bills have the New York Jets, Carolina Panthers, and Atlanta Falcons remaining on the schedule.
It sets up favorably for them, but still, they haven't looked good against playoff teams. If the Bills want any chance at making a deep playoff run, something has to change — and quickly.
Stats Courtesy of Pro Football Reference