Bills WR Stefon Diggs' Comments on Recently-Hired Head Coach Brian Daboll Should Give New York Giants Fans Hope for Better Days Ahead
The Buffalo Bills lost one of the best offensive minds in the NFL to the coaching circuit. Former offensive coordinator Brian Daboll just filled the New York Giants' head coach vacancy in hopes of righting the ship. Stefon Diggs is sad to see Daboll go, but he believes his old coach will thrive with his new team.
The Pro Bowl wide receiver showered Daboll with praise, which could be a promising sign of things to come for the struggling Giants franchise.
Stefon Diggs gives Brian Daboll a ringing endorsement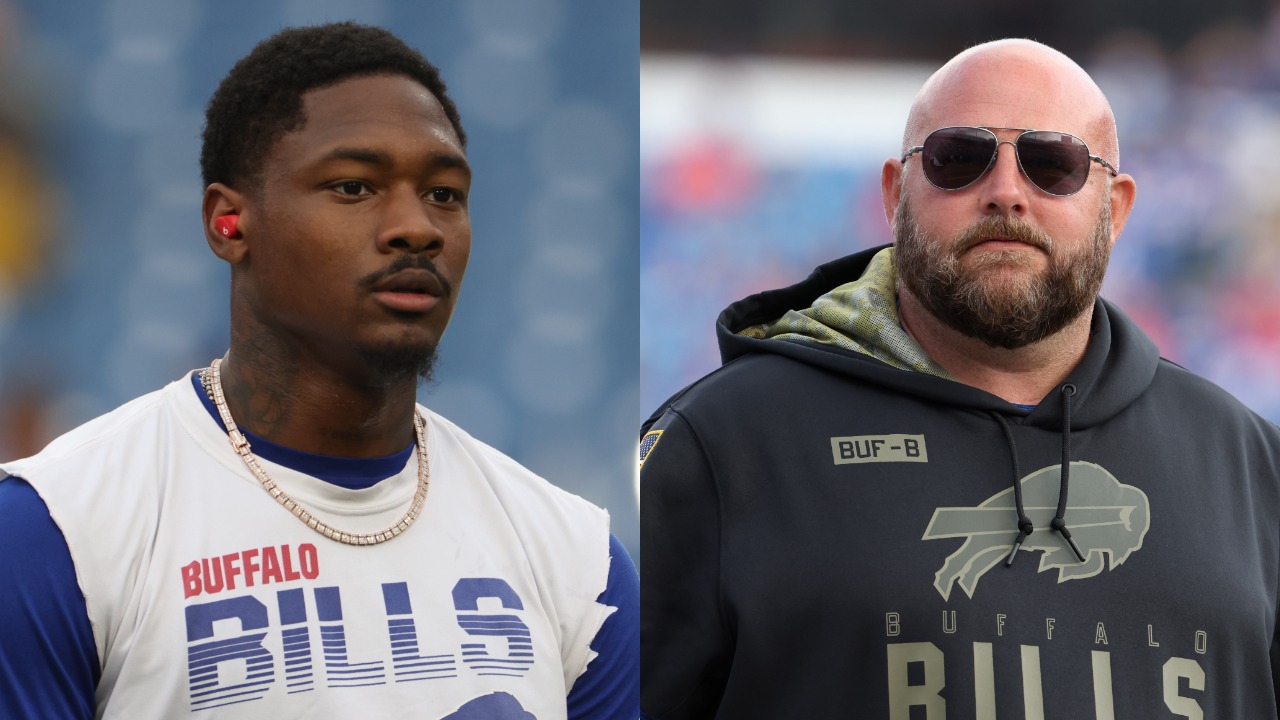 Brian Daboll was one of the hottest coaching candidates on the market. He spent the last four seasons as the offensive coordinator for the Buffalo Bills, with stints in Cleveland, Miami, and Kansas City before that.
Over the years, the 46-year-old assistant has developed special bonds with his players, including Stefon Diggs. The Bills wideout recently opened up on losing Daboll and what that means for the New York Giants.
"I feel like he'll be a great fit for New York," Diggs told The New York Post's Mark Cannizzaro. "They've got some good pieces there already, and he knows how to get guys the ball."
Diggs has definitely benefited from Daboll's offensive scheme in Buffalo. Since joining the Bills, the Maryland product has posted back-to-back 1,000-yard and 100-reception seasons. He led the NFL in receptions and receiving yards in 2020.
"As far as being a head coach," Diggs continued. "I think it'll translate magnificently. He has that great relationship from a players-coach kind of thing. He trusts his guys. He trusts his players to make plays. When you have a coach like that, you want to play well for him. You don't want to let him down because he puts so much trust in you."
Stefon Diggs credits Brian Daboll for helping him earn his first two Pro Bowl nods.
"I felt like when I got to Buffalo, he made me exceptional," said Diggs. "That's my guy forever. When I tell him that I love him, I mean it because I really appreciate all he's done for me."
The Giants have lacked strong leadership over the past few seasons
The New York Giants have gone through three different head coaches since Tom Coughlin's resignation in 2015. Ben McAdoo, Pat Shurmur, and Joe Judge posted a combined 33-64 record across those six seasons. McAdoo was the only coach with a winning season, finishing 11-5 in 2016.
The Giants' front office has made several hires, which they thought could turn the struggling franchise around. However, none of those coaches enjoyed sustainable success on the field. The Giants are hoping that changes with Brian Daboll.
The coaches haven't been the only problem in New York, though. The dysfunction starts at the top. Owner John Mara and former general manager Dave Gettleman deserve some blame as well.
Gettleman ran the show from 2018 to 2021, and he was responsible for many monumental football decisions over that span. He hired Shurmur and Judge, but they had short-lived tenures as head coach. He's also the man behind the Odell Beckham Jr. trade to the Cleveland Browns.
The decision to draft Daniel Jones with the No. 6 overall pick in 2019 is one that still plagues the organization to this day. The Duke product has yet to prove why New York should commit to him as the franchise quarterback. Still, it's hard for young players to thrive under poor leadership.
Why the former Bills OC can succeed in New York
The New York Giants are coming off an abysmal 4-13 season under Joe Judge. The team finished with a 6-10 record in 2020, but it seemed to have a lot more fight than it displayed in the 2021 season.
As much as Judge preached about having a tough football team and giving Giants fans "something to be proud of," the on-field product did not match. Recently-hired general manager Joe Schoen expects to see tangible results on the football field. That's where Brian Daboll comes in.
Schoen and Daboll come from the Buffalo Bills organization, so the familiarity is already there. The former offensive coordinator has also built a reputation for being one of the brightest offensive play-callers in the league.
The Giants are in desperate need of some assistance on offense. The unit flopped under Jason Garrett, leading to him getting fired midseason. New York ranked 31st in team offense, posting just 287.2 points and 15.1 points per game.
Daniel Jones is still a huge question mark, but the Giants undeniably have some pieces. Saquon Barkley, Kenny Golladay, and Kadarius Toney lead a solid core of skill players.
Stefon Diggs believes that Daboll could profoundly impact New York from Day 1 because he means business.
"I can tell you first-hand that Brian Daboll will never let anybody walk over him," said Diggs. "He's cool, but he ain't that cool. He's a tough guy. He's going to be hard on you. But he's going to give you that rope and tell you he trusts you."
The New York Giants are desperate for a winner. Could Brian Daboll be that guy?
All stats courtesy of Pro Football Reference
RELATED: The New York Giants and Buffalo Bills Go to War Over Josh Allen's Quarterbacks Coach Ken Dorsey