Bills vs Patriots: 3 Reveals From Monday Night's NFL Game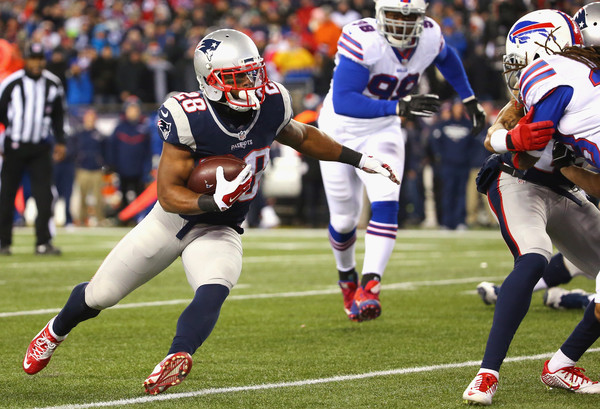 In a Monday Night Football game decided by just seven points, the New England Patriots managed to fend off the Buffalo Bills to improve their record to 10-0. Here are our three takeaways from the Pats' win.
3. The Patriots always find a way
Few teams are able to find as many ways to win as the Patriots, which is a testament to their 10-0 start. Tom Brady is typically great, although he wasn't at his best on Monday night. Even when Brady isn't at the top of his game, somebody else on this team always steps up. In this game, it was running back James White.
The second-year back out of Wisconsin scored the only two touchdowns of the night for New England, one through the air and one on the ground. These were the first two touchdowns of White's young career — probably not a guy you'd expect to be a critical performer on a Patriots team filled with talented players like Rob Gronkowski, but that is just the Patriot way.
You also have to give a lot of credit to Danny Amendola, who stepped up in place of injured Julian Edelman. Amendola recorded 9 catches for 117 yards on the night, helping set up those scores by White. Even though New England didn't play their best in this one and clearly looked vulnerable, the win is proof of their superb preparation and the extreme confidence they have.
2. Tyrod Taylor is a true competitor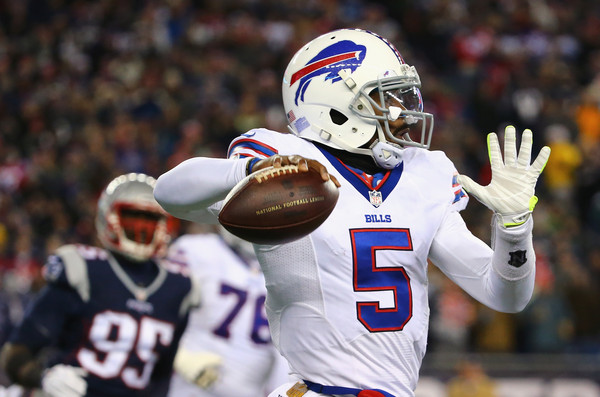 The Bills didn't win this game, but they had a chance, in large part due to their tough minded QB Tyrod Taylor. Late in the fourth, Taylor was clearly in pain, grabbing his shoulder after every throw. Still, he delivered a clutch bomb to Chris Hogan to set up a field goal that brought the game within one score. Then, with a chance to tie up the game, Taylor was the one leading the Bills' desperate attempt at a comeback.
Taylor's stats don't jump off the page, but he's a threat on the ground and with his arm, consistently delivering big time plays for Buffalo's offense. Even though his efforts didn't result in a victory this time, this type of gritty performance late in the game — with the game on the line — should earn Taylor even more respect in the Bills' locker room.
Now the main concern is his long-term health. Taylor was able to gut it out for a couple of drives, but if he is injured for any length of time, Buffalo's playoff chances will take a huge hit. Their backup QB EJ Manuel isn't the same caliber of player as Taylor, so if they have to turn to him, another season without a postseason could be the result. The Bills sit at 5-5 following this loss, currently on the outside looking in at the final wild card spot in the AFC. Therefore, every game is critical for them going forward, and they'll need their starting QB to lead the charge.
1. The Patriots' defense is impressive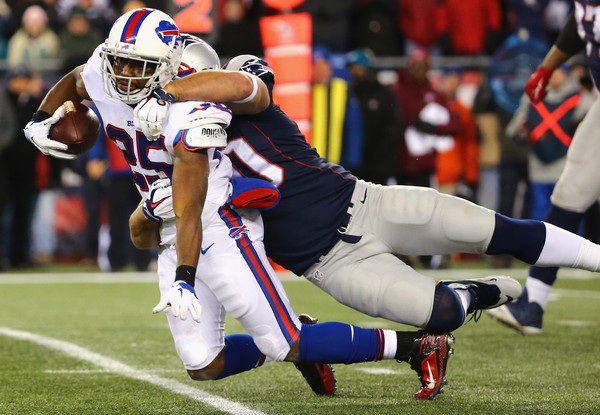 Brady, Gronkowski, and the offense get a lot of credit week in and week out for New England's success, deservedly so. However, this team wouldn't be where they are today without the strong play of their defense.
Led by the always dangerous Rob Ninkovich and his 1.5 sacks against Buffalo, the Patriots held the Bills to just 13 points, an impressive feat against just about any NFL offense. When you have an offense with the ability to produce a lot of points, holding teams under 20 points almost guarantees a win for this team. New England's unit has done that five times this season.
It might be surprising to learn that this defense is third in the league in yards allowed and fourth in points allowed on the season. It's a testament to how well they are coached and it is a key reason why New England is a favorite to win yet another Super Bowl in the Brady-Belichick era.
All statistics courtesy of ESPN.com and Pro-Football Reference.com