Blake Griffin Used 6 Words to Subtly Blast Detroit Pistons Fans
While some Cleveland Cavaliers and Oklahoma City Thunder fans hate on LeBron James and Kevin Durant for leaving their respective teams, Detroit Pistons supporters loathe Blake Griffin for coming to their squad in the first place. That's, of course, not true about all of them, but Griffin's tenure in Detroit was less-than-stellar. He played there in parts of four seasons, and the team only made the playoffs once.
So, now, as the Pistons are amid a rebuild with 2021 No. 1 overall pick Cade Cunningham, Griffin is chasing a title on the Brooklyn Nets. But don't think he's forgotten about those Pistons fans who have shown their disdain for him.
Blake Griffin didn't have the greatest of tenures with the Detroit Pistons
With the Los Angeles Clippers, Blake Griffin was an absolute star. The 2009 No. 1 overall pick earned five consecutive All-Star selections in LA, and he led the Clippers to six straight playoff appearances from 2011-12 through 2016-17.
During his seven-and-a-half seasons with the Clippers (not including his rookie year where he didn't play due to injury), Griffin averaged 21.6 points on 51.2% shooting and 9.3 rebounds. However, in January 2018, the Pistons traded everyone but Isiah Thomas for Griffin. They sent Avery Bradley, Tobias Harris, Boban Marjanovic, a first-round pick, and a second-round pick to LA for Griffin, Brice Johnson, and Willie Reed.
The 6-foot-9-inch power forward then spent parts of the last four seasons with the Pistons, and in his first full year there in 2018-19, he earned All-Star and All-NBA honors by averaging a career-high 24.5 points to go with 7.5 rebounds. Detroit also made the playoffs that season before losing in the first round.
Following that campaign, though, Griffin only played in 38 combined games for the team in 2019-20 and 2020-21. He also only averaged 12.3 points on 36.5% shooting through 20 contests for Detroit last season. So, given how ineffective he was, the Pistons bought out his contract in March 2021, and he subsequently signed with the Nets.
Despite his one stellar All-Star campaign in Detroit, fans will remember Griffin's tenure with the Pistons more for how poorly he played in the end. In addition to his pedestrian numbers, the 2011 Slam Dunk Contest champion wasn't doing the one thing he is known for: dunking.
In fact, his lack of them may have been the root of some of the most ruthless hate he received.
He took a shot at Detroit Pistons fans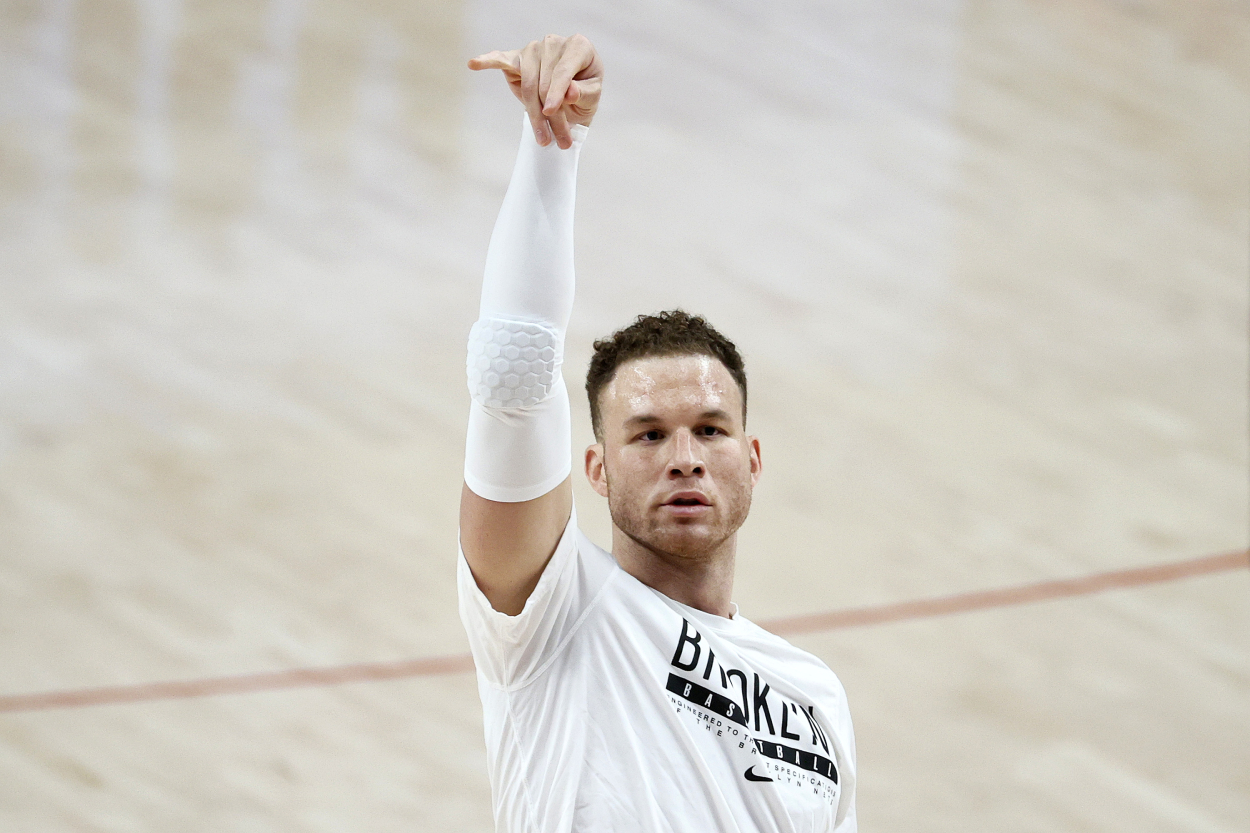 According to ESPN, Griffin didn't dunk in an actual game from Dec. 13, 2019 until March 21, 2021, which was, coincidentally, his first game with the Nets.
But was it really a coincidence?
Some Pistons fans believe he was trying to force his way out of Detroit by not giving much effort on the court, but no one can confirm (or prove) those allegations. He only played in 25 games through that time, so he may not have had any opportunities to dunk. The five-time All-NBA honoree also dealt with injuries during those seasons, so he was likely just not himself when he was on the court.
It appears, though, that Griffin has read some of the chatter from the Pistons fans, who, of course, hate on him for allegedly not playing hard but also for costing the team as much as he did in its trade with the Clippers.
The 32-year-old recently appeared on Pardon My Take, and the hosts pulled out his 2019-20 basketball card. Despite the fact he hardly dunked that season, the description on the card praised the Oklahoma product for his dunking prowess.
"They probably wrote that after the '18-19 season when I was an All-Star and All-NBA; I dunked a few times," he said on the Aug. 31 episode.
Griffin then added, "[I] played in the playoffs injured, but," and then his following six words were a subtle shot at those Pistons fans who have hated on him throughout the past year-plus: "I would hate me too, Detroit."
The 2010-11 Rookie of the Year also said, "It's fine. I'm not bitter."
Why does he sound like he is, though?
In all likelihood, Griffin understands that not all Pistons fans hate him; some even clapped for him in his first return to Detroit with the Nets last season. But professional athletes are on social media, so he likely sees all the inappropriate comments sent his way from @PistonsBoy2152 and @CadeCunninghamStan111. Who wouldn't want to get some shots in on those trolls?
Blake Griffin can now win a title on the Nets
Griffin's time in Detroit is over, but he's not done in Brooklyn yet. The six-time All-Star is returning to the Nets for 2021-22, and despite them not winning a title last season due to Kyrie Irving and James Harden both missing time in the playoffs, they have a great chance to win a championship this upcoming year.
They have their Big Three with Irving, Harden, and Kevin Durant and a talented roster around them with guys like Griffin, Joe Harris, Patty Mills, and others.
No, Griffin isn't the player he was while on the Clippers, or even during the 2018-19 season with the Pistons. But he still has the talent to make a difference for the Nets come playoff time.
We'll see if he or Detroit gets the last laugh.
Stats courtesy of Basketball Reference