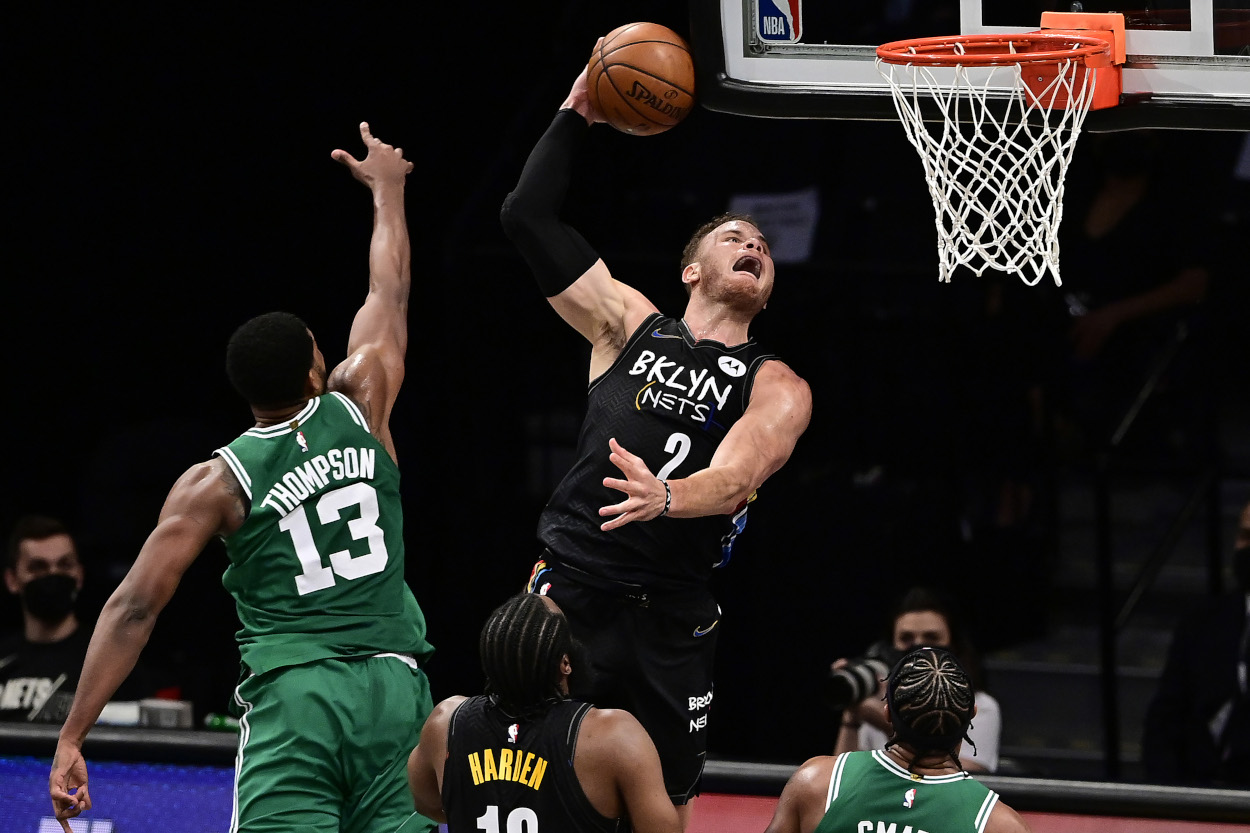 Blake Griffin Considered the Boston Celtics, but a Friend on the Team Warned Him Off
Blake Griffin had plenty of suitors after he was bought out of his contract in March. He considered the Boston Celtics before he was warned by a player there of the dysfunction surrounding the team.
After Blake Griffin negotiated his buyout from the Detroit Pistons in March 2021, he received interest from several playoff contenders. Griffin eventually signed with the Brooklyn Nets, accepting a more minor role. Among the teams he considered, according to reports, was the Boston Celtics. However, Griffin opted not to head to New England after getting some stunning advice.
Griffin has often been a polarizing player in his career. Nevertheless, rumors had Griffin on the radar of the Los Angeles Lakers. After all, the rumor mill links the Lakers to any free agent or trade target that has ever been a notable player. However, a former teammate of his offered an extraordinarily unflattering assessment of the six-time All-Star and former Rookie of the Year.
Injuries have always played a significant role in Griffin's career. But, ultimately, his health led to a rapid decline as he entered his 30s.
Blake Griffin's career began with a redshirt season
The LA Clippers made Blake Griffin the No. 1 overall pick in 2009 after an All-America season as a sophomore at Oklahoma. But a fractured kneecap during the preseason finished Griffin's rookie year before it began. Nevertheless, he rolled to Rookie of the Year honors the following season. After missing what would have been his first year, Griffin showed excellent durability over his first four seasons.
From 2010–14, Griffin missed only four games while logging 35.6 minutes a night. He was productive, as well, scoring 21.4 points with 10.1 rebounds per game over that span. He teamed with Chris Paul in 2011 to form what was known as Lob City. The Clippers, meanwhile, transformed from punch line to perennial playoff participant.
But Griffin missed 15 games in 2014–15, and his availability has been spotty since. Aside from playing in 75 games in his renaissance 2018-19 season with Detroit, Griffin has missed at least 21 games each season since 2015.
Still, he was considered a valuable commodity after his Motown buyout. For all his dings and dents, Griffin can still contribute. He showed that during Brooklyn's playoff run.
Griffin warned away from the Boston Celtics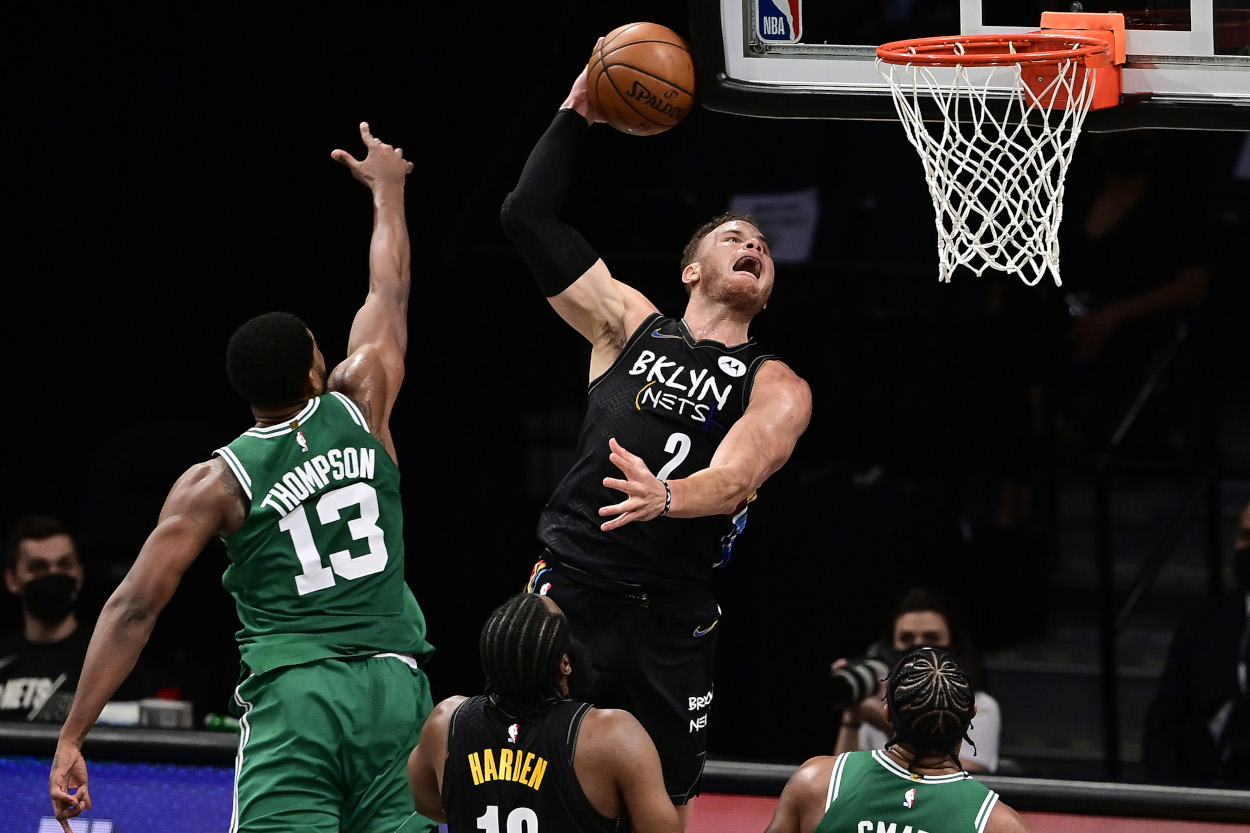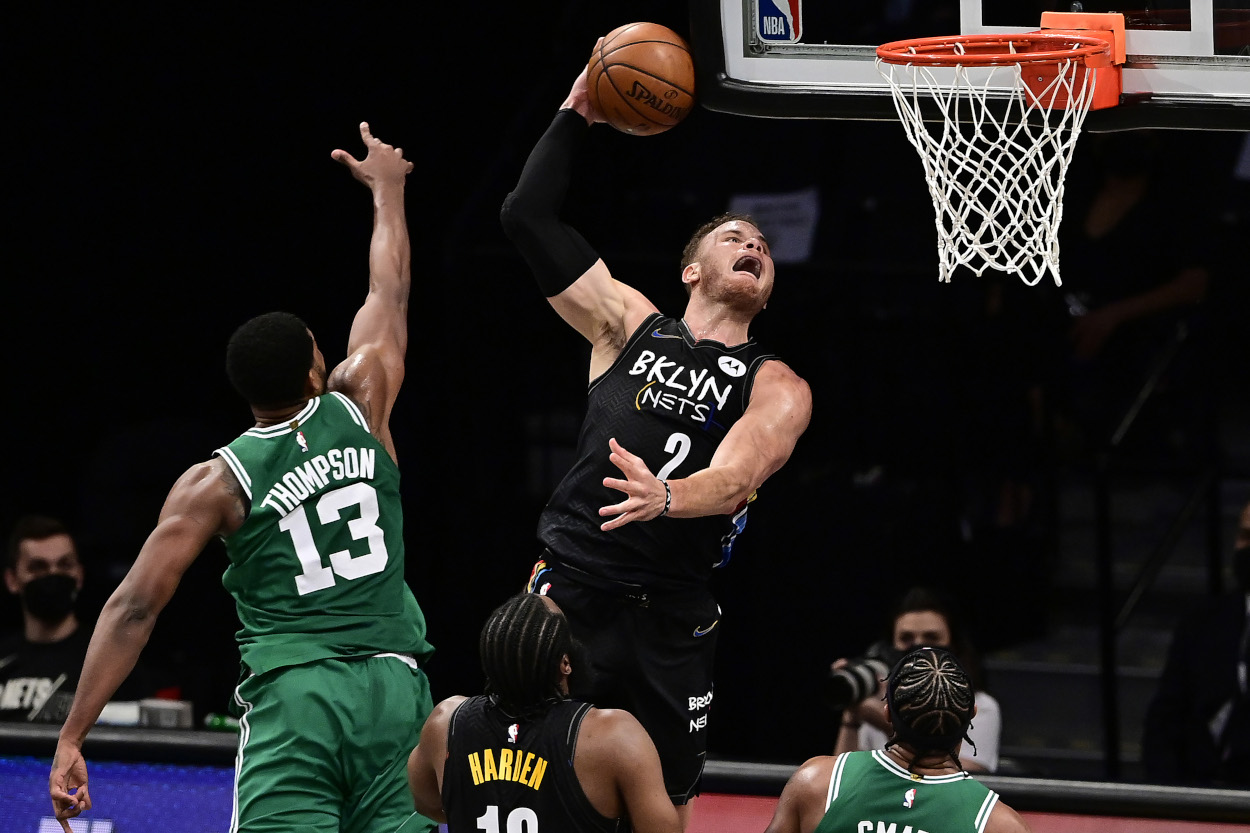 Per The Athletic, Blake Griffin reached out to a Boston Celtics player about coming to TD Garden. Instead, that player told Griffin he should avoid Boston, citing a dysfunctional organization.
It appears Griffin made the right move for the short term. The Celtics struggled to a .500 finish and dropped into the NBA's initial play-in tournament. While they beat the Washington Wizards to secure the East's seventh seed, Boston lasted only five games in the first round. Coincidentally, that escort out of the playoffs came from Brooklyn and Griffin.
The offseason hasn't even officially begun, and the new president of basketball operations, Brad Stevens, has been busy. Elevated from the head coaching spot, Stevens reportedly agreed to trade former All-Star Kemba Walker to the Oklahoma City Thunder. In addition, former Celtic Al Horford comes back to Boston in a swap of poorly aged contracts. Walker went to the Celtics in the summer of 2019 in a sign-and-trade from the Charlotte Hornets. Horford left Boston to sign with the Philadelphia 76ers, who traded him after just one season.
The road ahead for the Celtics is murky
Ideally, trading Walker gives the Boston Celtics the salary cap flexibility to make a competitive offer to free agent Evan Fournier. The Celtics acquired Fournier from the Orlando Magic at the trade deadline. Further down the line, Horford's contract becomes more palatable in 2022, when only half of his $28 million is guaranteed.
By all accounts, Blake Griffin did what the Nets asked him to do. Griffin averaged 10 points in 21.5 minutes over 26 regular-season games in limited playing time as a small-ball center. In the playoffs, he shot 53.2% overall without having anything run through him. Griffin averaged 9.0 points and 5.9 rebounds a night.
He came up big against Milwaukee in the second round, with a pair of double-doubles while battling Giannis Antetokounmpo or Brook Lopez most of the time.
Griffin will once again hit free agency this summer. The Boston Celtics are still interviewing coaching candidates while committing (it seems) to build around young stars Jayson Tatum and Jaylen Brown. However, now that Blake Griffin has shown he can accept a lesser role, his fit in Boston might be better in 2021–22. That is, if the Celtics can repair the damaged environment surrounding the club.
Statistics courtesy of Basketball Reference.