Blake Griffin Gets His Wish to Stay With the Title-Favorite Brooklyn Nets
When a longtime All-Star takes on a support role, there is the risk of rejection. Think of Allen Iverson going to the Memphis Grizzlies. But when Blake Griffin signed with the Brooklyn Nets in March 2021, he did more with less playing time. More importantly for Brooklyn, he played his role and made everyone happy (offer not valid in Detroit).
Griffin played essential minutes in the playoffs as a small-ball center. The contribution was vital because the rest of Brooklyn's center rotation was either small (Jeff Green), young and banged up (Nicolas Claxton), or retired on active duty (DeAndre Jordan).
Griffin is running it back with the Nets on a one-year deal, likely at a bargain price. Griffin will do more of the same for Brooklyn, which is to say he'll defend, rebound, and try to stay out of the way of the scorers. It is a dramatically different role for the six-time All-Star.
Blake Griffin spent much of his career as a top option
When his delayed rookie season began in 2010, Blake Griffin carried a large chunk of the load for the Los Angeles Clippers. He was the featured performer with the Lob City Clippers after Chris Paul arrived in 2011.
In each of his first five seasons, Griffin was an All-Star and made an All-NBA team every season from 2011–15. Known for his dynamic dunking, he was a force of nature for a while.
But then the injuries came. Griffin missed 47 games in 2015–16. Already out with a knee injury, he broke his hand punching a team employee in January 2016. That probably didn't make him very popular at company events.
Injuries in the next two seasons also slowed Griffin before a trade sent him to the Detroit Pistons in January 2018.
The 2018–19 season was like a time machine for Griffin, who returned to All-NBA form while leading Detroit to the playoffs. But an injured knee late in the season spelled the beginning of the end.
He played only 18 primarily ineffective games for the Pistons in 2019–20. After shooting a woeful 36.5% in 20 games last season, Detroit bought out the final season and a half of the five-year, $173 million deal Griffin signed with the Clippers in 2017. Then it was off to Brooklyn.
Blake Griffin didn't come to the Brooklyn Nets to be the star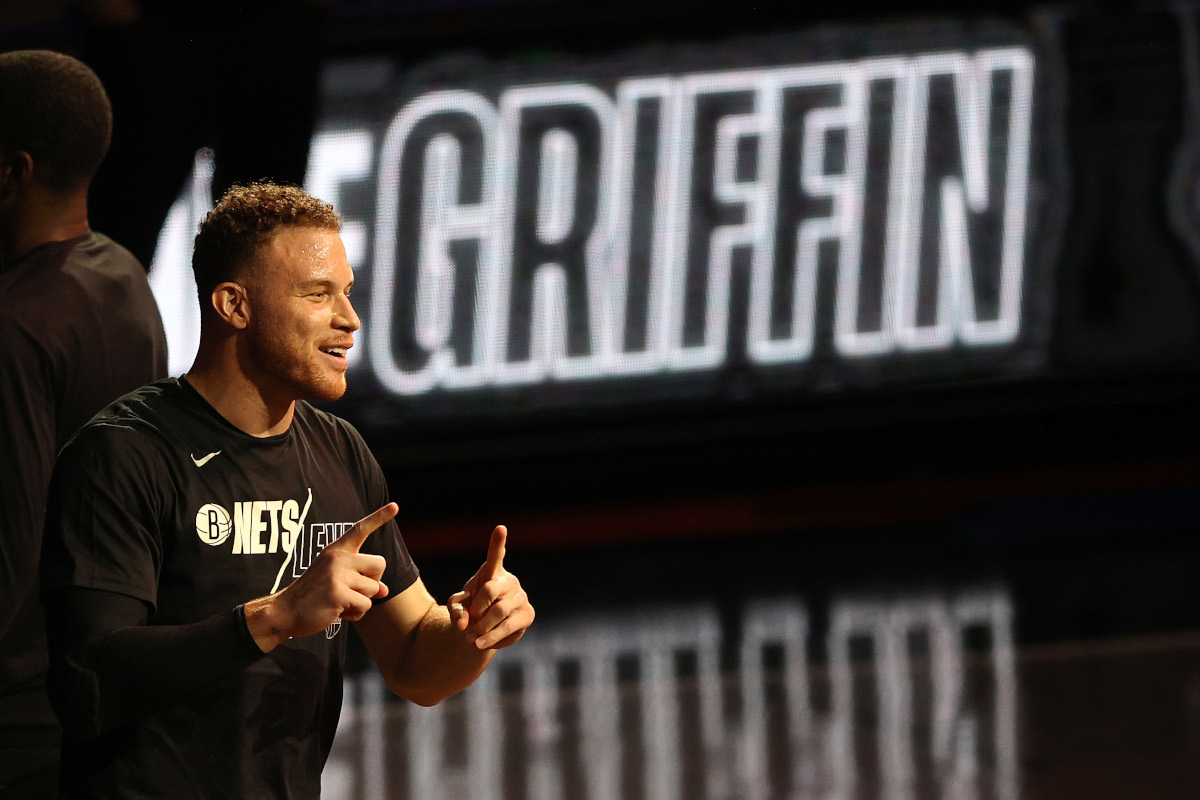 After clearing waivers, Blake Griffin signed a veteran's minimum contract to go to the Brooklyn Nets. With Kevin Durant, James Harden, and Kyrie Irving already on board, Brooklyn wasn't looking for All-Star Griffin. They were looking for role player Griffin. That's something he hadn't tried before.
In 26 games and 10 starts, Griffin took 7.3 shots a game (his career average is 15.8). He put up 10.0 points, 4.7 rebounds, and 2.4 assists. Griffin also shot the ball well, hitting 49.2% overall and 38.3% from distance. He started every game during the Nets' playoff run, averaging 9.0 points and 5.9 boards a night.
On Aug. 2, the first day of free agency, Tim Bontemps of ESPN reported that Griffin had agreed to a one-year deal to return to Brooklyn. There is no salary information yet, but anything the Nets pay Griffin will get shaved off the $29.7 million the Pistons owe him for next season.
That allows the Nets to run it back with the same starting five they started the playoffs with before injuries to Harden and Irving disrupted the rotation.
Change is coming to Brooklyn Nets
After their narrow seven-game loss to the NBA champion Milwaukee Bucks in the second round, the Brooklyn Nets opened the offseason as favorites to win the title next season. The Big Three is back, Griffin returns, and sharp-shooter Joe Harris provides plenty of spacing.
ESPN reported Brooklyn is keeping versatile guard Bruce Brown and bringing in veteran guard Patty Mills. The Mills move offsets the loss of Spencer Dinwiddie to the Washington Wizards in a sign-and-trade. Green also left, signing with the Denver Nuggets. The Nets hope veteran James Johnson can replace Green.
Brooklyn also had a strong draft, adding LSU scorer Cam Thomas and North Carolina big man Day'Ron Scott.
Nets GM Sean Marks had a simple goal for the offseason, and he appears to have pulled it off, per Brian Lewis of the New York Post.
"We have a pretty good team, and we're not trying to reinvent the wheel here. We don't want to screw it up too bad. We want to add depth at the big position. That's going to be important from a defensive and rebounding standpoint."

Nets GM Sean Marks
Blake Griffin is back for another go-around. Now, if the Brooklyn Nets could only find someone to take on Jordan's horrific contract.
Statistics courtesy of Basketball Reference.
RELATED: The Brooklyn Nets Should Be Relieved Over a 6-Foot-9 Piece of the Puzzle Falling in Their Lap