Blake Griffin Reveals Why Kevin Durant Is the Greatest Scorer in NBA History: 'I Have Never Seen a Player Be Less Affected by Somebody'
Blake Griffin hasn't been with the Brooklyn Nets very long, but he's seen just about everything he needs to label Kevin Durant as the greatest scorer in the NBA. Griffin spoke with former teammate J.J. Redick about Durant's sheer scoring ability and how KD, contrary to his Twitter commenters, is totally unbothered when he has the ball in his hands.
Blake Griffin is totally in awe of Kevin Durant's scoring ability
Blake Griffin has shard the floor with stars like Chris Paul and scorers like Jamal Crawford before. But he's never seen anyone operate like Kevin Durant on the offensive end of the floor.
Griffin was J.J. Redick's guest on the latest episode of The Old Man & the Three podcast. He tried to explain how Durant makes even the hardest scoring move seem so effortless, marveling at KD's ability to basically block out his opponent on the other side of the ball.
Griffin explained he was merely trying to find ways to support Durant during the playoffs, mostly by hunting opportunities on the offensive glass and presenting himself as a cutter.
The depleted Nets were unable to get past the Milwaukee Bucks. But the playoff loss should not detract from Durant's historical brilliance.
KD had an all-time great series against the Milwaukee Bucks
Kevin Durant carried the Nets on his shoulders during the conference semifinals.
Durant was remarkable against the Bucks, averaging 35.4 points on close to 50% shooting from the field. This included an absurd 49-point triple-double in Game 5. He also poured in 48 more points in Game 7.
The series was a microcosm of Durant's scoring brilliance. Bucks defenders practically contested him every time he shot the ball, yet he still found a way to get it through the cylinder. Everyone involved in that series knew James Harden was hurt, and Durant needed something Herculean. He nearly pulled it off.
What makes KD so lethal? The blend of size and skill is unparalleled. Griffin specifically pointed out that Durant's dribble pull-up game is unmatched. Indeed, KD has a terrific handle, but his height also allows him to shoot over any defender rushing to contest.
Durant also knows how to pick his spots. He'll run a high pick-and-roll or isolate defenders on the blocks. Additionally, the former MVP can get all the way to the rim or score the ball even when his momentum carries him away from the bucket.
But, as good as KD is, can he really be labeled the best scorer in NBA history?
Is Kevin Durant the best scorer in NBA history?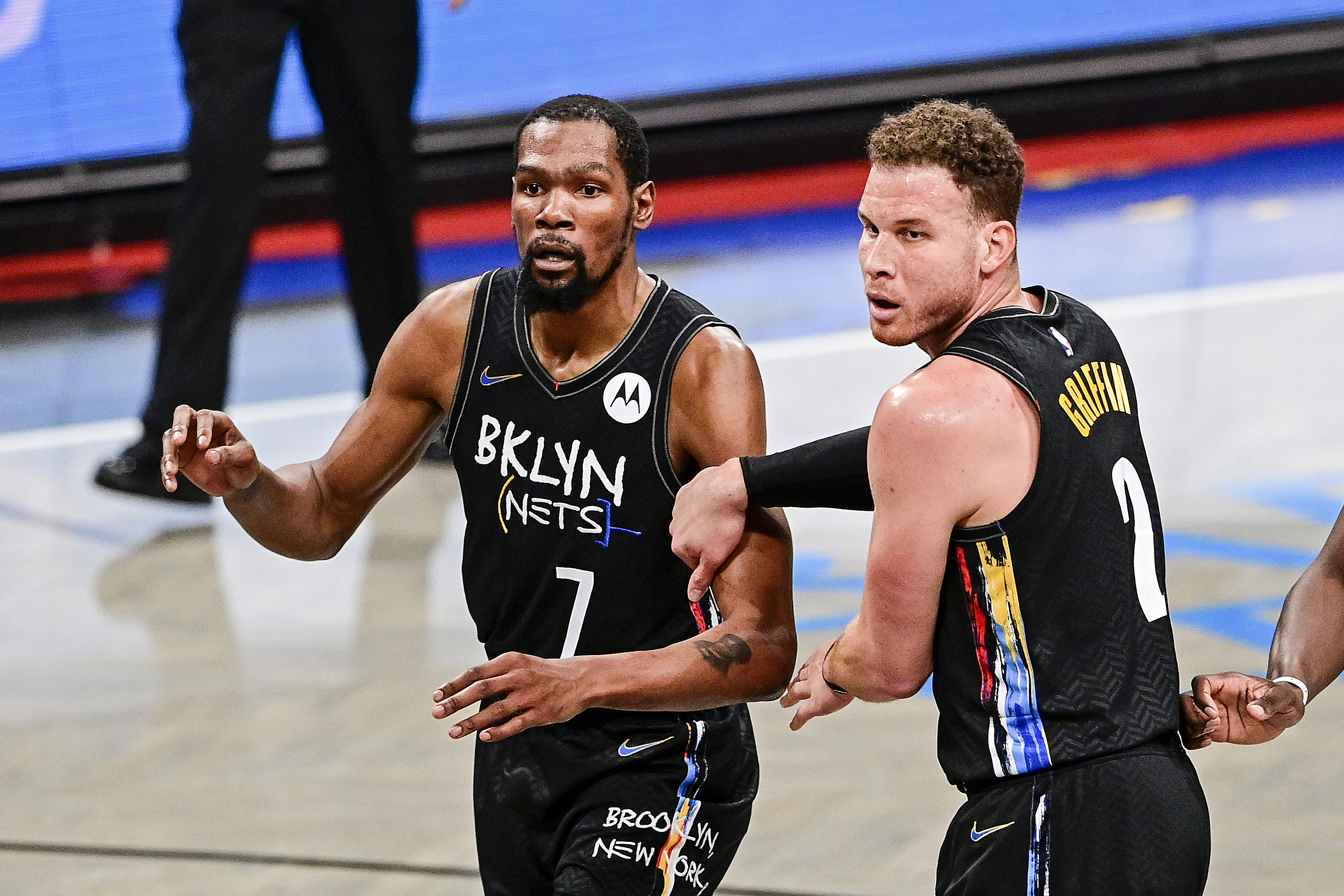 Durant's status as the best pure scorer in basketball history is less based on accolades and more defined by the testament of his peers.
For example, Durant has four scoring titles. That's tied with Allen Iverson and George Gervin for the second-most in NBA history, but pales in comparison to Michael Jordan's and Wilt Chamberlain's 10 scoring titles.
However, Durant can do just about everything MJ did at a high level. The difference is he does it even more efficiently. Durant's career true shooting percentage is 61.5%, whereas Jordan's is 56.9%. Even if MJ's 30.1 points per game mark outpaces KD's 27.0 average, that's a pretty sizable and meaningful difference.
Durant also does things Jordan never did very well. He shoots a high volume of three-pointers in various fashions, but especially off the dribble and even in transition. That's part of what makes him unstoppable as a 7-footer who can shoot from anywhere on the floor or blow by overeager defenders.
As Blake Griffin put it, Durant is totally "unaffected" by anything opposing defenses. It's a description that perfectly explains why he's the greatest scorer in NBA history.
Stats courtesy of Basketball Reference.