Blazers guard CJ McCollum Feared He Wouldn't 'Be Able to Hoop Again' After Collapsed Lung, but He's Found Peace In His Life
Portland Trail Blazers star guard CJ McCollum scored 16 points on Monday during his first game in more than six weeks after suffering a collapsed right lung.
ORLANDO — Perspective sometimes has a way of packing quite a punch and hitting you when you least expect it. In the case of Portland Trail Blazers star guard CJ McCollum, a heavy dose of perspective came over him at the scariest moment in his professional career, and it ultimately provided him with a tremendous amount of peace.
Fear struck McCollum in early December when what he thought was a rib injury was determined to be a collapsed lung on his right side. That injury knocked the standout guard out for six weeks and 17 games in what has already been a difficult season for the Trail Blazers. However, that scary injury and low point ultimately became a moment McCollum said he will always cherish.
"I think this is the most happy and at peace I've ever been in my life," McCollum said on Monday night when he made his return to basketball after missing the past six weeks.
Portland Trail Blazers guard CJ McCollum briefly wondered if he would ever play again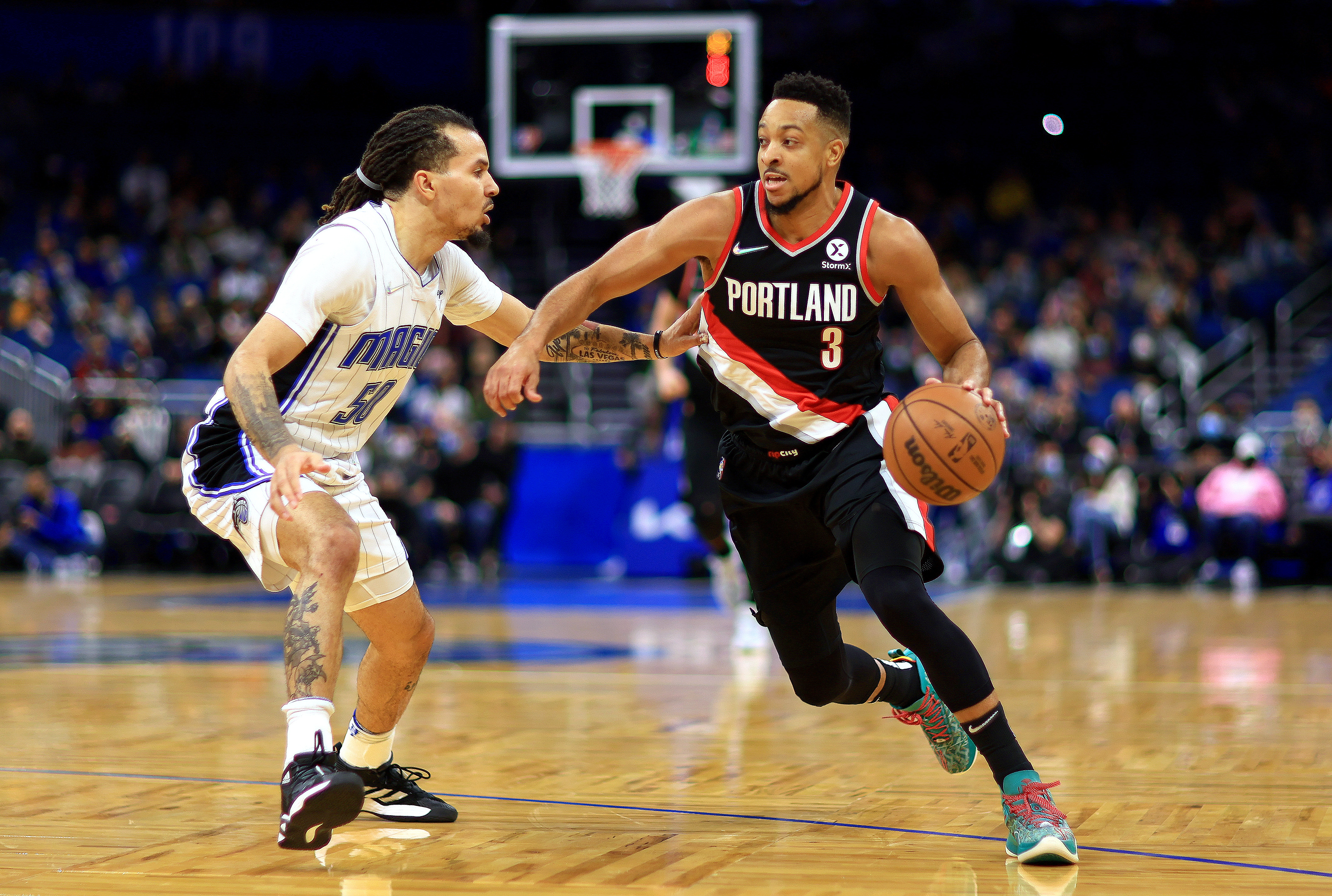 In a Dec. 4 loss to the Boston Celtics, a hit left CJ McCollum with what he thought were sore ribs. As if starting the season an uncharacteristic 11-13 wasn't bad enough, McCollum's fears rose when he got the collapsed lung diagnosis from an Oregon pulmonologist.
"You hear 'collapsed lung,' and you think the worst," the guard said on Monday night after scoring 16 points during his first NBA game in six weeks. "At first, I'm wondering, 'Am I going to be OK?' Then, it's, 'Am I going to be able to hoop again?' Nine years in (the NBA), and I was wondering if I had to walk away?"
McCollum, 30, was ultimately told by doctors that the injury is quite common and that he could make a full recovery if he could remain patient. As a player who has always prided himself on being in top physical condition, he said the most challenging part was literally "doing nothing" for several weeks.
A silver lining comes for McCollum at a time that was previously a low point
After initially feeling down about his injury, McCollum said the ability to be home with his wife, Elise, comforted him throughout the final weeks of her pregnancy. It reminded him of last season when he broke his foot, and that time away from basketball because of the injury allowed him to be available for his wife when her grandmother died.
McCollum purposefully stayed away from the Blazers so as to not possibly bring the COVID-19 virus into his home and around his expecting wife. However, new Blazers coach Chauncey Billups said he texted or talked to McCollum after almost every game. The guard often gushed about the progress Blazers youngsters Anfernee Simons and Nassir Little made on a nightly basis.
Just as McCollum was starting to ramp up his on-court activity for a return, Elise gave birth to the couple's first child, a son named Jacobi James McCollum, one minute before midnight on Jan. 10. McCollum said seeing his 8-pound, 1-ounce son makes him melt in a way no NBA defense ever could.
"He's so innocent and precious, and he's like a little angel," the proud dad said. "You can see with some of the features that he's got my nose, my big nose, and her eyelashes and her hair because I've got nappy hair."
"Even when he's crying, I'm like, 'Whatever'," McCollum continued like a proud papa. "At 4 a.m. I'm trying to change a diaper — and there are not many things that bring joy under those circumstances and I don't want to sacrifice my sleep for anything — but for him, I've never been more excited to change a diaper. Now, I see he's peed in his diaper, and it's cool. And I'm asking, 'What color is his poop today?'"
McCollum feels his inner peace can translate to basketball, and it will help him be better
The season has been challenging for the Blazers and first-year head coach Chauncey Billups. Portland lost seven games in a row when McCollum went out, and superstar guard Damian Lillard is now out for an unspecified amount of time following surgery on his abdomen. But after bottoming out at 14-24, the Blazers have started a revival around big man Jusuf Nurkic and youngsters Simons and Little.
On Monday, with McCollum back and scoring 16 points in 28 minutes, Portland won for a fourth time in five games.
McCollum believes the peace and joy he's personally feeling can translate to the basketball court. He was averaging 20.6 points per game when the collapsed lung happened, and he thinks he'll be even better going forward.
"I'm in a space that probably only fathers can relate to," McCollum said. "You have an understanding of what's important to you, and a purpose. I've always had purpose before, but my purpose now is to be a good man and to try and raise my son to the best of my abilities."
"Understanding where my family's at now, I can see the joy in my wife's face, and I can see that everything is OK. It makes it easier when the household is stable and solid," McCollum added. "It's much easier to play, work and go out into the real world when everything at home is as it should be."
"I'm in a much different space than I was to start the season," he added. "I'll play great some nights, and I won't play great some nights, but there will be a consistency in my house."
All quotes in the story were obtained firsthand.
Statistics are courtesy of ESPN.com.
RELATED: Damian Lillard's Injury Has Unfortunate Draft Implications for the Chicago Bulls
Related post url: