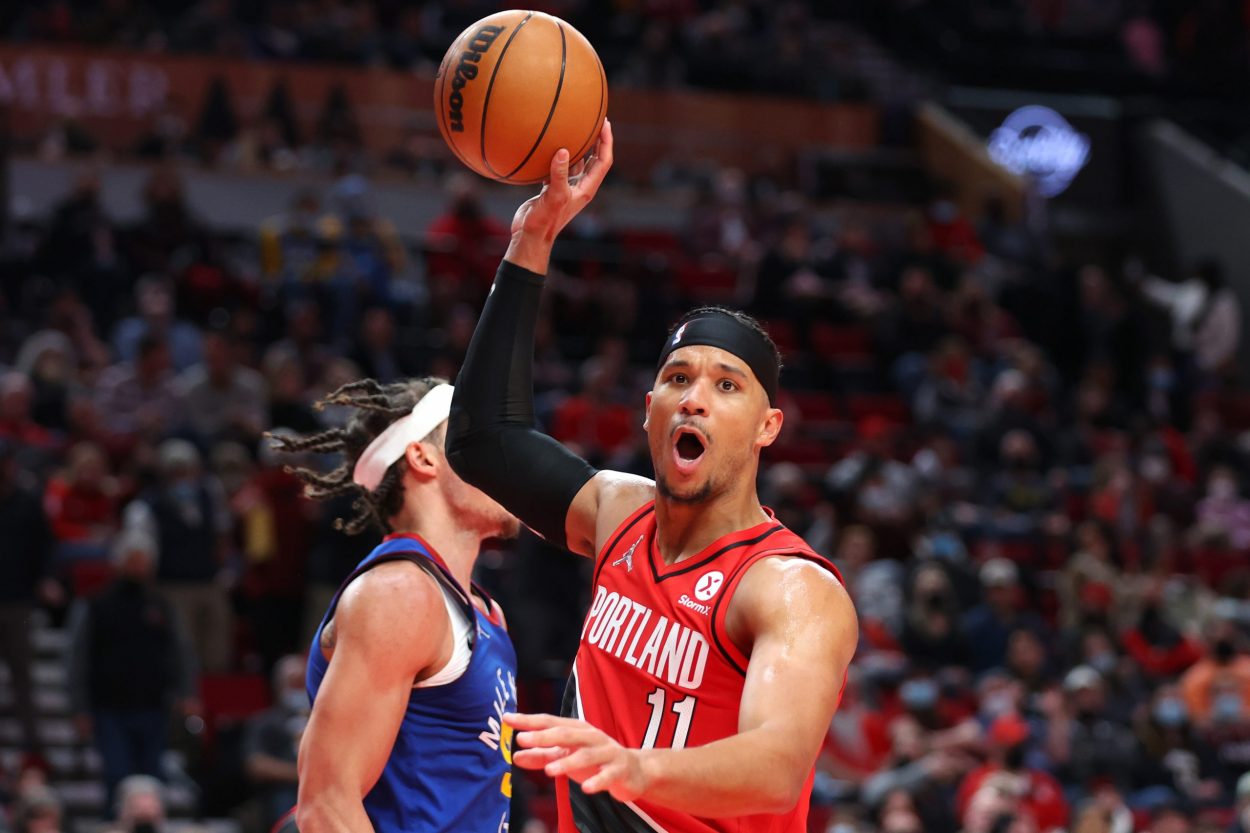 The Blazers Place Their Retool in the Hands of Josh Hart
Josh Hart's growth with the Blazers could have a huge impact on Damian Lillard's future in Portland.
The Portland Trail Blazers raised numerous eyebrows when they orchestrated an enormous salary dump before the Feb. 10 NBA trade deadline. Skeptics questioned the decision to trade Norman Powell after the team previously signed him to a five-year, $90 million contract this past offseason. Portland's front office set the Twittersphere alight by sending CJ McCollum to the New Orleans Pelicans, particularly when the Blazers failed to pivot and make another splashy move to buy.
However, the retooling process is off to an auspicious start, mainly because Josh Hart looks a winning piece for the Blazers.
Portland acquired Hart from the Pelicans in the McCollum trade. Though he wasn't necessarily regarded as an impact piece in the deal, his team-friendly contract and tremendous year-over-year growth suddenly make him a lynchpin figure to the Blazers' competitive hopes.
In many ways, Portland has placed its retool in Hart's hands. He could have a significant impact in determining Damian Lillard's future with the organization.
Josh Hart has played tremendous basketball for the Blazers
Before coming to Portland, Hart looked like a potential cornerstone player in New Orleans. Now, he's showing the citizens of Rip City why he can be just that for the Blazers.
In five games with Portland, Hart is averaging 19.0 points, 5.4 rebounds, and 4.2 assists on 54.0% shooting from the field. The Blazers won each of their first three games with the versatile wing in the rotation. According to NBA.com, they ranked ninth in defensive rating during that stretch.
Portland has since lost two straight in blowout fashion as the tankathon begins. Nonetheless, Hart's value to the team has been clear.
Even after a 37-point loss to the Golden State Warriors and a 32-point loss to the Denver Nuggets, the Blazers are outscoring opponents by 0.6 points per 100 possessions with Hart on the floor. His activity as a cutter and slasher has meshed well with Anfernee Simons, whose accelerated growth made CJ McCollum more tradable.
Hart gives Portland options. His salary for the 2022-23 season is non-guaranteed, so the Blazers could theoretically waive him to create even more cap space.
However, general manager Joe Cronin suggested that Hart will play a sizable role in Portland's retool. That's probably good news for Blazers fans.
Hart gives Portland what it has missed all along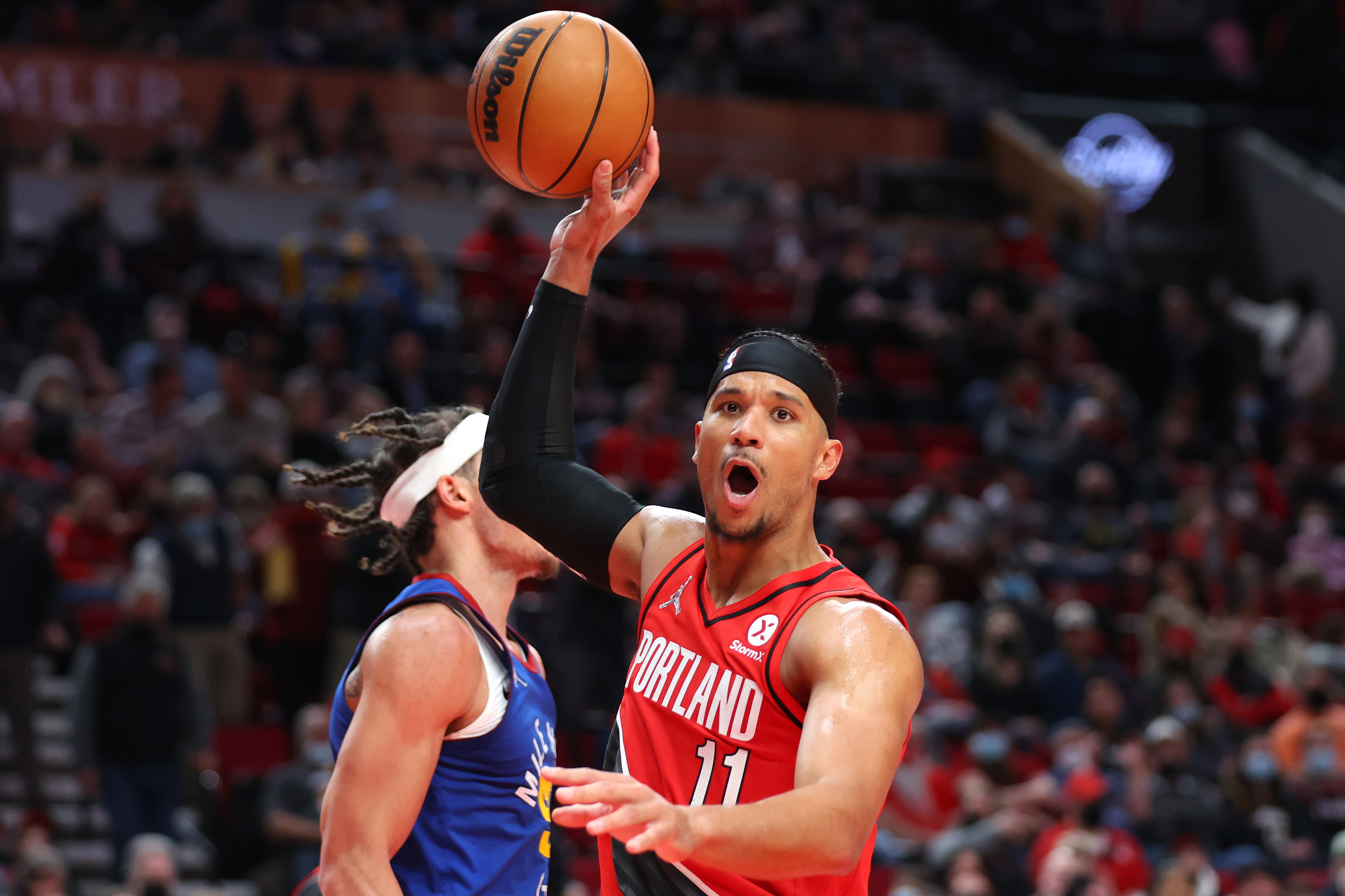 Although Josh Hart's contract structure lends itself to flexibility, the Blazers have every intention of keeping the former Villanova star in Portland.
Cronin stressed (h/t The Athletic) Hart's importance to the identity the organization hopes to build in the coming months. He made it abundantly clear that the Blazers "targeted" him in trade talks.
"He's a keeper. Josh embodies what we are trying to build here. The talent level, the skillset, the competitiveness, the IQ, the defensive-minded, guard-anyone approach. His ability to make others better, to make shots, push the ball."

–Blazers GM Joe Cronin on Josh Hart
The more important realization came from Cronin suggesting that the Blazers want to find versatile players like Hart at multiple positions. That's exactly what Portland needs and has needed for years.
Hart can essentially guard 1-4 in the Marcus Smart, Alex Caruso mold — though it's a bit of a stretch to put him on that defensive pedestal. He has solid instincts away from the ball.
More importantly, Hart can significantly impact a Portland pick-and-roll defense that traditionally struggled with Damian Lillard and CJ McCollum in the backcourt and a slow-footed Jusuf Nurkic in drop coverage. That's critical, because watching that pick-and-roll scheme (especially in past playoff losses to the Warriors) felt like repeatedly banging your head against a brick wall.
The Blazers can't exactly wait for complementary, project pieces like Justise Winslow to reach their full potential. They need guys who fit next to Lillard and contribute to winning. Hart does both.
A guy Damian Lillard wants to play with
Josh Hart said after the Nuggets loss that he wears his heart on his sleeve. That's exactly the kind of player the Blazers want next to Damian Lillard.
Dame wants guys he can go to war with every night. Hart is assuredly willing to do just that and take on any role Portland needs him to down the road. Not to mention, he can make Lillard better.
We've already discussed how Hart changes team defense. However, his ability to play-make on the ball and get to the bucket also takes a lot of pressure off Lillard on the offensive end. This facet shouldn't be overlooked, particularly considering the burden Dame has carried and the fact he is recovering from a painful abdominal injury.
The Blazers will undoubtedly try to make impact moves this summer. Still, it needed future assets and a roster capable of enticing players to come to Portland. With Lillard steering the ship, Simons in the backcourt, and Hart doing it all, the organization has a decent core.
Ultimately, a lot depends on Lillard's perspective. But Hart could prove vital in helping Dame stick to his guns while turning the Blazers into winners again.
Stats courtesy of Basketball Reference unless otherwise noted. Contract information courtesy of Spotrac.
RELATED: Zion Williamson's Injury Nukes the Pelicans' Playoff Chances and Makes the Blazers Clear Winners of the CJ McCollum Trade