Is Blue Jays Star Bo Bichette Related To Former MLB All-Star Dante Bichette?
The Toronto Blue Jays' hopes of returning to the World Series for the first time in nearly 30 years are heavily dependent on Bo Bichette.
Bichette, who will play all of the 2021 season at 23, has impressed at the big league level since debuting in 2019. The trio of Bichette, Vladimir Guerrero Jr., and Cavan Biggio has formed an impressive young nucleus for the Blue Jays.
Guerrero and Biggio are each the sons of MLB greats Vladimir Sr. and Craig Biggio. Is Bo related to Dante Bichette, the Colorado Rockies' former All-Star outfielder?
Bo Bichette is the Toronto Blue Jays' starting shortstop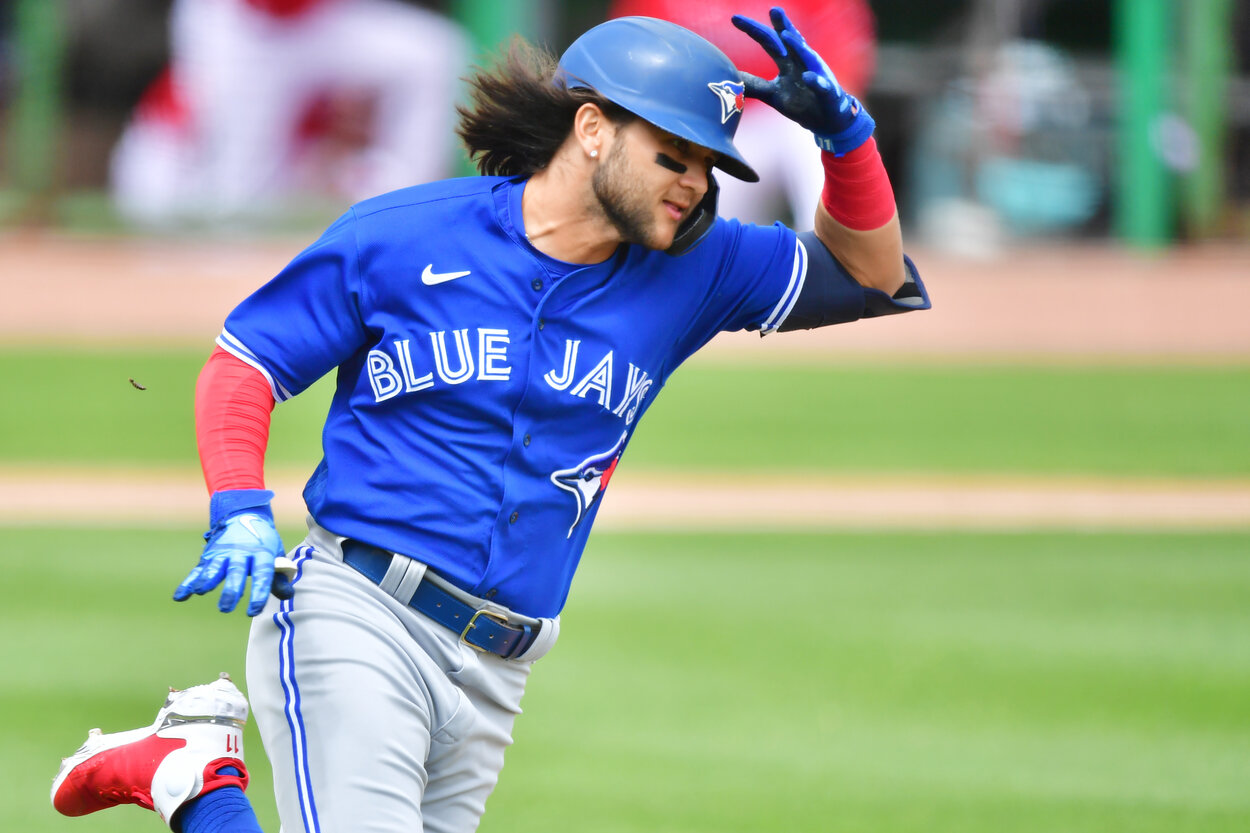 RELATED: Should Carlos Delgado Be in the Baseball Hall of Fame?
A second-round pick in 2016, Bo Bichette made the most of his first two seasons.
Bichette debuted in the majors on July 29, 2019, and recorded a single in his first game. He hit .311 with 11 home runs, 21 RBIs, and 18 doubles across 46 games to close the 2019 season.
Bichette hit .301 with five home runs and 23 RBIs in 29 games across the pandemic-shortened campaign in 2020. Tampa Bay pitchers held Bichette hitless in eight at-bats during the postseason, however.
The easy knock on Bichette is his lack of plate discipline. In his first 75 games, Bichette struck out 77 times — about one per game, which is seemingly typical in today's strikeout-happy climate — but only drew 19 walks.
Bichette still has plenty of time to improve on his lack of walks. Given that the Blue Jays still play in the same division as Yankees ace Gerrit Cole, they'll need players who can work the count and draw walks.
His father, Dante, was an All-Star outfielder
RELATED: Former MLB All-Star Todd Helton Started Over Peyton Manning as a Quarterback at Tennessee
Bo Bichette isn't the only member of his family to play in a Major League Baseball game.
Bo's father is Dante Bichette, a former All-Star outfielder who spent most of his career with the Colorado Rockies. In 14 MLB seasons, Dante hit .299 with 274 home runs, 1,141 RBIs, and 152 stolen bases.
Bichette reached base at a .336 clip and earned All-Star honors four times.
A member of the original Rockies team that debuted in 1993, Bichette hit .316 with 201 home runs and 826 RBIs over the next seven seasons. In the 1995 NLDS, his lone postseason series, Bichette hit .588 with a home run and three RBIs in four games against John Smoltz and the Braves.
Bo's older brother, Dante Jr., also played professional baseball
RELATED: How Good Was the Late Toronto Blue Jays Shortstop Tony Fernandez?
Bo Bichette may not be the only one of Dante Bichette's children to eventually play in the major leagues.
Bo's older brother, Dante Jr., was a first-round pick of the New York Yankees in 2011. Dante Jr. played in the Yankees' farm system from 2011 through 2017, never reaching a level higher than Double-A.
Although Bichette Jr. had extra-base power and had at least 15 doubles per year in his first seven minor league campaigns, he wasn't much of a home run hitter.
Most recently, Bichette Jr. played in the Washington Nationals' farm system during the 2019 season. Bichette primarily played the corner infield spots but also saw outfield action with the Nationals.
At age 28, Dante Jr. remained a free agent when the 2021 MLB season opened.
Like Sportscasting on Facebook. Follow us on Twitter @sportscasting19.