Bob Costas Once Had an Incredibly Embarrassing Michael Jordan Interview and Recently Said He Still Wants a 'Do-Over'
Michael Jordan had many monumental moments during his Chicago Bulls tenure, but maybe his most memorable came when he won his first championship in 1991.
The scene was emotional, given it took him until his seventh season to reach the mountaintop, but legendary broadcaster Bob Costas nearly ruined it. In fact, Costas still wishes he could get a "do-over" for that specific interview.
Michael Jordan won his first NBA title with the Bulls in 1991
During the first portion of Michael Jordan's NBA career, it took time for him to get his Bulls through the Eastern Conference and into the NBA Finals.
Chicago lost in the Eastern Conference first round or semifinals each season from 1984-85 through 1987-88. The Bulls then fell to the Detroit Pistons in the Eastern Conference Finals in consecutive years in 1988-89 and 1989-90.
However, in 1990-91, Jordan and company finally got past the Pistons and the rest of the Eastern Conference to get to the Finals, where they played the Los Angeles Lakers. The Bulls had a tall task against LA, as they had to face Magic Johnson, but they ultimately won in five games to win their first of six titles in an eight-year span.
The scene after the series-clinching win was emotional, and Bob Costas was there for NBC to see it up close.
Bob Costas wishes he could have a 'do-over' with his MJ interview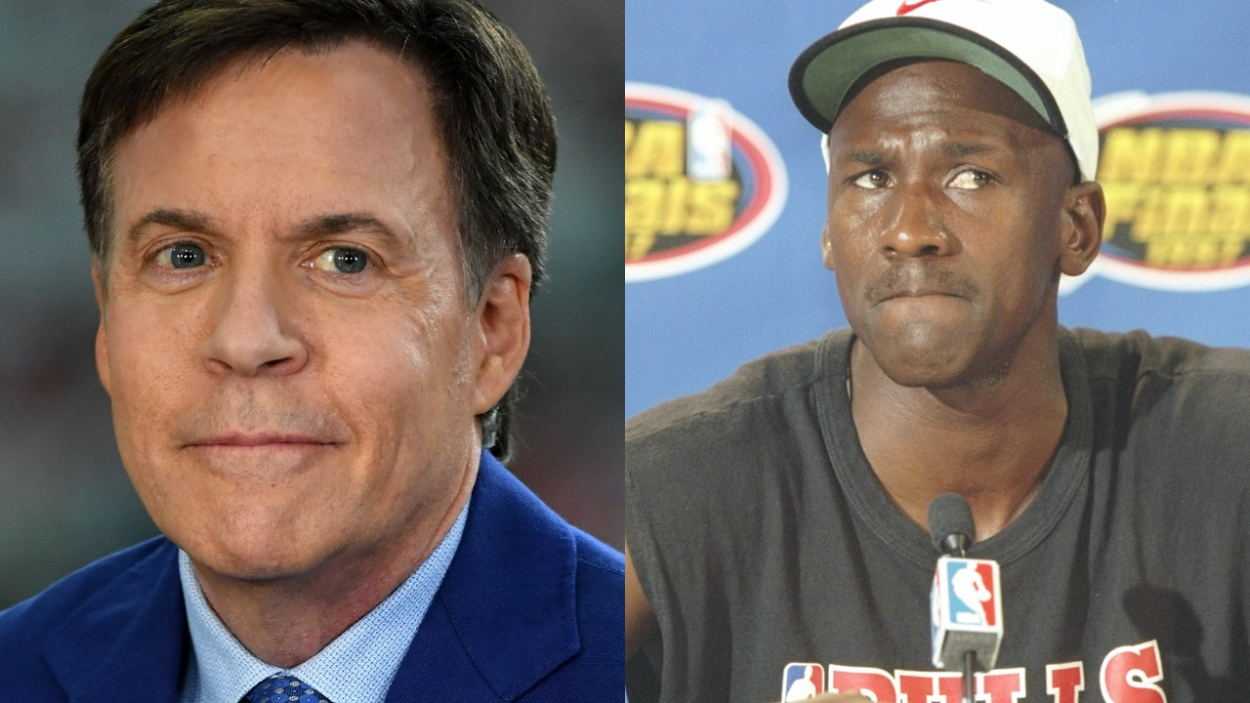 Costas recently appeared on The Ringer's Slow News Day, and he discussed one of the most embarrassing interviews of his legendary career.
"The first NBA championship on NBC in 1991 … they sent me into the locker room, tiny, tiny visitors locker room at the old Forum," Costas said on the Sept. 23 episode. "There was one cameraman with his portable camera on his shoulder and no support staff. So, I'm looking for Phil Jackson. I'm looking, first and foremost, for Michael Jordan. And I'm standing up on a bench to try and see over all these 6-foot-8, 6-foot-9 guys, and everybody was in there: their children, their wives. … And they were packed shoulder to shoulder."
OK, so now that Costas set the scene, what happened?
"I must have interviewed a half-dozen different Bulls before I finally see Michael Jordan, who is sitting on the floor or on some very low bench clutching the championship trophy," Costas said. "His father, whom I had met several times before, is leaning off his right shoulder. And off his left shoulder is a woman, and I'm looking at Michael, so she's just in the corner of my eye, and my eyes are filled with champagne. … And I say — and I shouldn't have — 'Michael Jordan, surrounded by his mom and his dad.' And then Michael goes, 'My wife.'"
So, Costas embarrassingly confused Jordan's then-wife with his mom. The broadcaster, though, said he apologized quickly and that Jordan "couldn't have been nicer."
"There's a few things you want to mulligan out of thousands and thousands of things; you want a do-over," Costas added. "I would like to do that one over."
Bob Costas ran into Michael Jordan's former wife a few months later
Costas said he ran into Juanita, Jordan's now ex-wife, a few months after the embarrassing incident when MJ hosted an episode of Saturday Night Live. It appears she didn't have any hard feelings toward the announcer, either, after also being "cool" about it "in the moment," according to Costas.
"I was sitting in the audience at 30 Rock for the live show, and Juanita was only a few seats away," he said on Slow News Day. "I went over and said hello, and she could not have been more gracious about the whole thing."
The incident could have been a lot worse for Costas, but it appears he got out of the embarrassing interview essentially unscathed (for the most part). Some goggles, though, might have been helpful during that moment.
Stats courtesy of Basketball Reference
RELATED: Michael Jordan's 36-Hour Gambling Spree Nearly Lost Him and a Partner $1 Million and Delayed His Return to the NBA