Hall of Famer Bob Cousy Bashes the Celtics Amid Their Horrific Slump: 'It Doesn't Look Like We're Going to Be Hanging Banner No. 18 Any Time Soon'
The Boston Celtics have easily been the NBA's most disappointing team in each of the last two seasons. After reaching three Eastern Conference Finals in four years from 2017 through 2020, they had a mediocre year last year and have since started slow in 2021-22.
In fact, after a stretch of poor performances recently, it appears Celtics legend and Naismith Memorial Basketball Hall of Famer Bob Cousy is fed up with his former team.
The Boston Celtics have significantly struggled this season
Having two players who average over 24.0 points is usually a recipe for success, but that hasn't been the case for the Celtics this season.
Despite having Jayon Tatum, who is recording 25.5 points and 8.4 rebounds per game, and Jaylen Brown, who is averaging 24.1 points and 6.3 boards, the Celtics have started 19-21 and currently sit in 10th place in the Eastern Conference.
They were also horrible during a recent three-week stretch, where they went 3-6 and posted some truly embarrassing performances. In a game against the New York Knicks, the Celtics blew a 25-point lead and then lost on a buzzer-beating 3-pointer. The Cs came up short in numerous other games where they led in the fourth quarter as well.
Overall, it has been a difficult start to the season for first-year head coach Ime Udoka, and one of the greatest legends in franchise history isn't thrilled with how the team is playing.
Bob Cousy blasted the way the Celtics have been playing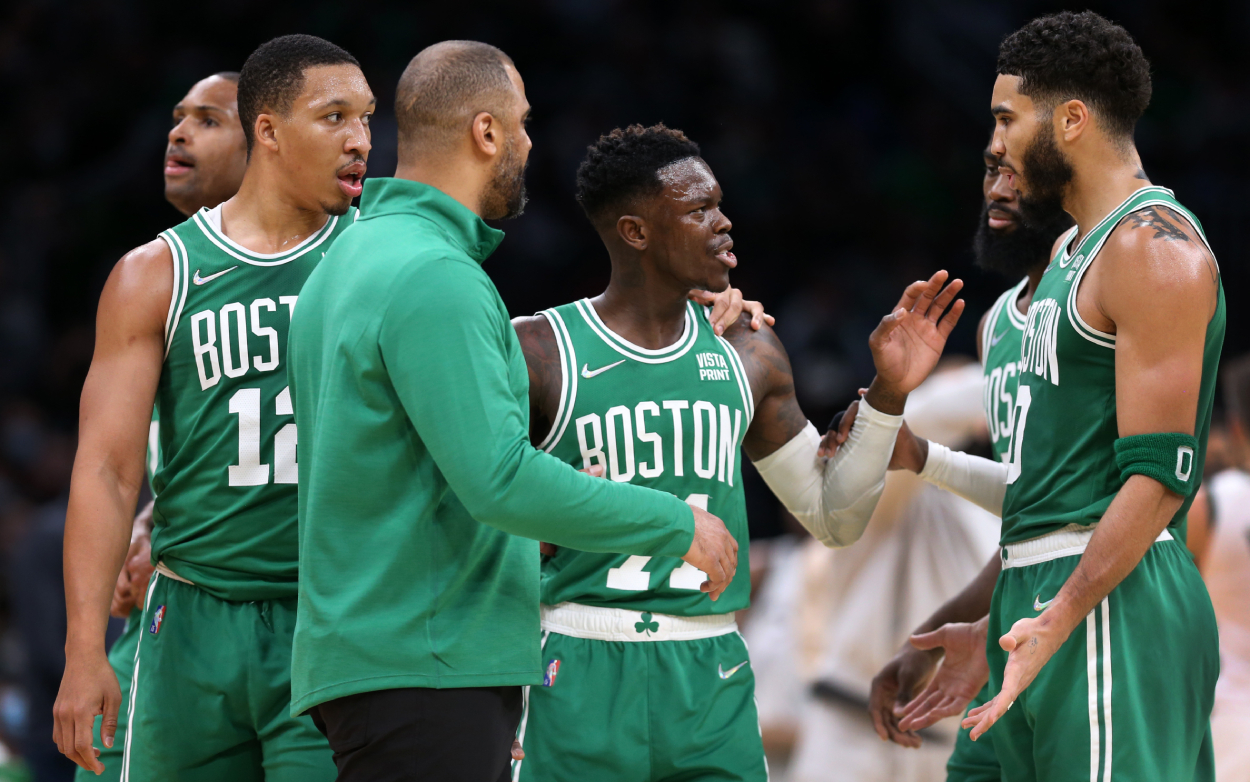 Former point guard Bob Cousy was one of the greatest Celtics players of all time during his NBA career. He won six championships and the 1956-57 league MVP, and he's now in the Naismith Memorial Basketball Hall of Fame after earning 13 All-Star selections and recording career averages of 18.4 points and 7.5 assists.
But Cooz doesn't appear to be too happy with the Celtics' play this season.
"There's something wrong," he recently said to The Boston Globe. "It's just schoolyard. Run up and down and take the first shot that shows. There doesn't seem to be intelligent direction."
Cousy said he believes "a stabilizing piece is missing" and that a reliable point guard would help them in some of these crucial situations where they have lost their composure and, in turn, the game.
"When we got a lead of 6-8 points, that was when I would take it home. I just would not allow us to lose the lead," he said, adding that Kyrie Irving was a solid point guard but had his off-the-court issues. He also said he liked Kemba Walker but admitted that Walker was more of a shooting guard. "You need a penetrating point guard at that point who is a threat and then he passes off to the Tatums and the Browns."
This season, Marcus Smart has started at point guard for the Celtics, but he's not necessarily a natural in that position. Smart only averages 4.3 assists for his career.
"I love Marcus Smart, but I don't love him as a point guard. He thinks he's the best point guard; he's not, but he's still a positive factor," Cousy said.
All in all, the Holy Cross product said he thinks the Celtics should be much better than what they have been this year.
"It doesn't look like we're going to be hanging banner No. 18 any time soon," he added, referring to the franchise's 17 championships.
Boston is, in fact, missing that true point guard
Cousy is correct in saying the Celtics are missing someone who can put their teammates in ideal positions, as Boston doesn't have one player who is recording at least 5.5 assists per game. A player who can control the ball and dish it to Tatum and Brown in crunch time would be crucial to the team's success.
The Cs did turn things around a bit after Cousy's comments. They beat the Knicks by 24 points on Jan. 8, but the Knicks have been having struggles of their own. Boston still needs to fix a lot if the team wants to climb the Eastern Conference standings.
Until they do that, the Celtics will continue being the most disappointing squad in basketball.
Stats courtesy of Basketball Reference