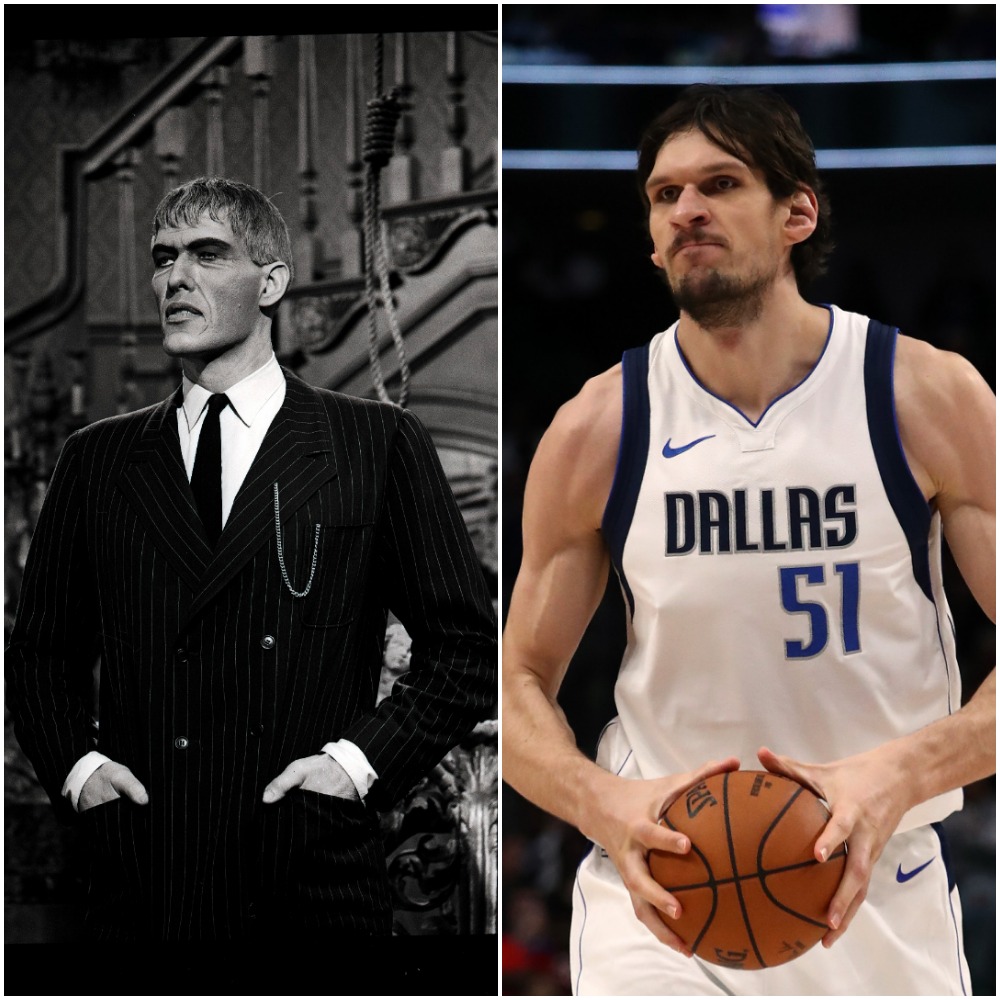 Boban Marjanovic Plays Lurch at Shaquille O'Neal's Request and It's Pure Hilarity
Boban Marjanovic is known more for his appearance (7 feet 4 inches) than his game. He's also got a keen sense of humor as he recently revealed by playing Lurch at Shaquille O'Neal's request.
In his five NBA seasons, Boban Marjanovic has played for five different teams. He's a role player who has had a difficult time finding a steady role with a team for any substantial period. Despite his lack of playing time, the 7-foot-4-inch Serbian is a fan favorite and well-liked by his teammates. His first-ever appearance on Inside the NBA following the Dallas Maverick's win over the LA Clippers showed precisely why.  
Boban Marjanovic's young NBA career
Boban Marjanovic made his NBA debut in 2015 with the San Antonio Spurs where he appeared in 54 contests, including five starts. He averaged 5.5 points per game. Playing under Gregg Popovich, Marjanovic learned the game from one of the NBA's all-time best coaches, but more importantly, he earned credibility around the league knowing Popovich had him on the roster.
After a year in San Antonio, Marjanovic played for parts of two seasons with the Detroit Pistons before joining the LA Clippers. Last season, he split time between LA and Philadelphia, but his combined totals equaled his best offensive season in the league scoring 7.3 points per game.
Boban Marjanovic joined the Dallas Mavericks for the 2019-20 season and made five starts. He's averaged 6.6 points and pulled down 4.5 rebounds per game.
Marjanovic acts with Keanu Reeves  
Last year Boban Marjanovic made a debut of a different kind when he was cast as an assassin in the movie John Wick: Chapter 3, starring Keanu Reeves. In the film, Marjanovic has a fight scene with Reeves where the two battle in the New York Public Library.
During the Inside the NBA broadcast, Charles Barkley asked Marjanovic about the film and whether or not he could "kick Keanu Reeves' ass in real life."
"Of course, my friend," Marjanovic told Barkley. "I saw that with Shaq and he was in a lot of movies and he kicks everybody's ass, so I was like, okay, I try to do the same." 
Boban Marjanovic plays Lurch at Shaquille O'Neals request
Earlier in the broadcast, Shaquille O'Neal announced he had come up with a nickname for Boban Marjanovic called "You Rang?" in reference to the catchphrase used by the oversized butler Lurch on the popular 60s television show The Addams Family. At the close of the interview, O'Neal couldn't help himself.
"Boban, before we let you go, I got to hear it. You rang?" the Hall of Famer laughed while talking to the Mavericks player, who is actually three inches taller than him. 
"You raaaaaaang?" Marjanovic said drawing out the last word with a big smile and chuckle while the entire TNT crew busted out in laughter. 
"I love you, Boban. Thank you, brother," O'Neal said. 
Boban Marjanovic then formed a heart putting his elbows and hands together. It was a hilarious moment and revealed precisely why Marjanovic, despite his limited time on the court, has become a beloved character in the NBA by fans and teammates alike.