Bobby Labonte Disagrees, but it's Time to Start Worrying About Joe Gibbs Racing
NASCAR Hall of Famer Bobby Labonte isn't worried.
Joe Gibbs Racing will be fine.
Labonte should know. He spent 10 years behind the No. 18 team's wheel, winning 21 premier series events and the 2000 Winston Cup championship, the organization's first.
But he's wrong.
Labonte should be worried about the Huntersville, North Carolina-based organization.
At least a little bit.
Joe Gibbs Racing denied Victory Lane so far this NASCAR season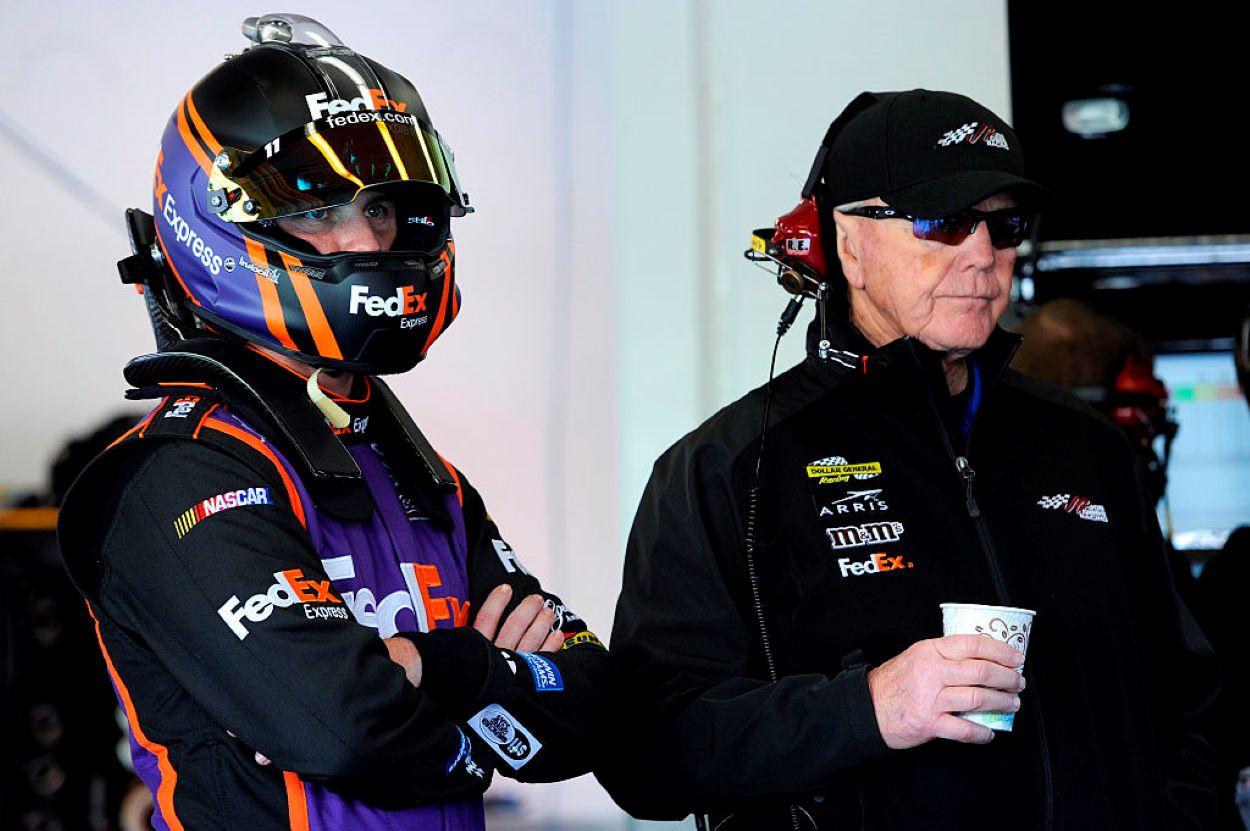 Appearing on Fox Sports' NASCAR Race Hub, Labonte confidently said that future Hall of Famers Kyle Busch, Denny Hamlin, and Martin Truex Jr. will find Victory Lane soon. If not, plebe Christopher Bell is bound to capture his first Cup event in the near future.
They are too accomplished not to, right?
Busch and Truex believe one of them should already have collected a win. The teammates were running 1-2 during the final stages of the Pennzoil 400 at Las Vegas Motor Speedway on March 6, but a late caution forced two overtime laps, and the two JRC pilots were overtaken by one Hendrick Motorsports ace and one "hack," who earned the checkered flag.
Alex Bowman earned the win, and defending series champion Kyle Larson placed second after Busch dropped to fourth and Truex to eighth.
During the race, Busch overcame a series of challenges in a backup car pit crew across the organization banded together to build following a practice-lap crash.
Denny Hamlin calls himself 'the worst driver on the track'
Frustrated, Busch was unhappy with the result, suggesting team officials purchased the backup car's parts from "Wal-Mart." Well, the stock machine rallied from a last-place start to leading for 41 laps to finally falling off the pace in OT.
Busch also led 28 laps during the season-opening Daytona 500 but settled for sixth. His top-five finish is the organization's best so far in 2022. Combined, the four drivers have collected just four top-10s.
Hamlin, who collected 15 Cup victories and 70 top-10s the previous three seasons, remains the biggest surprise and most significant reason fans should begin to worry about Joe Gibbs Racing.
In three outings, his average finish is 28.0. Last week, he had a strong car, but he damaged the transaxle when he miss-shifted at Las Vegas.
In a tweet, he called himself "the worst driver on the track. … Get me to Phx."
Labonte: 'As far as Joe Gibbs Racing, total goes, I'm not worried'
"Denny Hamlin is probably the biggest surprise," Labonte said. "We know these guys are going to win some races at some point. We think they are. As far as Joe Gibbs Racing, total goes, I'm not worried."
Labonte discussed his former team's early-season misfortunes and cupped his hands, and then released them outward, attempting to signify that one of the drivers will soon break through.
Maybe it will be Bell, who earned the pole at Vegas. His three-race average finish of 26.7 doesn't instill much confidence, however.
Truex could be the one. He won the winter race at Phoenix Raceway last season placed second during the Championship 4 race. He could stay hot at the desert track.
"Shoot, I'm not a bit worried about Joe Gibbs Racing," Andy Petree, the vice president of competition at Richard Childress Racing, said on Race Hub. "They have some superstars."
True, but until one of them enters Victory Lane this season, should fans be concerned?
At least a little bit?
Like Sportscasting on Facebook. Follow us on Twitter @sportscasting19.
RELATED: Christopher Bell's Struggles Don't Match His NASCAR Potential