Booger McFarland Just Gave His Solution for the College Football Season
The entire 2020 college football season is on the brink of getting canceled. While the COVID-19 pandemic canceled spring college sports and the basketball tournaments, many believed that football would still be played in the fall. It is almost time for the season to start, though, and its future is still unclear. However, Booger McFarland, the former NFL player and current ESPN analyst, recently took to Twitter and gave his solution.
The entire 2020 college football season is on the brink of getting canceled
While it was encouraging to see conferences like the Big Ten release a new modified schedule for the 2020 season recently, everything took a turn for the worse just days later.
According to ESPN, on Aug. 10, reports surfaced that Big Ten presidents had already decided to postpone fall sports. On that same day, a league spokesperson told ESPN that no vote had been taken yet. However, Pete Thamel of Yahoo Sports later reported on Aug. 11 that the Big Ten is, in fact, canceling its fall season and will attempt to play in the spring.
Soon after that, Brett McMurphy of Stadium reported that the Pac-12 is also canceling its fall season
For the other conferences, the SEC and ACC appear to still be planning for a fall season for now while the Big 12 is on the fence. According to ESPN, Big 12 and ACC league officials are supposed to meet this week.
With the athletes not getting a say in whether the season happens or not, many have taken to Twitter. Clemson quarterback Trevor Lawrence, Ohio State quarterback Justin Fields, and many others have posted their desires to play this season. They have done it with the hashtag, #WeWantToPlay.
Donald Trump weighed in on the college football season
In addition to players, and even some coaches, expressing their opinions about the 2020 college football season, President Donald Trump also weighed in on the topic.
He shared Lawrence's tweet and said, "The student-athletes have been working too hard for their season to be cancelled."
Additionally, while appearing on Fox Sports Radio, Trump said that college football would be making a "tragic mistake" if it doesn't have a season.
"These football players are very young, strong people, and physically, I mean they're physically in extraordinary shape," Trump said in the interview, per ESPN. "So they're not going to have a problem, you're not going to see people, you know, could there be? Could it happen? But I doubt it."
Booger McFarland gave his solution for the college football season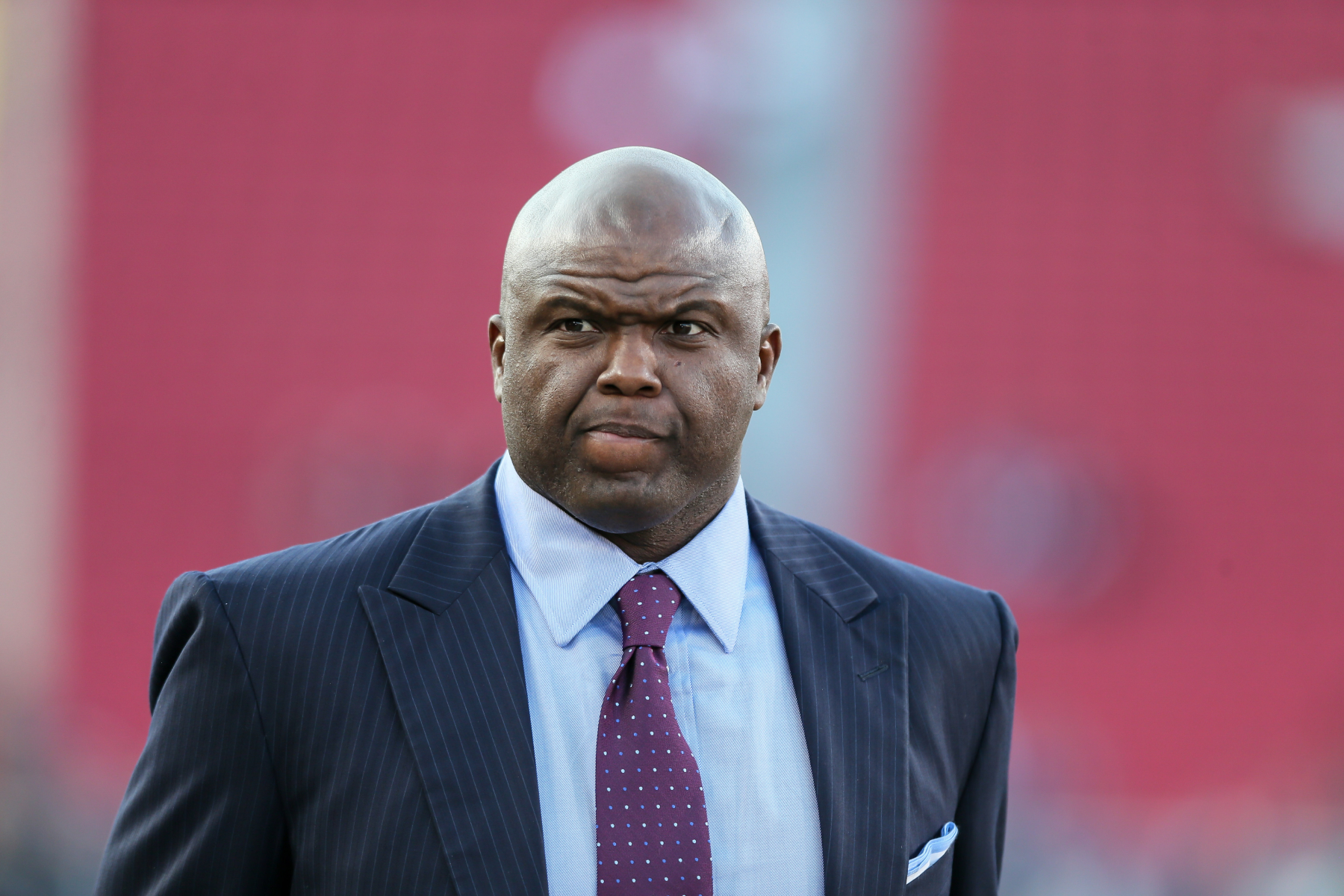 Booger McFarland took to Twitter recently to give a solution for the college football season.
"If the players really wanna play which I have no doubt they do, them and their families should sign a waiver releasing all liability related to Covid-19 and at that point ALL these conversations about NOT playing would cease and we would have a CFB season," McFarland said.
McFarland is alluding to the fact that schools could be in legal trouble if a student-athlete were to get COVID-19 while playing for their university's team.
However, many people have criticized McFarland's tweet. Timothy Burke, who previously worked for the Daily Beast and Deadspin, tweeted this.
"Advocating an 18-year-old with his whole life ahead of him to sign a health-related liability waiver is an incredibly dangerous and irresponsible thing to do."
Tyler Conway of Bleacher Report also tweeted this to McFarland.
"Awesome idea force the kids who are already playing for $0 to release the responsibility from the schools, which are already making tens of millions off their unpaid labor because if anybody is getting too many human rights in all of this it's the players!"
Additionally, in a response to ESPN's Peter Burns, McFarland highlighted how the long-term effects of COVID-19 could be the liability, comparing the situation to concussion lawsuits in the NFL.
"What im telling u is what the lawyers are telling these presidents," McFarland tweeted, "remember the concussion lawsuit in the NFL? And those were pros, it was all about long term effects."
Time will tell how this college football season will play out (if it happens at all). Maybe, some conference officials will do what McFarland has suggested.