Are the Bosa Brothers Better NFL Players Than the Watt Brothers?
It's uncommon, if not unprecedented, to have more than one member of a family active in the NFL at the same time. Currently, the three Watt brothers and the two Bosa brothers are tearing up the NFL all at once.

Watt brothers J.J., Derek, and T.J. push each other off the field to be better in their varied positions on the field. Bosa brothers Joey and Nick stick to defense, and they perform so similarly that they took the Week 8 Defensive Player of the Week awards at the same time.

Which family has the best players in the NFL right now? Let's find out more about both of these storied football families.

The path to the NFL for the Watt and Bosa brothers
For the Watt brothers, the path towards true professional football success started at the University of Wisconsin. J.J. Watt kicked it all off five years before his next sibling made it in, and had the most illustrious career. He left his initial University of Michigan position — where he was encouraged to switch to offensive tackle — and opted to become a defensive end with the Badgers.

In J.J.'s third and final year of college, he totaled 42 solo tackles, 21 tackles for loss, seven nasty sacks, and ran 15 yards on an interception. That was enough to get him ready for the NFL draft.
Both Derek and T.J. followed their brother to Wisconsin and enjoyed success. Derek played fullback, making him the sole offensive player of the five discussed here. He's a couple of inches shorter, so his differences in body type landed him in a very different role. Meanwhile, youngest brother T.J. found his calling as an outside linebacker.

Joey and Nick Bosa hewed closer to each other in overall performance during their college years. They both put in three years each as defensive ends with Ohio State. They even wore the same number, 97, in honor of their father's short stint in the NFL. Older brother Joey's best year, 2014, had incredible totals: 55 tackles and 13.5 sacks.

Younger Bosa brother Nick's 34 tackles and 8.5 sacks seem a bit lower, but injuries held him back for a chunk of his Buckeyes run. They're remarkably similar players when they're both healthy.

How the Watt brothers fare in the NFL so far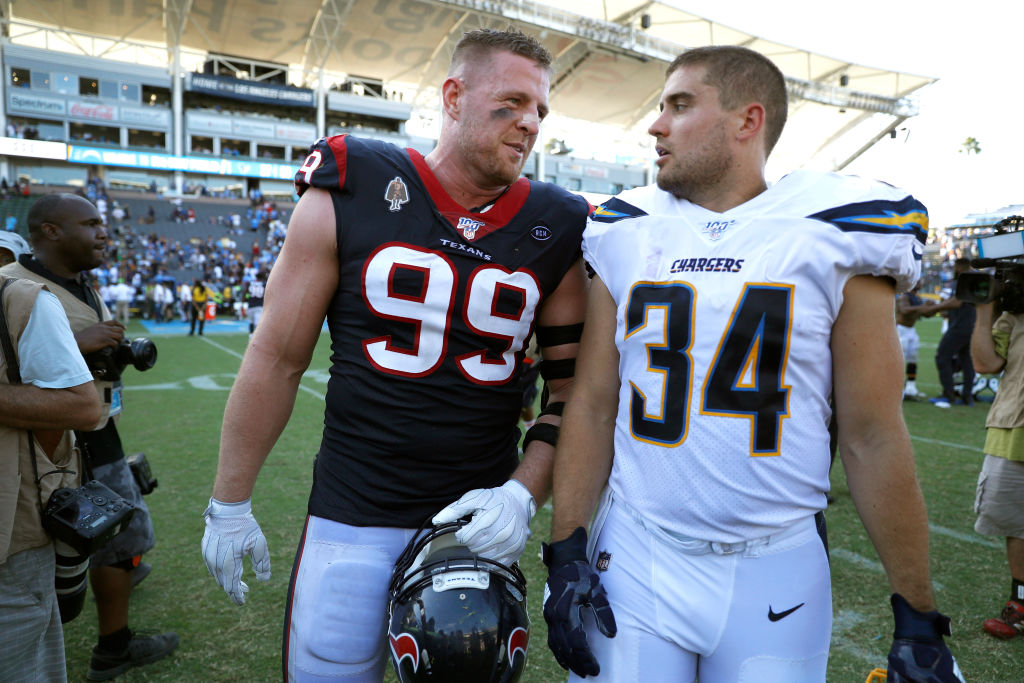 First, let's get the obvious out of the way — expectations were high for J.J. Watt, and he delivered so well that he became one of the most recognizable NFL players of his era.

Since being drafted 11th in the first round of the 2011 NFL draft, he's swung between above average and blockbuster seasons. His career-best 20.5 sacks in 2012 weren't a flash in the pan. He tied that number two seasons later. Then injuries held him back for two more seasons until he tallied a near career-best 17.5 sacks in 2018.

T.J. Watt's defensive work isn't up to the absolute best of J.J.'s seasons, but he's improving quickly and will undoubtedly be a force for years to come. He improved from 54 to 68 total tackles across his two full NFL seasons. Similarly, his rate of sacks leaped from seven to 13.0 in that time.

Derek Watt, on the other hand, is very much an average player. He went in the sixth round, 198th overall, of the 2016 draft. The fullback stays healthy, and he does well enough to join the offensive line in most games where he's available. He appeared in all 16 games of the 2018 season, totaling four carries for 11 rushing yards.

What the Bosa brothers bring to the table in the NFL
Joey Bosa seems almost like he was built to steal a bit of the spotlight from J.J. Watt. They're both 6 feet, 5 inches tall. They weigh just 10 pounds apart from each other. When healthy, their team's fates seem to hinge on their performances.

While there are more Watt brothers out there than Bosas, Joey has an unfortunate edge at the moment. J.J. Watt is out for the season, and his Houston Texas might be done along with him. Joey's best year — 54 total tackles and 12.5 total sacks with the Los Angeles Chargers in 2017 — are comparable to the Watt family's best, and he's only getting better.

Meanwhile, younger brother Nick Bosa is off to an incredible start in his short career so far. His performance halfway through his first year in the NFL already got him two Defensive Player of the Week nods. The latter of which happened the same week his brother earned the same recognition. The brothers recorded five sacks between them in just one week.

The Watt family has history. They have offense represented instead of just defense. They have J.J. Watt. But if their playing time stays high, it's the Bosa brothers who are both doing incredible things at the same time in the NFL right now.