Boston Celtics Add to a Big Problem With Kevin Garnett News
Kevin Garnett, who entered the Naismith Basketball Hall of Fame in 2020, will get the ultimate honor from the Boston Celtics in March 2022. The Celtics announced Garnett's No. 5 is going to the rafters with the other legends of the franchise. But the ceremony will add to a quiet problem in Boston.
Paul Pierce was the most recent Celtic to have his number raised to the crowded rafters of TD Garden. Honored in 2018, Pierce scored more points for the franchise than any player other than John Havlicek. Yeah, he earned it. But there are different numbers on the list that are debatable.
When you get right down to it, Garnett's inclusion is one of the debatable ones.
Have the Boston Celtics placed sentiment first?
The Boston Celtics have honored 24 people associated with the franchise, including 22 uniform numbers. Kevin Garnett will make it 25 and take the 23rd number out of circulation.
Two of the uniform numbers (Nos. 1 and 2) are honoring non-players. The Celtics retired No. 1 to honor team founder Walter Brown. Later, they hung No. 2 in the rafters for Red Auerbach, who did just about everything for Boston except play.
It's hard to argue with franchise icons like Larry Bird, Bill Russell, Bob Cousy, Kevin McHale, and Sam Jones receiving the most significant honor a team can bestow on a player.
Some of the other decisions have created a problem no other NBA franchise has.
Celtics have dipped into some unusual numbers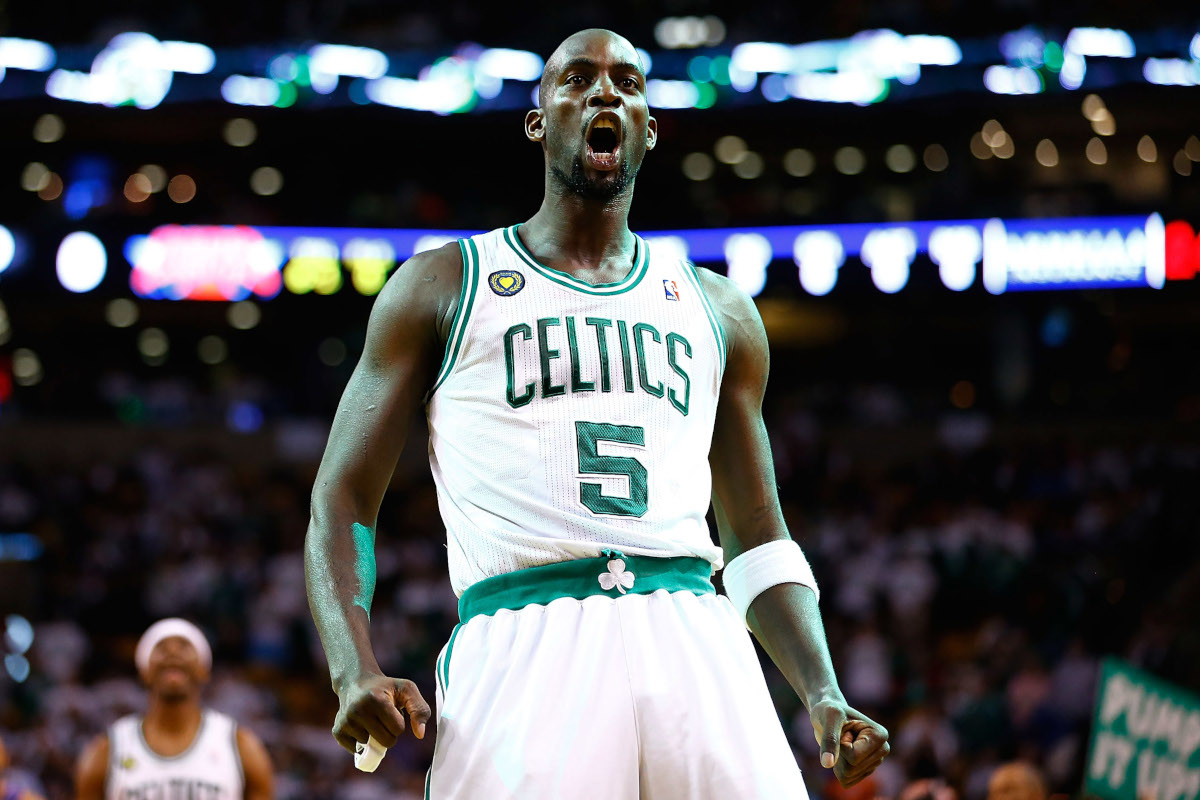 In their recent history, the Boston Celtics issued jersey numbers 56, 60, 63, 66, 70, 77, 86, and five in the 90s. One of the reasons that's necessary is that so many numbers are out of circulation. The list of retired numbers is as distinguished as it is lengthy.
Robert Parish (00)
Walter Brown (1)
Red Auerbach (2)
Dennis Johnson (3)
Bill Russell (6)
Jo Jo White (10)
Bob Cousy (14)
Tom Heinsohn (15)
Tom Sanders (16)
John Havlicek (17)
Dave Cowens (18)
Don Nelson (19)
Bill Sharman (21)
Ed Macauley (22)
Frank Ramsey (23)
Sam Jones (24)
K.C. Jones (25)
Cedric Maxwell (31)
Kevin McHale (32)
Larry Bird (33)
Paul Pierce (34)
Reggie Lewis (35)
Jim Loscutoff ("Loscy")
Johnny Most (microphone)
Kevin Garnett will join Lewis and Macauley with the shortest Boston tenures among the retired numbers. Lewis played six seasons before his tragic death from a heart condition in 1993; Macauley was an All-Star in the days of the eight-team NBA. He's probably most famous for being traded so the Celtics could get Russell.
Garnett also played six years with the Celtics. Boston won a championship in 2008, Garnett's first year with the team, and he was also the Defensive Player of the Year.
But there are questions to be raised about some of the numbers. There were other ways to honor Brown and Auerbach. Maxwell was a Finals MVP in 1981 and otherwise an outstanding secondary piece. K.C. Jones and Sanders were terrific defenders for winning teams, but 10 players from Boston's dynasty era (1957–69) have retired numbers.
Kevin Garnett is a Timberwolves legend
When one thinks of Kevin Garnett, are the Boston Celtics the first team that comes to mind? That's debatable. Garnett played 14 seasons with the Minnesota Timberwolves. He won an NBA MVP with 10 All-Star nods, eight All-NBA berths, and eight All-Defensive selections. Garnett is the career leader in Minnesota in nearly every major category.
The Timberwolves haven't retired Garnett's number yet. A long-standing feud between KG and team governor Glen Taylor has led to the franchise's most outstanding player alienating himself from the club. Maybe that changes when Marc Lore and Alex Rodriguez complete their purchase of a controlling interest in the team by the end of 2023. But it's not likely given Garnett was one of the losing bidders in the sale.
But outside of his first season in Boston, Garnett battled injuries, and his effectiveness declined. That's understandable; Garnett played his age 31–36 seasons for the Celtics. Amazingly, he didn't have more problems with his back given how long he carried the Timberwolves on it.
Number retirement is subjective. There are no uniform standards; each franchise makes its own choices about who gets honored. Sometimes it feels like it's gotten out of hand recently. But a look at the Boston Celtics shows the trend is much older.
Statistics courtesy of Basketball Reference.