Boston Celtics Boss Danny Ainge Talks About 'Major Pieces' for This Offseason, Sort Of
The Boston Celtics won a game they never expected to be in and now face a first-round playoff series that almost no one thinks they can win. However, while the events of the present weigh heavily on the mind of Celtics president of basketball operations Danny Ainge, he is already looking ahead to what could be an eventful summer in The Hub.
All-Star Jayson Tatum went nuclear on Tuesday, scoring 50 points as the Celtics held off the Washington Wizards in the second game of the Eastern Conference play-in tournament. That secured the No. 7 seed for Boston and a first-round date with the Brooklyn Nets and former Celtics star Kyrie Irving. Considering the success the Celtics didn't have against Brooklyn this season, Boston's stay in the actual playoff bracket could be short.
Ainge is interested in this series, of course. But we can forgive him if he wants to look forward past a season that went off the rails in many ways.
Boston Celtics fell well short of expectations
Entering the 2020–21 season, most of the smart money had the Boston Celtics finishing in the upper echelon of the Eastern Conference race. Nearly every prediction had the Celtics in the top four in the East. But the Celtics were seldom healthy and, outside of their two young All-Stars, had little else on which to rely.
Former All-NBA guard Kemba Walker was slowed by a bad knee all season. He appeared in just 43 games, averaged less than 20 points per game for the first time since 2014–15, and saw his shooting percentage drop from a less-than-stellar 42.5% last season to an even worse 42.0% this time around. Jaylen Brown, a first-time All-Star in 2020–21, is already out for the year with a torn ligament in his wrist. That leaves Boston without nearly 25 points a night.
Young Robert Williams missed 20 games and is currently battling a toe injury. Defensive standout Marcus Smart sat out 24 games, and Boston used 37 starting lineups in just 72 games. As far as their first-round opponent goes, the Celtics were 0–3 against the Brooklyn Nets this season and were edged (or perhaps bludgeoned is a better term) by 15 points per game. The Nets won in Boston on Christmas Day 123–95 and swept the two games in Brooklyn (121–109 on March 11 and 109–104 on April 23).
What's next for the Celtics and Danny Ainge?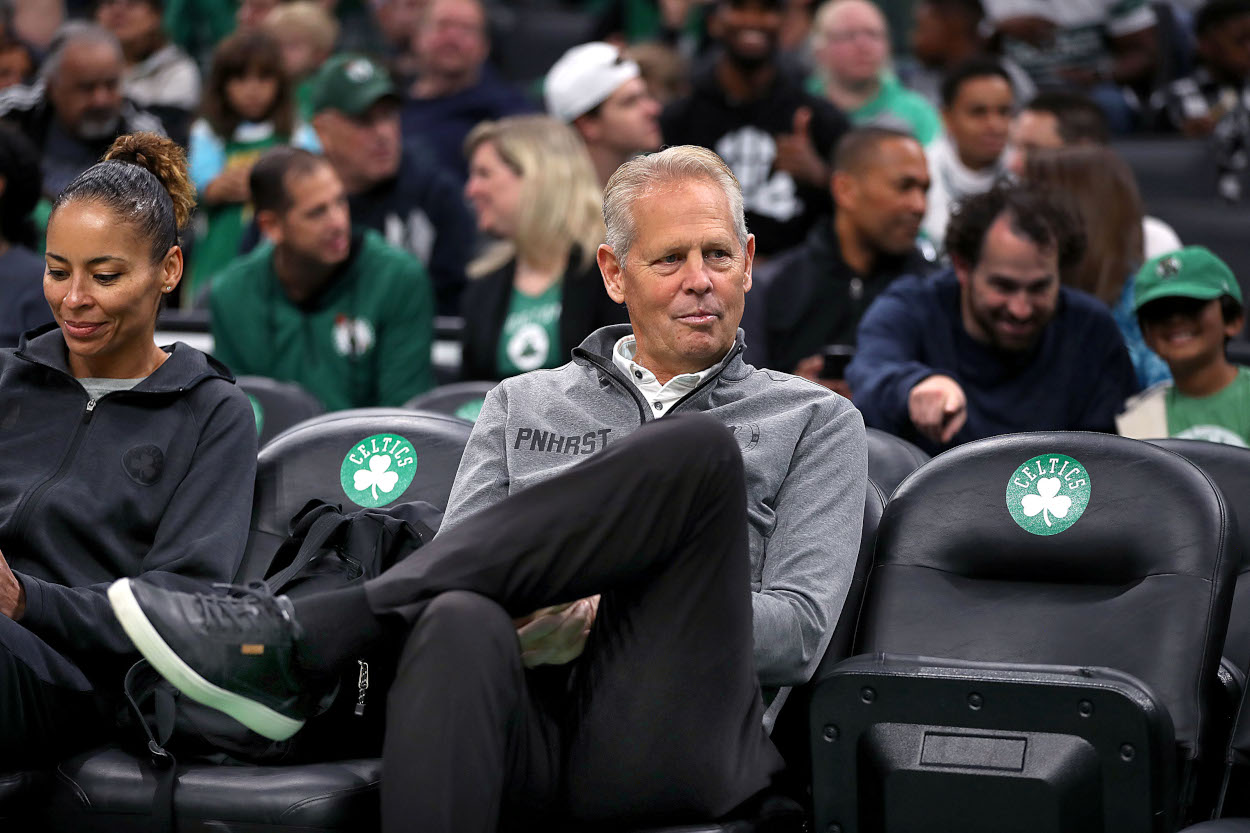 Appearing on the Toucher & Rich show on Boston's 98.5 FM Thursday, Ainge talked about his approach to the Nets series. The long-time front office boss for the Boston Celtics said it's a chance to see what they have heading into the offseason. Ainge also discussed the challenges of the job.
"We're just evaluating this team. Our players, watching the development of some of them. I mean, we're seeing some guys get their first opportunity to play, in some cases. Right before our eyes. So, we're evaluating guys; how they play could change how we feel about them. Absolutely."

"I think the challenge has just been where to be, there are so many different things to do. Things that I like to do, things that I'm best at, and things that I need to be at. Those are always challenging; where do I spent my time that day or that week, and helping the organization the most."

Danny Ainge
What happens this summer in Boston however, could be a lot more about dollars than basketball sense.
Flexibility could be a problem for Danny Ainge, the Boston Celtics this summer
The players and owners struck a deal last offseason, so teams are in the unusual position of knowing the salary cap and luxury tax threshold next season. The cap will be $112.4 million with a tax line of $136.6 million. But it doesn't look like the Boston Celtics will have any wiggle room short of making high-profile trades.
Keith Smith of RealGM ran some projections in January that were bleak for the Celtics. Boston projects to start the offseason nearly $35 million over the salary cap, and the best they can hope to do is to get themselves to $21.1 million over the number. That doesn't afford the Celtics many opportunities to go crazy on the free-agent market.
Evan Fournier, acquired from the Orlando Magic at the trade deadline, is the most significant projected free agent. Other free-agents-to-be are backups Luke Kornet, Moritz Wagner, Semi Ojeleye, Tremont Waters, and fan-favorite Tacko Fall. Jabari Parker has a $2.28 million team option for next season, per HoopsHype.
Danny Ainge has pulled rabbits out of his hat before, and he's been at this a long time, coming to the Boston Celtics in May 2003. So be careful putting anything past him this time around.
Statistics courtesy of Basketball Reference.