Former Celtics GM Danny Ainge Avoided a $132 Million Mistake By Disregarding a Piece of Advice From a Former Boston Champion
Former Boston Celtics champion Kendrick Perkins recently shared a story and pulled a bit of a self-own in the process. It seems former Celtics president of basketball operations Danny Ainge reached out to Perkins for some trading advice. Then Ainge promptly blew off the big man to the eternal relief of Celtics fans.
Perkins is rapidly moving up the ranks of television's hot-take machines. He's compared Phoenix Suns center Deandre Ayton to a Hall of Famer and called the Milwaukee Bucks the dumbest team in the NBA after they went down 0–2 in the 2021 NBA Finals. That's just the tip of the iceberg. And based on the advice Perkins gave to Ainge, teams around the league won't likely be hitting his cell at all hours offering him a front-office gig.
The Boston Celtics struggled during Danny Ainge's final year
The 2020–21 season didn't go according to plan for Danny Ainge. The Boston Celtics entered the season with title aspirations following their third trip to the Eastern Conference Finals in four years, but nearly everything that could go wrong did. Jayson Tatum missed time with COVID-19, Jaylen Brown tore up his wrist late in the season, and no regular in the rotation missed fewer than eight games.
Instead of battling for a top spot in the East, the Celtics struggled to a .500 record. They had to qualify for the playoffs through the play-in tournament. Once in the postseason, the Brooklyn Nets slammed the door shut quickly in a dominant five-game first-round victory.
Ainge considered a significant move that would shake things up in the Boston locker room. According to Perkins, the longtime Celtics executive reached out to use Perkins as a sounding board. Then he ignored the advice the veteran NBA big man offered.
Danny Ainge didn't pull the trigger on a blockbuster trade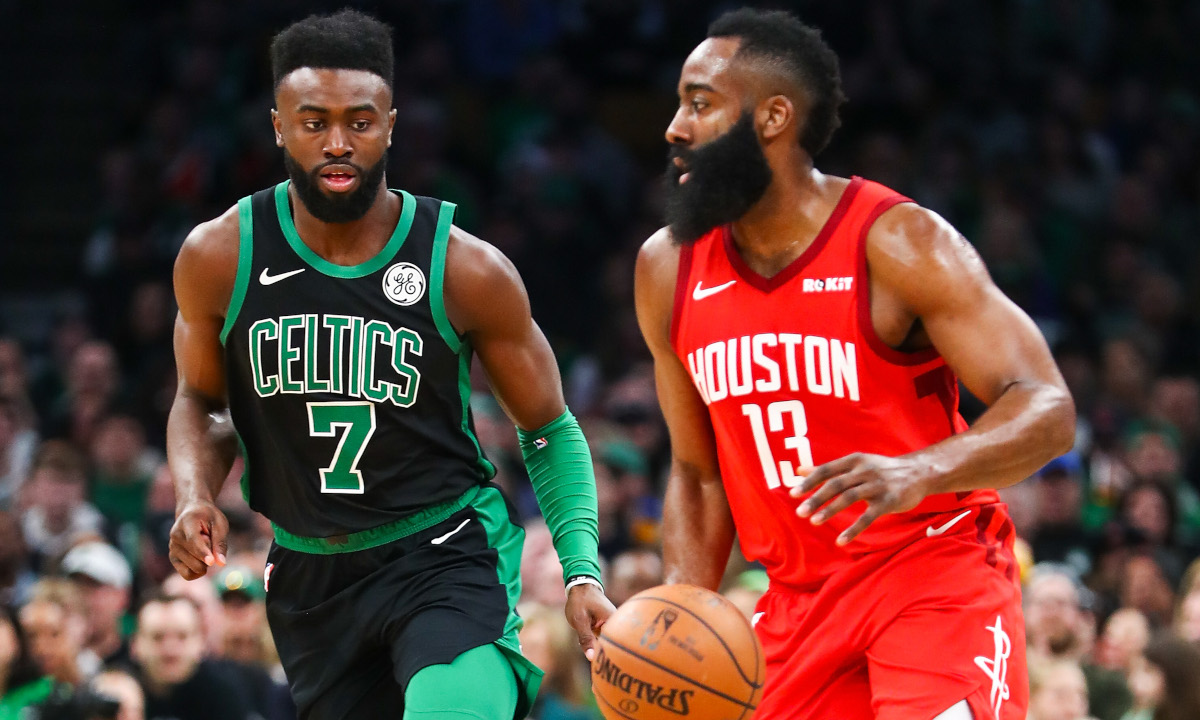 Big trades were sort of Danny Ainge's thing during his 18 years running the front office for the Boston Celtics.
The 2008 championship team in Boston came together rapidly on the heels of two massive deals Ainge pulled off in 2007. First, he went out and got Ray Allen from the Seattle SuperSonics. He followed it up by sending five players and two first-round picks to the Minnesota Timberwolves for Kevin Garnett.
Perkins was part of that team. Ainge acquired him in a draft-night deal in 2003, his first draft as Boston's top executive, and watched the preps-to-pros prospect develop into a rugged defender in the paint.
As Perkins told the story on Celtics Pregame Live, his phone rang. It was Ainge:
"I remember last year around this time when teams were calling about James Harden, and Houston actually wanted Jaylen Brown. I was on the phone with Danny Ainge for an hour, and I remember how our conversation went. He was like, 'Hey, Perk, would you trade Jaylen Brown for James Harden?'
"And I was like, 'Danny, you know how I feel about Jaylen Brown, but I would trade him for James Harden.' He was like, 'Are you kidding me? He's not going anywhere. He's not even 25, and he keeps getting better.'"
Sometimes general managers win with the deals they don't make. Ainge certainly did in this case.
The Boston Celtics would have taken on a $132 million contract in Harden
Last season, Harden forced his way out of Houston, landing with the Brooklyn Nets via a four-team trade in mid-January 2021. At the time, Harden had three years and nearly $132 million left on the extension he signed with the Rockets in 2017.
Brown is on a large contract, as well. The Celtics signed him to a rookie extension for four years and $107 million in October 2019. Last season was the first year of that deal. Harden certainly would have brought value to Boston, especially given Kemba Walker's injury woes last season. But he was also 31 years old and missed half the season with hamstring problems.
Brown just turned 25 on Oct. 24 and emerged as a first-time All-Star in 2020–21. He averaged a career-high 24.7 points to go with 6.0 rebounds, 3.4 assists, and 1.2 steals per game while upping his 3-point shooting to 39.7%.
Brown and fellow All-Star Jayson Tatum are the two foundational pieces in Boston. They're essentially on the same timeline and are entering their primes. Harden is a great player, but he's also not on the same schedule as Brown and Tatum. The trade had the potential to blow up in Ainge's face (or that of his successor, former coach Brad Stevens).
Brown is averaging 28.3 points and 7.3 rebounds through his first three games. Harden can't successfully throw a rock in the ocean for the Nets as he obsesses about the foul calls he no longer gets.
The Boston Celtics have Danny Ainge to thank for not taking the advice of Perkins. They'll appreciate it in the long run.
Statistics courtesy of Basketball Reference. Contract information courtesy of Spotrac.
RELATED: Kemba Walker Is Intent on Making the Boston Celtics Pay for Trading Him Away: 'Does it Make it That Much Better That It's My Old Team? Yeah, No Question'