The Boston Celtics Were Just Dealt a Significant Blow to Their Early Season Optimism
The Boston Celtics are quickly falling out of championship contention. Their appearance in the Eastern Conference Finals in 2020 feels like an eternity ago after going 36-36 last season. Now, just days ahead of their season opener, the Celtics received terrible news regarding one of their young stars.
Jaylen Brown tests positive for COVID-19
The Celtics announced that Jaylen Brown has tested positive for COVID-19. According to the team, Brown is asymptomatic and is in quarantine.
Brown, 24, is coming off of his first All-Star season. The 6-foot-6 forward averaged a career-high 24.7 points per game on 48.4% shooting. But Brown was limited to only 58 games after tearing a ligament in his wrist in May, which also made him unavailable during Boston's first-round series against the Brooklyn Nets.
Currently, it is believed Brown is vaccinated. When asked last month about receiving the vaccine, the former Cal Golden Bear told reporters, "I have my own thoughts about it but I respect my teammates' decisions and things like that. I know everybody has their own opinion about it but I think it's a personal choice."
Other Celtics have voiced their opinions about the vaccine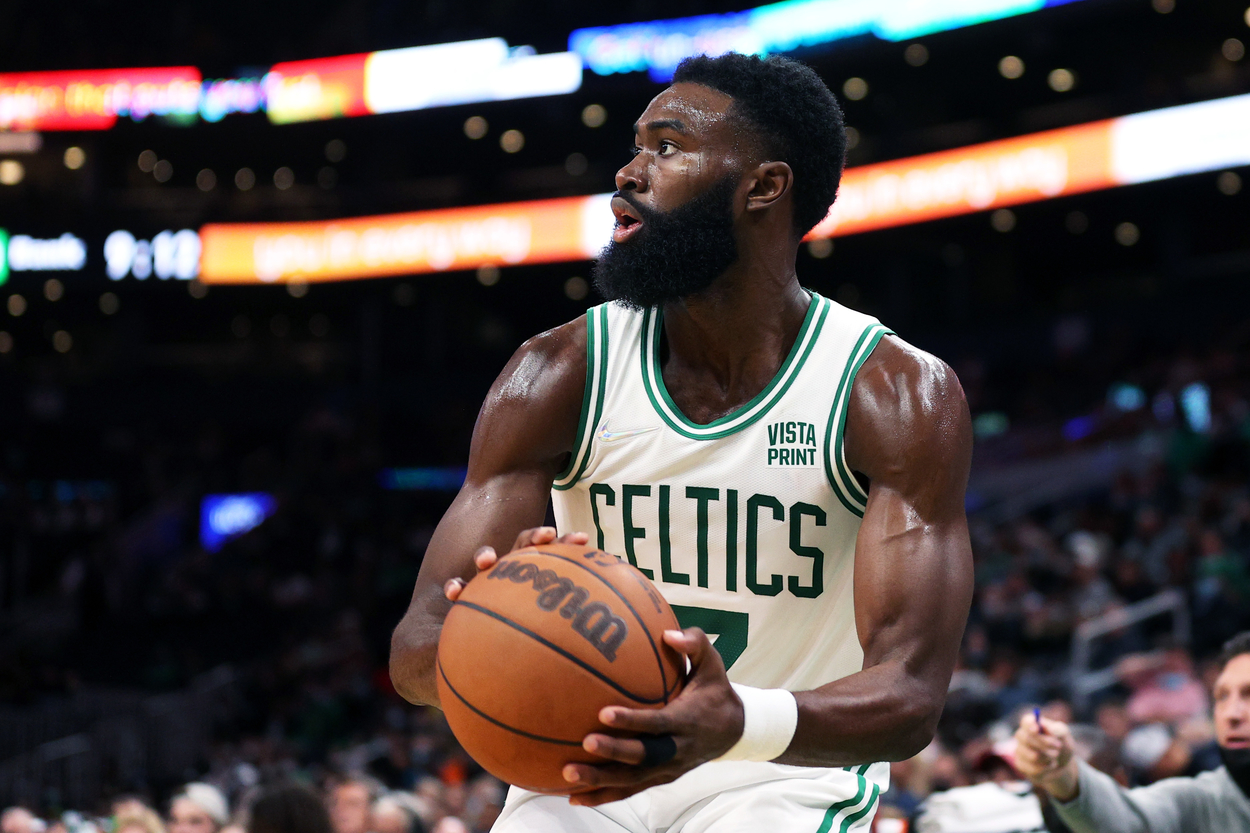 Brown is not the only Celtic who has tested positive for coronavirus. Head coach Ime Udoka recently tested positive and spent time in quarantine before rejoining the team just ahead of training camp. Additionally, star forward Jayson Tatum had such a severe bout with the illness last season, he was forced to use an inhaler.
"I mean, it's your own decision," said Tatum, who is vaccinated. "I fully understand the concerns of those who aren't vaccinated that don't want to, and I understand the people like myself that did. It's your own personal health and your reason. Nobody should be judged one way or the other, whatever their decision is."
Other Celtics have also shared their feelings on the vaccine.
"It's tough being told what you can and can't do with your own body," said Marcus Smart. "For me, everybody is entitled to their own opinion. I chose to get vaccinated because, quite frankly, I didn't feel like dealing with the B.S. But that was my decision, and I stand with anybody who makes their own decision to deal with what they feel is best for themselves."
"That subject is pretty personal," Josh Richardson also told the media. "I've kind of talked about what I'm going to do and what I'm not going to do with my family and my circle, so I'm not really sure. But I think it's good that people are still educating themselves on the subject and going forward, I'm not sure."
Brown's extended absence would hurt the Celtics
Brown being asymptomatic is excellent news. Hopefully, the talented scorer can make a speedy recovery before Boston opens the season on October 20 against the New York Knicks.
The 24-year-old's final game last season came on May 2. From that point, the Celtics closed the year with five losses in seven games. Boston then won its play-in game against the Washington Wizards thanks to a 50-point effort by Tatum. But the season ended on a low note, dropping four out of five to the Nets in the postseason.
Simply put, the Celtics will once again need both Brown and Tatum to be great. Additions like Dennis Schroder and Al Horford will make Boston a tough team to face. But its brightest stars will determine whether Boston is an Eastern Conference contender or a staple in the play-in round.
Here's hoping Brown has a safe, speedy recovery.
All statistics courtesy of Basketball Reference.
RELATED: Jayson Tatum, Jaylen Brown Get Candid — and Not so Candid — About Their Relationship: 'Personally, I Don't Like JT'