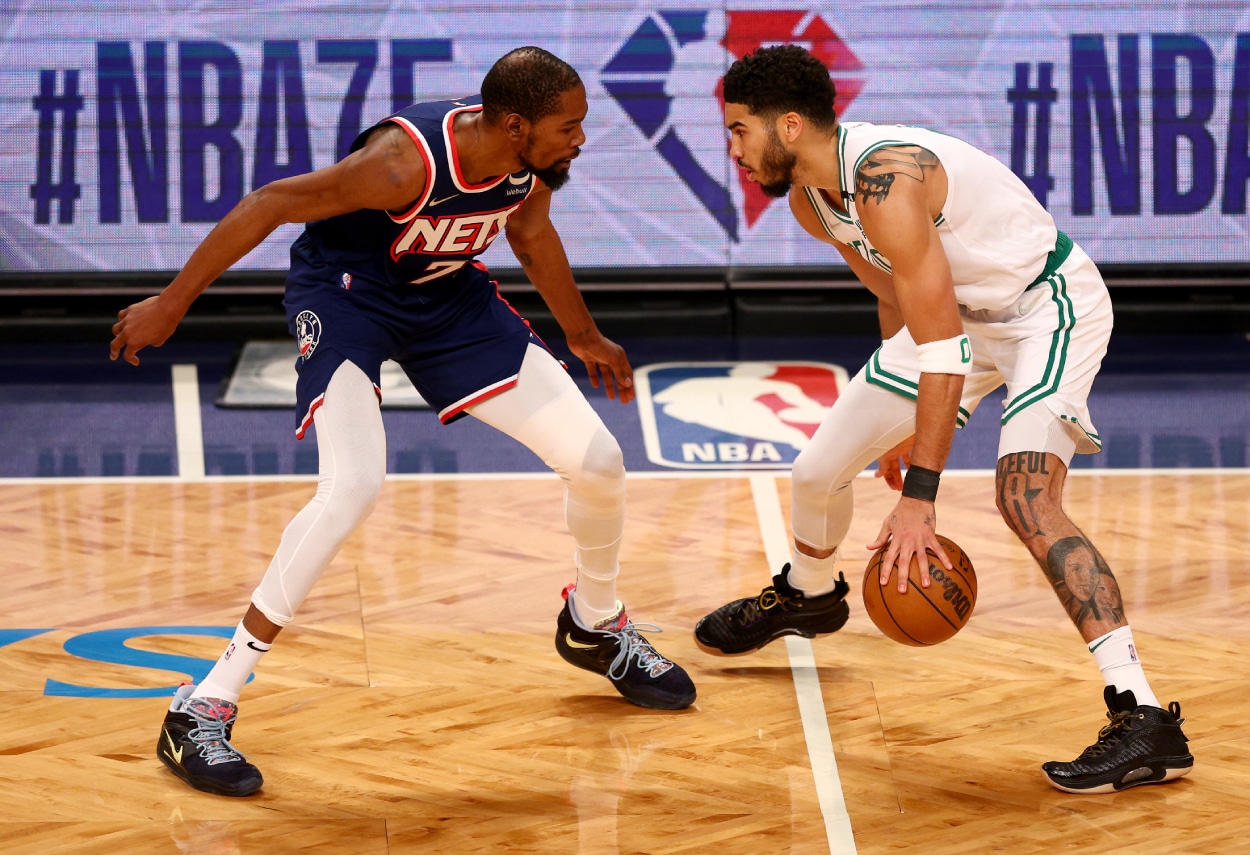 Boston Celtics: Is Jalen Rose Right in Questioning Jayson Tatum's Leadership After Workout With Kevin Durant?
Is there anything wrong with Boston Celtics star Jayson Tatum working out with Kevin Durant?
Jayson Tatum is still just 24 years old. He's a budding superstar in the NBA who helped bring the Boston Celtics back to the NBA Finals for the first time since 2010.
He's already played five NBA seasons, improving every year. Despite this, the two-time All-NBA forward's leadership has always been in question. In fact, he admitted to questioning his own leadership skills this past season.
ESPN's Jalen Rose brought up leadership when speaking about Tatum's recent workout with Brooklyn Nets star Kevin Durant. Durant has asked to be traded, and one of the hot rumors was the Celtics showing interest in a package that included Jaylen Brown. Rose said it wasn't a good look, and Tatum should "keep the noise down."
Jayson Tatum has grown as a player with the Boston Celtics, but is he a leader?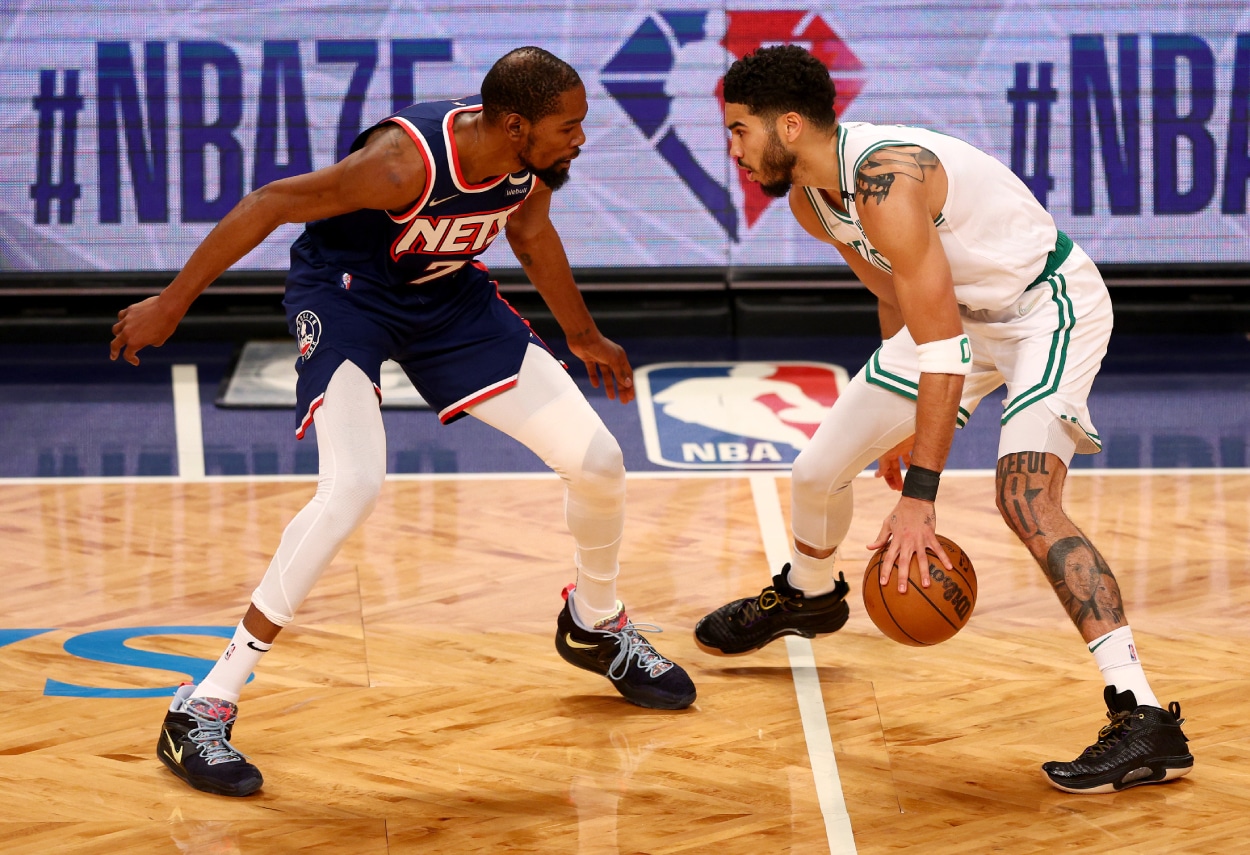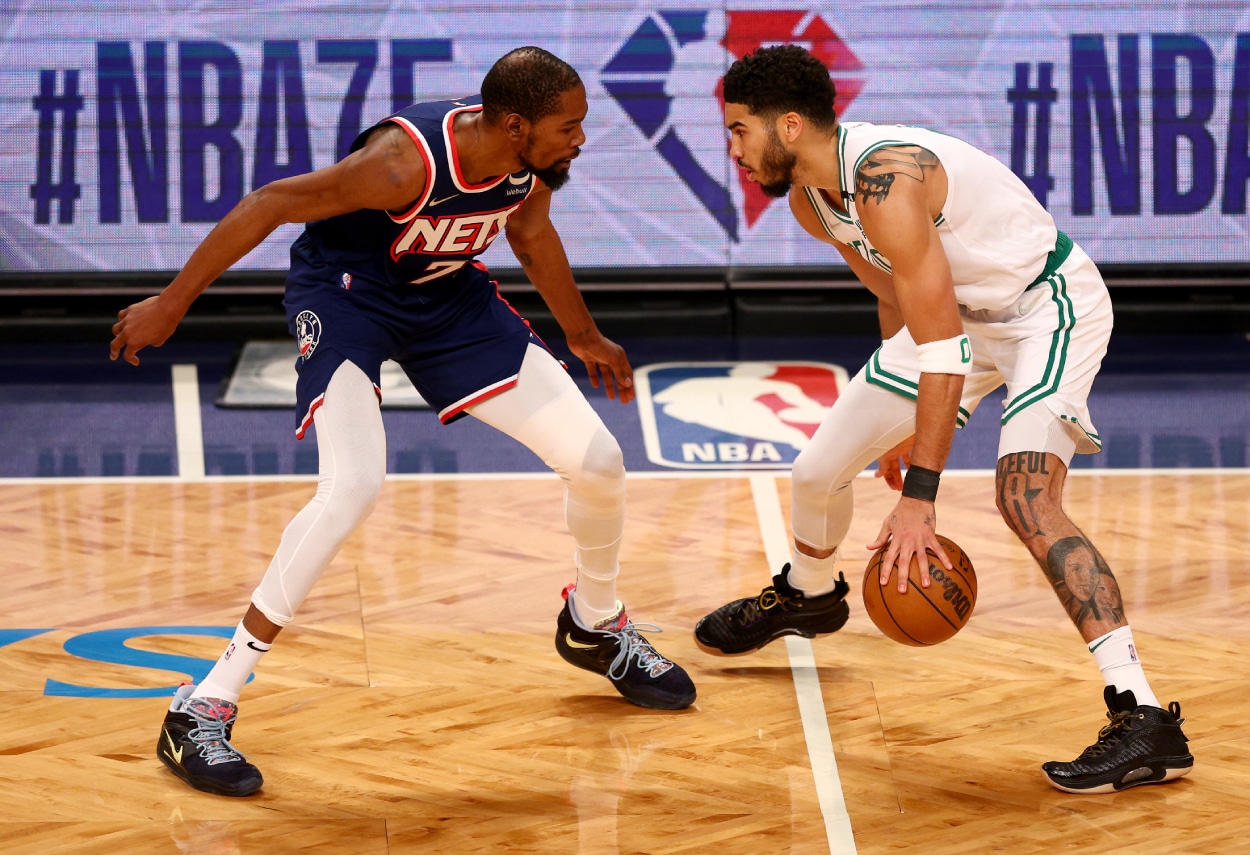 As a rookie drafted in 2017, Tatum averaged 13.9 points and 5.0 rebounds and played a role in helping the Celtics reach the Eastern Conference Finals. Each season, Tatum's numbers improved. This year, Tatum put up 26.9 points and 8.0 rebounds as the Celtics finally got over the hump and made their way to the NBA Finals.
Tatum has never been vocal, but that doesn't mean he's not a leader. The leadership topic came up in the beginning of the season and again right before the Finals began.
"It's something I've been asked a lot," he told the media in October, per Celtics on NBC Sports Boston. "I guess it's a hot discussion… I think I've gotten better and more comfortable with that role year after year."
Before playing in the championship round, he admitted he had questioned his leadership role with the team this season, but he never doubted his ability.
"I'll be honest, there have been times where I've questioned, 'Am I the right person to lead a group like this?'" he said. "I never doubted myself, but just moments after some of those losses and tougher parts of the season, it's human nature to kind of question yourself.
"Just always stick to what you believe in. Trust in the work that you put in. It can't rain forever."
Is Jalen Rose right in questioning Tatum's leadership role?
In the offseason, rumors fly all over the place. After Durant made it known he wanted out of Brooklyn, the Celtics found themselves atop of the rumor mill. Reports had the Celtics and Nets talking trade, with Boston's Brown being the centerpiece in a package for Durant. Although many believe talks were far from serious, Brown and Durant were a hot conversation topic.
Tatum and Durant recently worked out together, and that didn't help tame the trade talk. During a recent episode on Jalen & Jacoby, Rose questioned the look of the Celtics star working out with the Nets star.
"So I'm about to give you some real Leadership 101 teammate game," Rose said. "This happens with your co-workers. This happens with your siblings, and this happens in professional dynamics, college dynamics. People are even talking about the dynamics of this or the NIL, you know, the quarterback getting X when somebody else is getting Y but still playing on the same team for the same goal.
"It's great to see two of the best players in the game working out together, and Jayson Tatum's ascension this year was outstanding. And there's, in theory, quote-unquote, 'Nothing to be said to watch them be in the gym.' But the one thing that you have to be conscious of is the other 14 guys that you lead. You got to always think about what is Jaylen Brown going to say if he sees me working out with KD, knowing that the trade scenario is on the table?"
Rose said Tatum may have been better off laying low.
"A lot of times it's better to just step back, right, and allow the multimedia scenarios play its course," he said. "This is the time to keep the noise down. Say less."
Maybe it's not a good look for Tatum under the circumstances, but it's tough to call out Tatum on this one. He's working out with one of the best players in the world. Nobody wants to win more than Tatum. Working out with the best can only help.
Like Sportscasting on Facebook. Follow us on Twitter @sportscasting19 and subscribe to our YouTube channel.