Boston Celtics' Luck Goes From Bad to Worse: All-Stars Jayson Tatum and Jaylen Brown Both Hurt in on-Court Collision
The Boston Celtics had a bad Sunday. Their 129–119 loss to the Portland Trail Blazers not only dropped them into play-in territory, but it also could have cost them at least one star player. Late in the game, All-Stars Jayson Tatum and Jaylen Brown collided. Both players left the game, and Brown's injury looked serious.
If it wasn't for bad luck, the Celtics might have none at all this season. Boston has reached the Eastern Conference Finals in three of the last four seasons, but 2020–21 has been challenging for the C's. The Celtics are one game behind the Atlanta Hawks and Miami Heat for the final two guaranteed playoff berths in the East. If Boston is without Brown for an extended period, any hopes of a long postseason run would take a significant hit.
Boston Celtics have struggled with continuity
RELATED: The Boston Celtics Add Another 'Worst Loss Ever' to Their Lengthy List
Injuries and illness have been the only constants for the Celtics this season. In 65 games, Boston has used 32 different starting lineups. Only four players — Tatum, Brown, reserve Grant Williams, and rookie Payton Pritchard — have missed fewer than 10 games.
Tatum struggled earlier this season because of a bout with COVID-19. Evan Fournier, acquired from the Orlando Magic at the trade deadline, has played in just 10 games and is struggling to recover from the coronavirus. Defensive ace Marcus Smart was out for more than a month with a calf injury. Former All-Star Kemba Walker began the season recovering from a knee injury and is now out with a strained oblique.
Boston is hardly the only team in the NBA to struggle with injuries and illness this season. Losing two All-Stars on the same play, though, takes lousy luck to a new level.
Jaylen Brown was already dealing with a bad ankle
RELATED: Boston Celtics Coach Brad Stevens Makes Shocking $70 Million Decision
Brown was a game-time decision Sunday because of a banged-up right ankle. That is the same ankle he favored as he hopped off the court after colliding with Tatum Sunday night.
Tatum and Brown comprise much of the offensive punch for the Boston Celtics. That is particularly true because Walker has posted his worst numbers since 2014–15, averaging 18.2 points and 5.0 assists in 31.5 minutes per game. He is shooting only 40.9% overall and 34.8% from 3-point range, down from 42.5% and 38.1%, respectively, last season.
Tatum averages 26.5 points and tied a franchise record Friday with a 60-point explosion against the San Antonio Spurs, per ESPN. Brown is putting up 24.7 points per night. Their combined 51.2 points per game ranks second among tandems behind Bradley Beal and Russell Westbrook of the Washington Wizards, who average a combined 52.9.
If Brown misses a significant amount of time, the bulk of the offensive load would shift to Tatum. Besides Walker (18.2 points per game in 39 outings), Smart is the only other Celtic averaging double figures this season. He's scoring 13.5 points per game in his 44 appearances.
The road ahead for the Boston Celtics won't be easy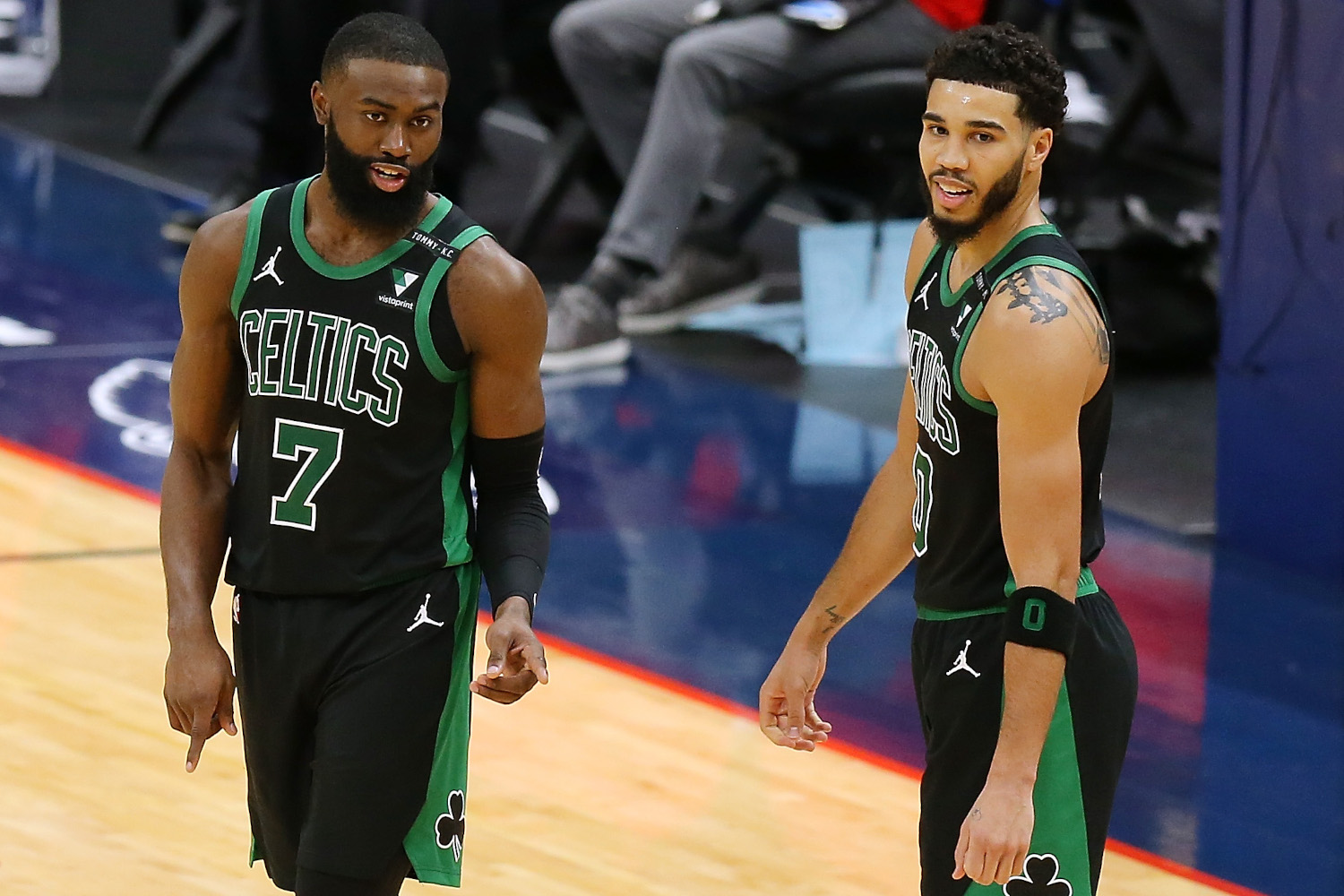 RELATED: Jayson Tatum Looking at History and It Bodes Well for the Boston Celtics
The Celtics have seven games remaining, four of them against playoff hopefuls. Boston is on the road for its next two, visiting Orlando (already eliminated) and the Chicago Bulls (26-38 and three games out of the last play-in spot).
Boston's best chances of escaping the play-in come May 9 and 11 when they host the Heat both nights. The Celtics finish with a three-game road swing. that begins with potentially easy marks in the lottery-bound Cleveland Cavaliers and Minnesota Timberwolves. Boston finishes at Madison Square Garden against the resurgent New York Knicks, 17-10 since the All-Star break and 12-4 since April 1.
The play-in tournament has made the end of the regular season more competitive for more teams, but it's creating stress for clubs that never envisioned themselves in it. On the other hand, a team seeded sixth or worse hasn't reached the NBA Finals since the eighth-seeded Knicks in 1999.
Boston's combination of bad luck and poor health has left it in a tough spot. It must get healthy and cohesive in time to make a run.
Statistics and schedule information courtesy Basketball Reference.