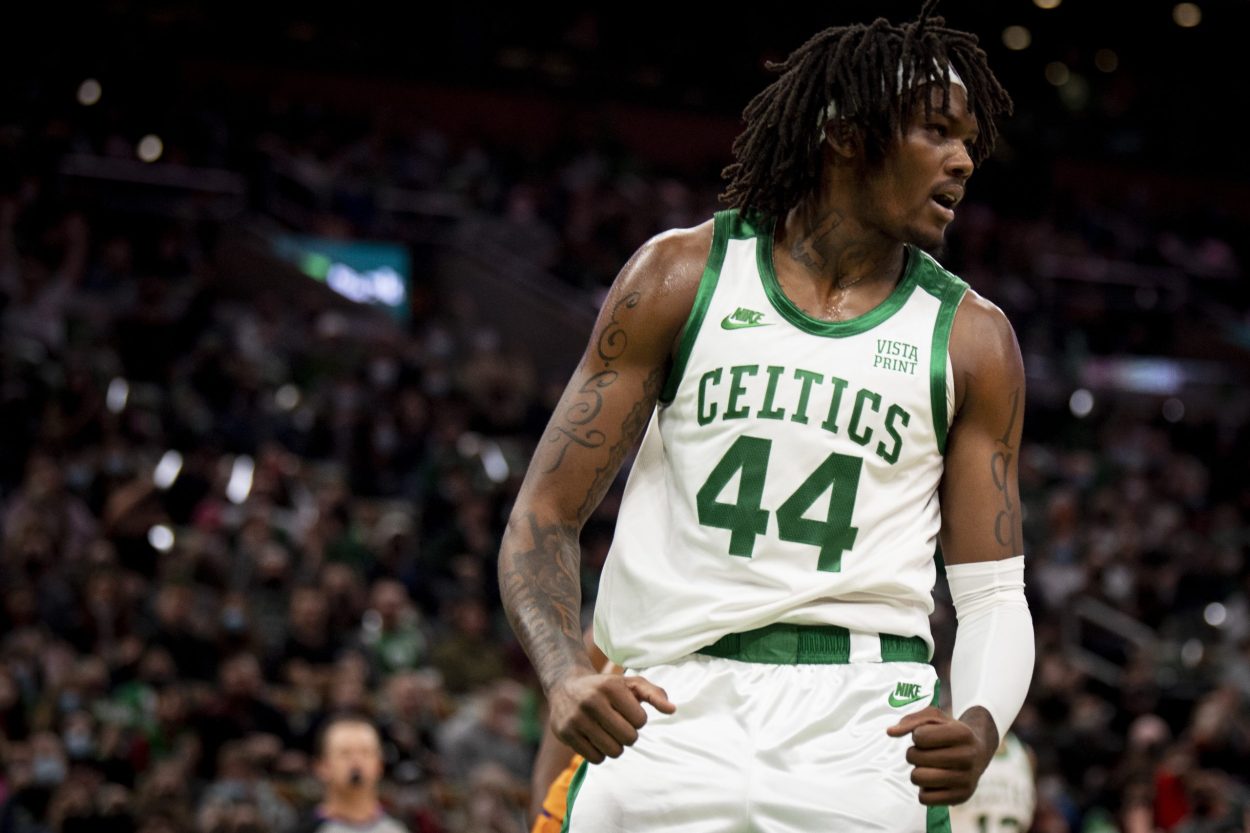 Boston Celtics News: Robert Williams' Injury a Crushing Blow to Title Hopes
Boston Celtics center and defensive ace Robert Williams has a torn meniscus, all but ending the team's hopes of winning a championship.
On the first day they enjoyed being the No. 1 seed in the Eastern Conference, the Boston Celtics received horrendous news that all but dashes their hopes of winning an NBA championship this season.
Celtics center Robert Williams III had rapidly become one of the best defensive players in the game this season. He gave the C's a defensive anchor who added multiple dimensions to the team's offense as a rim-roller and lob threat. Not to mention, he made significant gains as a passer capable of playing on the perimeter.
Boston has asserted its standing as a legitimate contender in 2022. But Williams is headed to the sidelines indefinitely, which could eliminate the Celtics' title hopes.
Robert Williams believed to have suffered a meniscus injury
Celtics fans had to feel concerned when Williams left Sunday's win over the Minnesota Timberwolves with a knee injury. Initially, the team labeled it a sprain but stated that Williams would undergo more imaging.
Further testing has apparently brought Boston's worst fears to fruition.
Shams Charania of The Athletic reported that Williams is "feared" to have a meniscus tear in his left knee and stated that the Defensive Player of the Year candidate could face an "indefinite" absence.
This news, which likely threatens his postseason playing status, could not come at a worse time for a Celtics team that has looked practically unbeatable during this calendar year.
Williams, who has thrived even in Boston's lesser moments this season, played a pivotal role in setting the team's defense and giving the Celtics some inside scoring. Head coach Ime Udoka's squad is in big trouble without him on the court.
Breaking down Williams' value to the Celtics
The Celtics have been, by far, the best defensive team in the NBA since the start of the new year. Robert Williams has played a colossal role as one of the elite rim protectors and weak-side defenders.
Williams ranked second in the NBA for blocks per game (2.2) and total blocks (134) this season, behind only Memphis Grizzlies big man Jaren Jackson Jr. He routinely comes from the weak side to cut off slashers and swat back attempts at the bucket, and his spectacular athleticism allows him to recover and make plays from seemingly impossible angles.
It's not just about defensive playmaking, however. Players simply don't score on Williams. According to ESPN's Kirk Goldsberry, Williams (before Sunday's game) led all players in defensive field-goal percentage and ranked second in field-goal percentage at the rim.
Timelord's impact allows Boston's guards and wings to take more gambles and push up against ball-handlers on the perimeter. They can sell out for steals and deflections more often because they know Williams can often compensate for mistakes.
Although the defensive value is most evident, Williams also unlocks things on the offensive end.
According to NBA.com, Boston scores 1.33 points per possession with him as the roll man in pick-and-roll. He forces opposing bigs to make tough decisions because of his ability to roll hard and catch lobs around the rim. That indecisiveness especially benefits Jayson Tatum and Jaylen Brown, both of whom can get to the bucket or create even more separation in screen-and-roll action.
Plus, Williams is competent with the ball in his hands. He can tally assists by spotting back-cuts and has the patience to let plays develop. That added playmaking takes the pressure off Tatum, Brown, and a revitalized Marcus Smart.
But with Williams now in street clothes for the foreseeable future, the complexion of the Celtics roster has changed, and not in a good way.
Boston might not have enough to compensate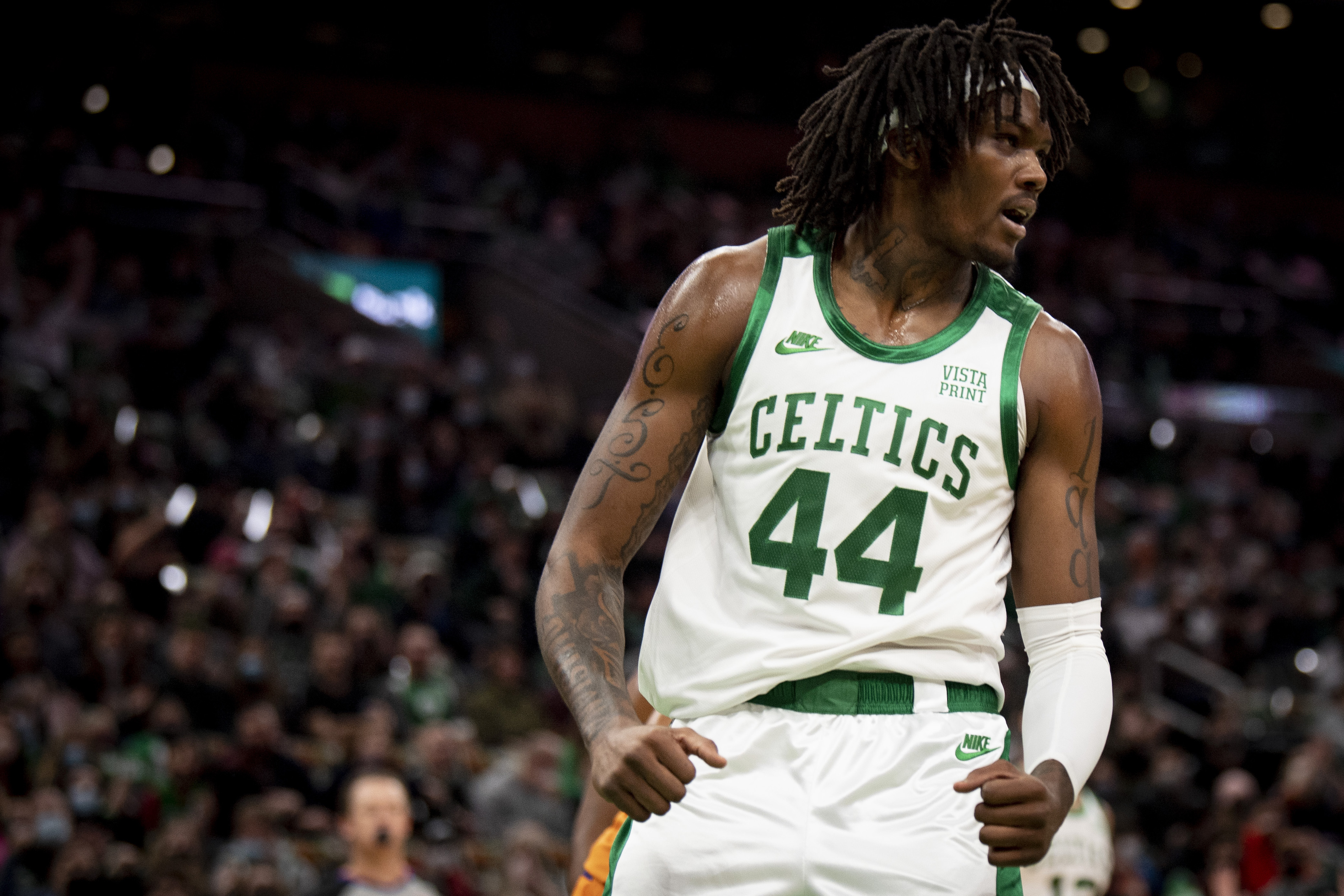 With Robert Williams on the shelf due to injury, the Celtics are in a bit of a pickle.
Grant Williams has been a necessary floor-spacer and made significant gains as a guy who can make plays off the bounce. He's also been more reliable on the defensive end, switching onto guards in pick-and-roll. Veteran big man Al Horford is quietly having a nice season. Daniel Theis makes the most of his time and can protect the paint.
Still, losing Williams deprives the Celtics of necessary frontcourt depth and an interior cog who figured to play a vital role come playoff time.
The best teams in the Eastern Conference typically thrive because of dominance in the paint. The Milwaukee Bucks used their size to great effect en route to a championship last season and should do the same with Serge Ibaka and a healthy Brook Lopez added to their repeat bid. In Philadelphia, the 76ers depend on Joel Embiid to dominate inside, with James Harden looking to get into the lane and make his way to the free-throw line.
With Timelord out of the picture, other teams can feel more confident about controlling the lane and getting easier looks around the cup. His absence also gives opponents a greater chance to clear the boards and attempt to gain extra opportunities on the offensive glass.
Offensively, Horford and Theis don't have nearly as much value as screeners. Both can knock down the occasional outside jumper, but neither is capable of being a lob threat or executing hard rolls. That could impact spacing and might shrink the floor, which in turn could have a negative impact on Tatum and Brown as shot-creators.
The Celtics will have to adjust their style in Williams' absence, on both ends of the floor. That's the worst news possible for a team that had settled into an unflappable groove.
Boston might not have enough to win a championship unless Williams can return for the playoffs. Timelord is too important to the Celtics on both ends for them to be able to compensate.
Stats courtesy of Basketball Reference unless otherwise noted.