The Boston Celtics Have a Path to a Franchise-Altering Ben Simmons Trade, but It Would Cost Them a Valuable Young All-Star and More
The Boston Celtics fell from the Eastern Conference's elite last season, finishing 36–36 and needing to survive the play-in tournament. Their reward was a first-round shellacking at the hands of the Brooklyn Nets. Given Boston's 4–6 start to the 2021–22 season, last season might not have been a one-off. Could Ben Simmons solve some of the problems the Celtics have exhibited?
On the surface, Boston doesn't shoot well. Their 33.2% 3-point shooting ranks 20th in the NBA. That's not something Simmons directly helps with, though he might assist in other ways, such as finding open shooters. However, the price to get Simmons could be prohibitive.
The Boston Celtics are moving the ball; they're just not doing it effectively
Point guard Marcus Smart recently took the Boston Celtics' two stars to task for not sharing the basketball. Jayson Tatum and Jaylen Brown carry the bulk of the scoring load in Boston. Smart might have missed the mark with Tatum, whose assist rate of 16.0% is identical to Smart's. However, Brown's possessions end with an assist only 12.9% of the time, the lowest among the Celtics' first-unit perimeter players.
Boston is 17th in the NBA, averaging 22.9 assists per game, and its assist rate of 57.7% is similarly in the middle of the pack (16th). But the Celtics have more problems than just getting the ball to shooters. Those shooters aren't making shots. Boston is 25th in the league with an effective field goal percentage of 50.3%. While it's not a definitive indicator of team success, it's worth noting that four of the teams behind them are the Minnesota Timberwolves, New Orleans Pelicans, Oklahoma City Thunder, and Detroit Pistons. Their combined record is 8–30.
Last season, the Philadelphia 76ers had a 57.2% assist percentage with Ben Simmons running the offense, ranking 23rd in the NBA. But their eFG of 54.1% was 14th. It's not so much if you pass the ball as it is doing it on time and target. Simmons excels at this and always has.
The Celtics make 289.5 passes per game, 13th in the NBA. With 48.3 potential assists off those passes, Boston is 11th in the league. Their rate of 7.9 passes per assist ranks 20th. There's a disconnect happening.
Simply put, they're not making shots when they're open. The Celtics are hitting 50.8% of their wide-open shot (nearest defender at least six feet away). That's 26th in the league. On wide-open 3s, that rate is 32.6%, which is 27th. They are getting the sixth-most wide-open 3s a game, 19.3. If Boston progresses to the mean, 37.1%, that's another 12–15 points per game. Suddenly, things don't look so bleak.
The price for Ben Simmons will be substantial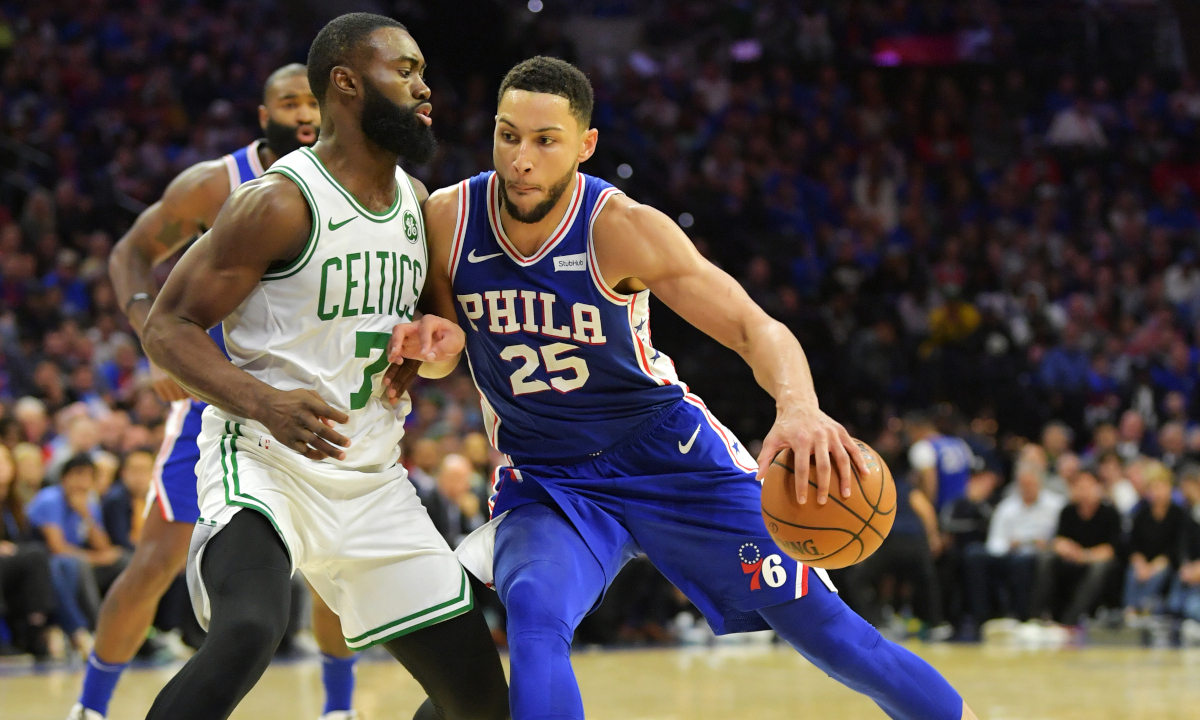 According to Shams Charania of The Athletic, 76ers president of basketball operations wants Jaylen Brown as the starting piece for any trade involving Ben Simmons.
Brown was the third pick of the 2016 NBA Draft, taken two selections after Simmons. The Boston Celtics took Brown with one of the draft picks from the Brooklyn Nets in the often-mocked 2013 trade that sent Paul Pierce and Kevin Garnett to the Nets.
Simmons certainly has the better resume. He is a three-time All-Star, two-time All-Defensive selection, and was named All-NBA Third Team in 2019–20. Brown made his first All-Star appearance in 2021.
But before he injured his hamstring in a win at Miami on Nov. 4, Brown was averaging a career-high 25.6 points per game while shooting at career-best levels (49.3% overall and 39.7% from 3-point range). Shooting is Simmons' Achilles heel. Brown's 58 deep tries in eight games this season far exceeds Simmons' career total of 34. Add that Simmons has made only five of those, and his ability to help Boston space the floor is dubious.
He's also ball-dominant, which might not fit well with Tatum.
It's also worth noting that Mark Murphy of the Boston Herald reported via Twitter that the Celtics had not engaged the 76ers in talks for Simmons, contradicting Charania's report.
So maybe there are Brown-Simmons talks. Maybe there aren't.
Why the Boston Celtics don't want to trade Brown
Jaylen Brown is a rising star who keeps improving. Ben Simmons is at a career crossroads. Those factors alone should be enough to give Boston Celtics president of basketball operations Brad Stevens pause when considering a deal for Simmons.
Throw in the fact that Brown is the same age as Simmons and is on a more team-friendly contract, and you'd have to wonder if Stevens would get barbecued by the notoriously surly Boston media.
Brown is in the second year of a four-year, $107 million extension he signed in October 2019. He's on the cap sheet for $24.8 million this season, $26.7 million in 2022–23, and $28.5 million before becoming an unrestricted free agent after the 2023–24 season.
Compare that to Simmons, who received a supermax extension — five years and $169.7 million — in July 2019. So not only is he more expensive, but his deal runs for an extra year (a plus or a minus, depending on perspective).
Simmons' salaries for the next four years are $31.6 million, $33.9 million, $36.3 million, and $38.6 million.
So Simmons for Brown straight-up won't get it done, especially since Morey wants to win a potential Simmons trade. The trade works for salary-cap purposes, just not practical ones. Morey wants picks and young players.
Morey will likely stand pat until Dec. 15, when a spate of free-agent signings from the past offseason become eligible to be traded. That will open his options considerably. Also, the longer Morey holds onto Simmons, the more likely a team thinking about a playoff run will be willing to overpay to get Simmons in pursuit of that goal.
As for the Boston Celtics, giving up dependable Jaylen Brown for mercurial Ben Simmons is a risk Stevens shouldn't be in a rush to take.
Statistics courtesy of Basketball Reference and NBA.com.