The Boston Celtics Are Paying a Steep Price for Brad Stevens' Faulty Roster Construction, but There Is a Costly Fix Available
The Brooklyn Nets and Philadelphia 76ers spent the preseason competing for the less-than-coveted "Team Turmoil" title. Still, a new contender has emerged a couple of weeks into the regular season. On Nov. 1, the Boston Celtics posted their third consecutive loss, and there are signs of division in the locker room.
Boston fell to 2–5 with a 128–114 loss at home to the Chicago Bulls, a game in which they squandered a 19-point second-half lead. That dropped the Celtics to 0–3 at TD Garden, where they were only 21–15 last season. The Cs made the NBA playoffs in 2021, making it seven consecutive years, but had to get in via the play-in tournament after a lackluster 36–36 season. A front-office shuffle doesn't seem to have fixed the issues in The Hub.
Brad Stevens got kicked upstairs to the Boston Celtics front office
After eight seasons as the head coach of the Boston Celtics, Brad Stevens replaced Danny Ainge as president of basketball operations. Ainge ran the Celtics' front office for more than 18 years and was the architect of the 2008 NBA championship club.
In his first move in the new job, Stevens traded away former All-NBA point guard Kemba Walker. He later signed free agent Dennis Schröder, listed as a point guard, but new coach Ime Udoka installed Marcus Smart as the lead guard. Schröder guides the second unit.
Jaylen Brown is scoring 26.7 points per game, and Jayson Tatum is dropping 25.7 a night. Al Horford and Schröder are the only other players in double figures. Smart isn't adjusting well to his new role, shooting 29.3% overall and 28.2% from deep.
After Boston's collapse against the Bulls, Smart publicly aired his grievances with his two All-Star teammates. Smart said Brown and Tatum aren't passing the ball enough. Does he have a point?
The Celtics are leaking defensively and getting hammered on the glass
In terms of assists, the Boston Celtics are in the middle of the pack, averaging 24.1 per night. They are 19th in assist percentage, picking up dimes on 58.1% of their made shots.
But where they are struggling is on the backboard. Boston is 21st in the NBA in defensive rebounding percentage and 20th in offensive rebounding. Put it together, and the Celtics are the 29th-best (or second-worst if you're a glass-half-empty sort) in overall rebounding percentage.
Even as they posted a .500 record last season, Boston was 13th in the NBA, allowing 111.8 points per 100 possessions. Offense is markedly down this season, but the Celtics are still surrendering 110.3 points every 100 possessions, which ranks 27th — countering that with a 19th-ranked 104.6 points on the offensive end leads to a net rating of minus-5.7. That adds up to a 2–5 record.
But if the lack of a traditional point guard is still the problem, there is a decorated, if very expensive, answer available.
The Boston Celtics can get John Wall, but it won't be cheap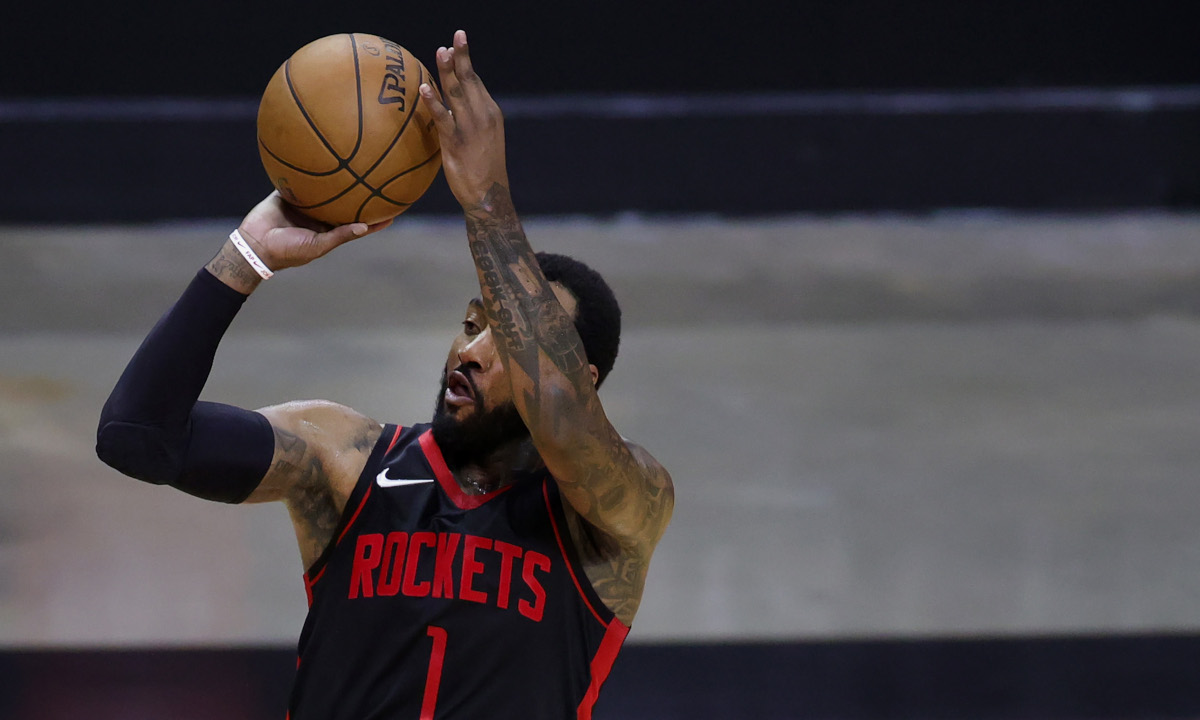 The Houston Rockets are paying John Wall a little more than $540,000 a game not to play for them while they look for a trade partner. Wall is five seasons removed from his lone All-NBA appearance and hasn't been an All-Defensive player since 2014-15.
He averaged 20.6 points and 6.9 assists in 40 games, shooting a career-worst 40.4% overall and hitting 31.7% from deep. He's never been a sharpshooter (with career marks of 43.1% and 31.7%, respectively), but last season was particularly dismal, even by Wall's modest standards.
Still, he's more of a traditional point guard than combo types like Smart or Schröder, averaging 9.1 dimes a game over his 10 NBA seasons, with three seasons where he dished more than 10 dimes a night. Smart's career-high is 5.7 assists per game last season, while Schröder's 6.4 helpers a game this season is on pace for a career-best.
But Wall comes with a $44.3 million cap hit, the second-highest salary in the NBA this season.
Smart is untradeable until Jan. 25 because he signed an extension in August. But Richardson's $11.6 million salary makes a Horford ($27.0 million) and Richardson for Wall deal legal, if not entirely feasible.
Does it fix what ails the Celtics? Trading your leading rebounder when you're already at a deficit on the glass is hardly a winning strategy. Then again, neither is opting to enter the season without a legitimate playmaker.
Long considered one of the rising stars in coaching, Udoka has gotten strict about complaining to officials and following team rules. But until he gets serious about basics like rebounding and defense, the Boston Celtics will continue to underperform. Trading for John Wall doesn't fix either of those problems.
Statistics courtesy of Basketball Reference and NBA.com. Trade evaluation courtesy of RealGM. Contract information courtesy of Spotrac.
RELATED: Ime Udoka Predicted the Lackluster Boston Celtics Loss to the Wizards: 'I Told Them You're Going to Get Your Ass Kicked Tonight … '