Boston Celtics: Reflecting on the Dark Days With Rick Pitino at the Helm
Despite Friday's loss to the Miami Heat, the Boston Celtics maintain the best record in the NBA. Last year, the Celtics reached the NBA Finals after making the Eastern Conference Finals in three of the previous five seasons.
While no team has more championships (17) than the Celtics, it hasn't always been fun and games in Boston. After the unexpected deaths of Len Bias in 1986 and Reggie Lewis in 1993, the Celtics fell on some hard times. Beginning with the 1993-94 season, the Celtics had eight straight losing seasons. Things were supposed to change during the middle of that stretch with the hiring of Rick Pitino. It never happened.
The Boston Celtics went all in to hire Rick Pitino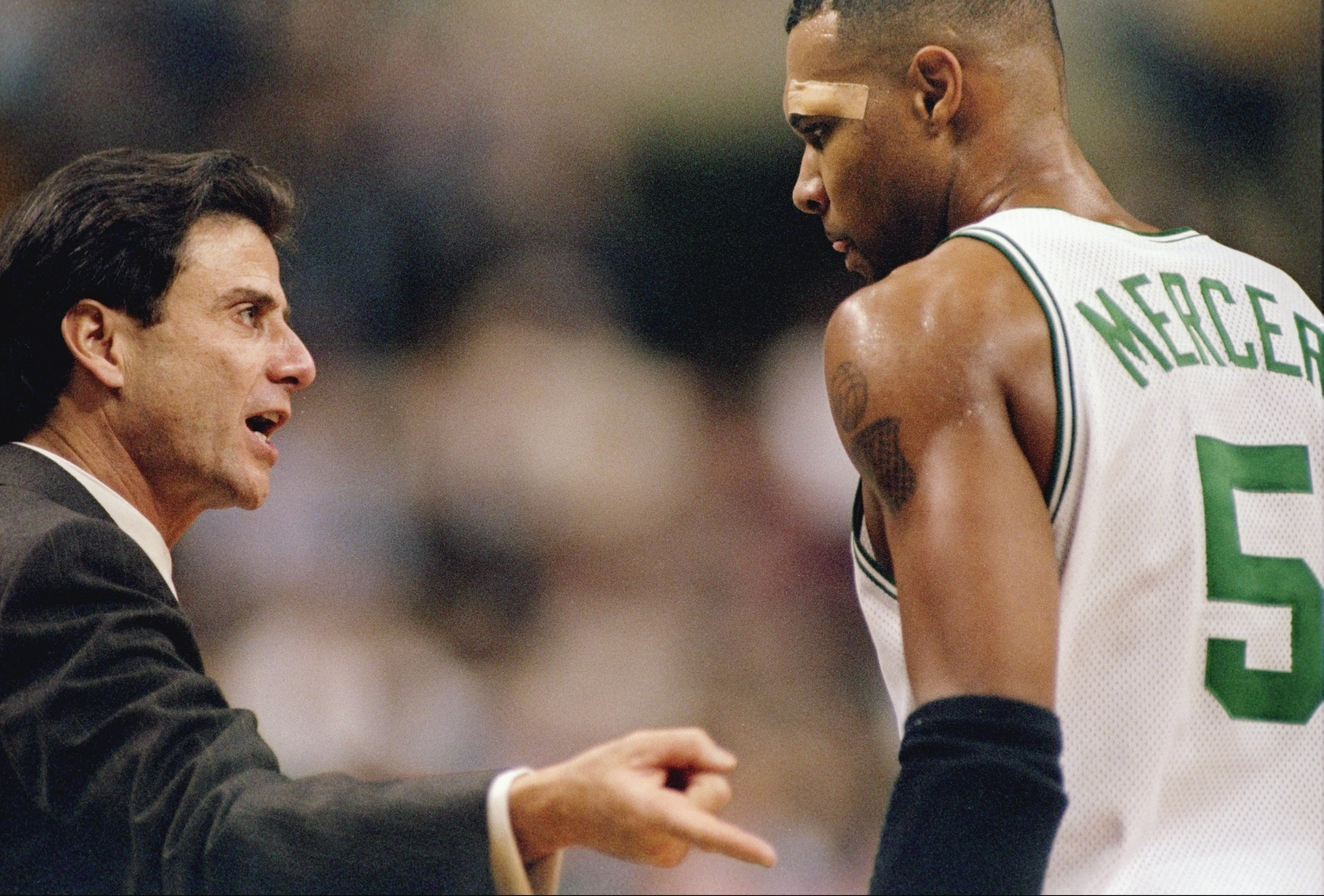 In the 1996-97 season, the Celtics had a franchise-worst 15-67 record under head coach M.L. Carr. Carr stepped down at the end of the season, and the Celtics made a splash by inking Pitino to a 10-year deal worth $70 million.
There's no doubt Pitino goes down as one of the most successful college basketball coaches in history, but his time in Boston wasn't so memorable. He spent four seasons in Boston, never compiling a winning season. He finished his career in Boston with a record of 102-146.
When he took the job, he saw it as a challenge.
"I don't have an easy path, I have a very difficult one," Pitino said after taking the job, per The Washington Post. "I could stay and coach at Kentucky and be very happy, but there's a challenge out there that I want to take. It's a monster challenge."
When Pitino resigned during the 2000-01 season, he said he and the team had philosophical differences.
"The fundamentals of basketball weren't necessarily getting through to the team," he said, according to ESPN. "I love the guys on this basketball team outside the line. Between the lines, we had differences."
There was also some back luck Pitino had to deal with. With two chances of getting the No. 1 pick after their 15-win season, the ping pong balls in the lottery didn't go Boston's way. Tim Duncan was the clear-cut No. 1 pick in the 1997 NBA Draft and a franchise player. Boston had the best chance of securing that pick with their poor record but wound up with the third and sixth picks. The Celtics took Chauncey Billups and Ron Mercer.
Antoine Walker: Pitino was impatient
Pitino took his rah-rah style of coaching into the NBA. With multi-millionaires taking the court, it didn't go so well. He stuck to his college plan of pressing fullcourt, which wasn't suited for the NBA game.
"Coach Pitino wasn't patient," Antoine Walker, who played for Pitino in college, told Michael D. McClellan of Celtic Nation. "He'd sign guys and trade them right away. He didn't give guys like that time to develop. We drafted Chauncey Billups and traded him after half a season.
"Coach also wanted guys who could play his style, but that style didn't translate to the pro game. You can't press for 48 minutes in the NBA. The season's too long."
Walter McCarty, who also played for Pitino in college and with the Celtics, also believed Pitino's system might be a tough sell to NBA players.
"I don't think he or anyone else really knew whether it would work or not," McCarty told McClellan. "We were still trying to find ourselves as basketball players, so it wasn't something we could plug into the NBA and guarantee success.
"But Coach P. believed in it. He needed guys who knew his system if he was going to pull it off, and what better group of guys than Antoine Walker, Ron Mercer, and myself? We'd played for him in college, but it was hard to find 12 guys who would buy into his system at the pro level. Mentally, it wore on him. I think that's why he quit."
The year after Pitino left, the Celtics put together back-to-back winning seasons under Jim O'Brien. Pitino returned to the college scene and had continued success at that level at the University of Louisville.