Boxing Champ Tyson Fury Still Believes He's Discriminated as a Gypsy Irish Traveller: 'I Am Thought of as a Bum'
Tyson Fury is one of the heavyweight boxing champs of the world, but that doesn't mean he gets treated like a king. That may be because of who he is as a gypsy Irish Traveller. Let's look at Tyson Fury's life and career, and how he still faces discrimination because of his heritage.
Tyson Fury's boxing career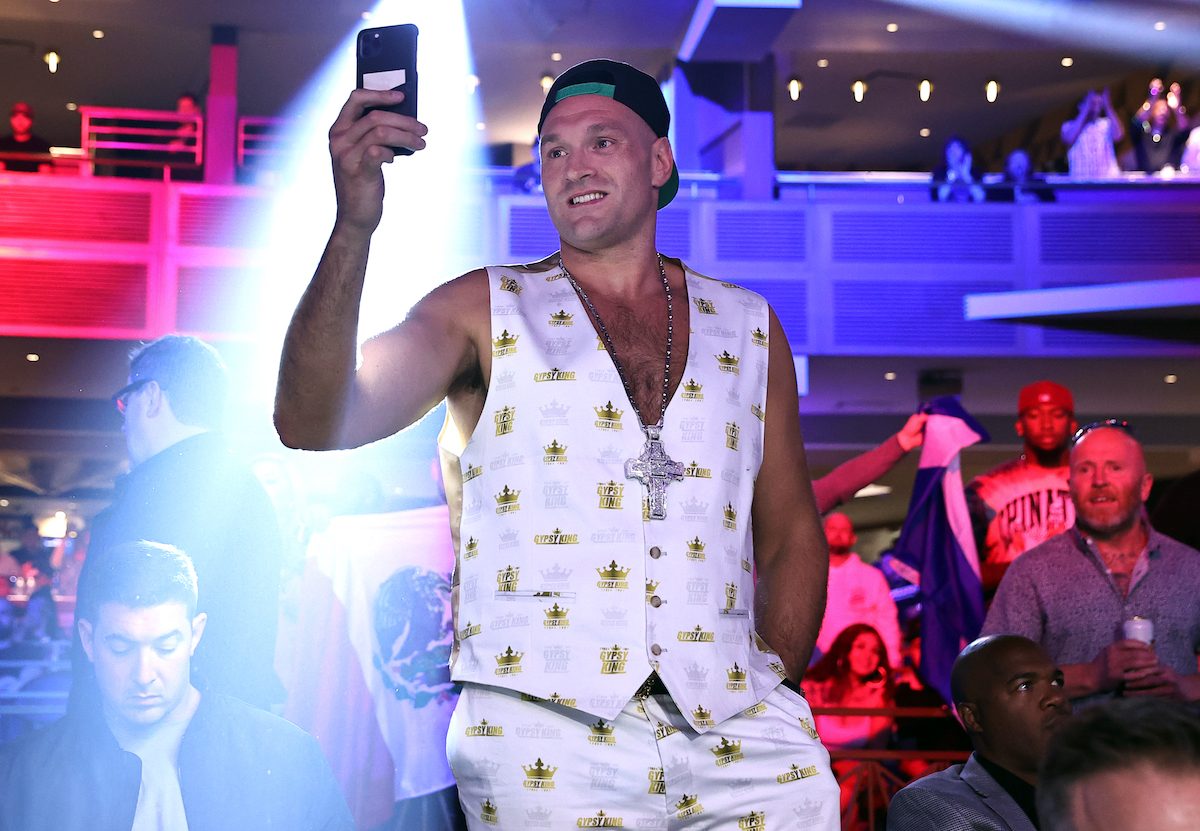 Like most boxers, Fury steadily worked his way up the ranks, first by boxing amateurs, and then by going pro. He had some hype behind him at the time. Just like most pro boxers with hype, Fury managed to maintain a perfect record, details BoxRec. That perfect record didn't really mean much until he started facing real competition. Even then, Fury proved his worth by beating them all.
Fury's first high-profile opponent was Derek Chisora; he was also undefeated at the time and is currently a high-ranked heavyweight. Fury beat Chisora in 2011. After defeating his next seven opponents, he beat Chisora again in their rematch in 2014. With that win, Fury earned himself a title shot against the true heavyweight king at the time, Wladimir Klitschko. 
Fury shocked the world when he dominated Klitschko across 12 rounds. It seemed like Fury had rightfully earned his heavyweight titles. However, he took a break, and finally, after over two years, he returned in 2018. He has continued to dominate his opponents, and he most recently beat Deontay Wilder in their rematch. Set to complete their trilogy in July 2021, most expect a repeat performance from Fury.
Tyson Fury, a gypsy Irish Traveller, has faced discrimination
While Fury's resume is nothing to scoff at, that hasn't stopped people from doing just that. In fact, according to ESPN, after beating the odds and beating up Klitschko, Fury said, "I am the champion yet I am thought of as a bum." Fury, who's an Irish Traveller, often faced racial discrimination in the U.K. He simply said, "I am not accepted in this country."
Irish Travellers, also known as gypsies, often face racial discrimination in the U.K. and the rest of Europe. In fact, according to Yahoo Sports, Fury claimed that in 2016, just a year after winning his heavyweight titles, he was denied entry into a restaurant because it wouldn't serve gypsies. 
This abuse isn't new, and Fury is aware of the history of abuse that faces the Traveller community. Like Fury said, according to Yahoo News, "It's still acceptable to be racist against Travellers. Nothing ever gets done about it."
Tyson Fury moved to America to escape the hate
Romany Gypsies and Irish Travellers are legally protected from discrimination in the U.K. Regardless, that hasn't been Fury's experience as a Traveller who's lived in the U.K. for most of his life. As a result of the continued historic racial discrimination he's faced, he decided to move abroad.
Since most of the discrimination against Travellers happen in Europe, Fury decided to move to America where there's probably less discrimination against Travellers. According to ESPN, Fury said, "I am going to America where champions are better thought of. I am moving to Los Angeles where people have a better life."
Despite moving away to America however, he's still well aware of the discrimination that he faces. He said that he still experiences racism: "I am a white male but I suffer racism in 2020 as a white person because I'm a Traveller."
RELATED: Mike Tyson Shockingly Admits He Was 'Almost Suicidal' Until Psychedelic Mushrooms Saved His Life